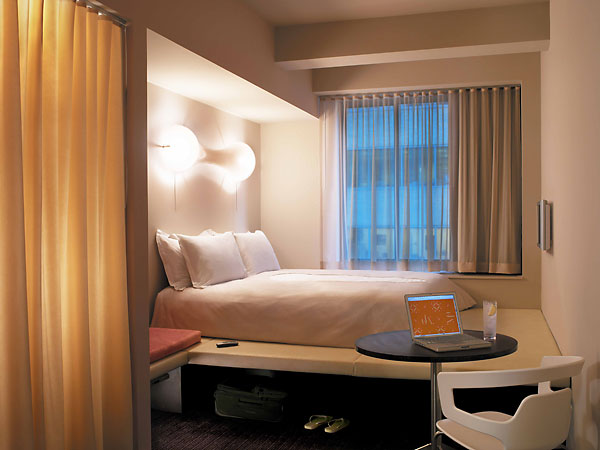 Grace: Creative, multicultural, charismatic…
So their web site states. But they left out unique, cool and hip. A good idea, as in today's marketing world, those words have become cliché and Grace is most definitely not cliché. It is, however, unique, cool and hip in the very real definition of those words.
Located on 45th Street just east of Times Square in New York City, the 139-room boutique hotel originated as Hotel QT by the same people who brought us The Standard. In Spring 2008 Room Mate Hotels, from Spain, bought it and renamed it Grace. To their credit, they made some minor improvements, but left the hotel pretty much the way it was.
Guests enter by revolving door and are greeted by a front desk, which looks more like a newsstand kiosk, which in fact, it is. At check-in, guests have a large selection of magazines, snacks and drinks to choose from to stock the in-room refrigerators with exactly the refreshments they want so the small units are not filled with unwanted food and drink.
From the small lobby the hotel pool can be seen beyond a glass wall. The indoor pool is elevated chest high on the first floor with the hotel bar doubling as a swim-up. Opposite the bar, across the pool, the deck is raised up like an amphitheatre for lounging and relaxing. At the top of the steps are the sauna and steam room.
The different room sizes  exhibit the same economy of scale necessary in New York City. All space is artfully utilized. As in most hotels, the bed is the centerpiece of the room. Unlike most hotels, the beds at Grace are worthy of being the centerpiece of the room. They are custom-built, high platform beds with a padded platform and space underneath to stow baggage out of the way. The mattresses are plush pillow top and the sheets are Egyptian cotton making for a very comfortable sleep.
Grace has all the amenities you would expect from a stylish hotel; flat screen TV, iHome iPod docking stereo, DVD player, satellite TV, free WiFi and an exercise room. There is also complimentary continental breakfast in the morning and a DJ spins five nights a week for bar and pool patrons alike.
Throughout the hotel, attention to detail and design is readily apparent. There is definitely a vibe that goes with the great design, making Room Mate Grace one of the coolest, hippest and most unique hotels in New York City.