There's a saying in this distant corner of the world that aptly corrects a common misnomer: "Greenland is ice and Iceland is green." The important thing to take away here is that Reykjavik, the northernmost capital in the world, is a buzzing city with world-class restaurants, hip bars, and great modern design. Here, too, one finds a natural wonderland of geothermal pools, tall birches, and volcanic surroundings, framed by a canvas of white-topped mountains. Perhaps best of all, those who never want their day to end can revel in the fact that the city gets some 22 hours of daylight in summer.
Sigurlaug Sverrisdóttir is certainly no stranger to the virtues of travel. Prior to the 2013 opening of Ion Adventure Hotel, the Icelander and former cabin-crew member established a successful company that organized adventure tours and provided training and recruitment services to airlines. But it was Sverrisdóttir's extensive (and often unsatisfactory) experience as a guest at luxury chain hotels around the world that most profoundly influenced her current sensibility.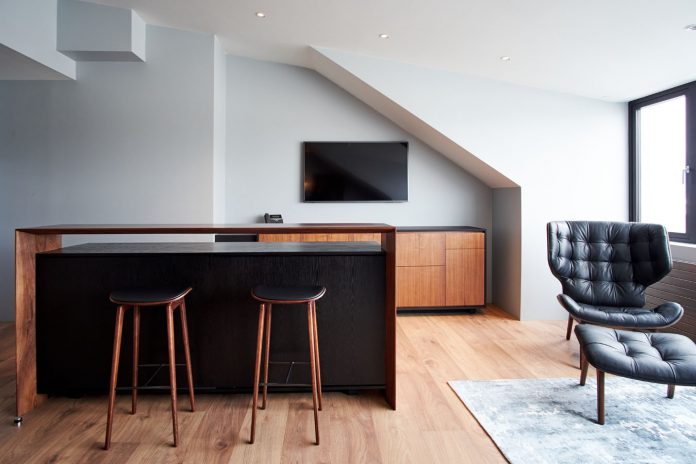 "I would see they were not true to the environment. You would not get any concept of where you were," said Sverrisdóttir. "I wanted guests to experience exactly where they were in the world."
So, she started Ion Hotels. Her second hotel embodies the spirit of adventurous travel and cool Nordic design that dwells in its sister property Ion Adventure Hotel, the 18-room Ion City Hotel is the citified version of the original award-winning countryside retreat. Here, the same respect for Icelandic aesthetics and sourcing is evidenced, yet a melding with top international design firms means the city's increasingly cosmopolitan nature is aptly-reflected. Located on the city's main avenue Laugarvegur, Ion City's deep local ties to its neighboring cafés, bars, restaurants, and galleries make it the perfect portal from which to explore the urban side of this fascinating destination.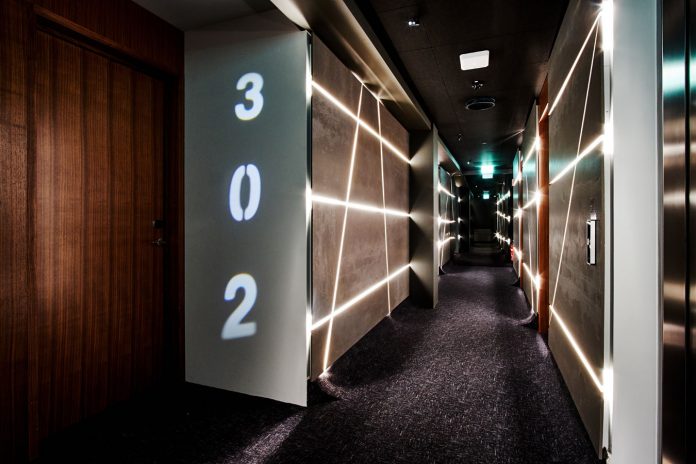 Housed in a smartly renovated building that retains its original architectural beauty, the façade has been playfully augmented by exterior walls that feature a motif inspired by traditional Icelandic weaving. Minarc, the same architecture and design duo responsible for Ion Adventure Hotel's photogenic transformation, were tasked with the project. Childhood friends of owner, Sverrisdóttir, the Iceland-born and California-based team took Sverrisdóttir's mother's Icelandic sweater pattern as inspiration, and through an experimental process have adhered textured aluminum panels to the concrete façade, re-creating the pattern as a respectful nod to historical elements via a thoroughly modern interpretation. This theme continues with the commission of an extensive outdoor mural by Krístin Morthens, the daughter of celebrated Icelandic artist Tolli Morthens. An inner alleyway and courtyard reveal an abstract expression of an Icelandic landscape for both guests of the hotel and the street passersby.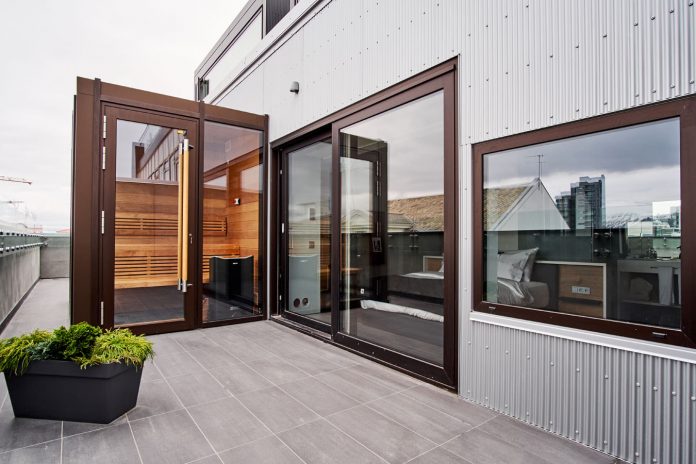 Inside, luxuriously organic interiors are defined by clean lines and a palette of gray and white, contrasted by warm-hued wooden floors. Here, a world of gunmetal grays, fine-grained recycled wood paneled walls, and international design pieces are bathed in light that spills in through enlarged windows that offer expansive panoramic views of Reykjavik.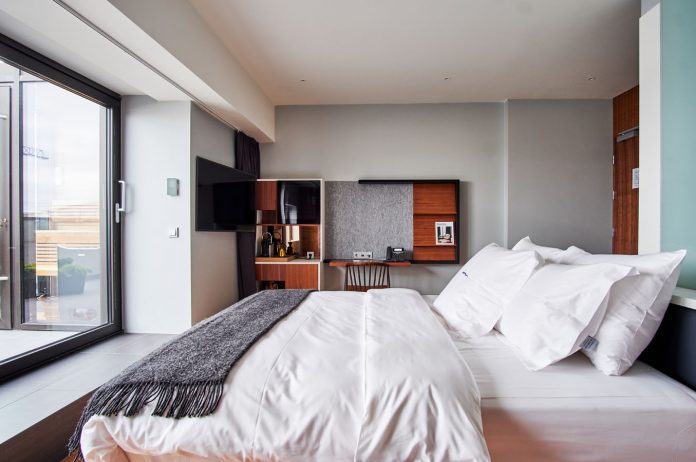 The 18 rooms and suites range from the 20-square-meter Classic room to the 75-square-meter Panorama Suite, and all feature Bluetooth speakers. While the 20-square-meter Standard room and the 26-square-meter Deluxe room play host to a window-side sofa, the 30-square-meter Junior Suite boasts a balcony with a private sauna. The 44-square-meter City Suite features a French balcony, a private indoor sauna, and a living room with a dining table, while the Panorama Suite includes an indoor sauna, a powder room with a table and chair, a guest bathroom adjoining the living room, a dining table, and a bar area, with the option of a bartender or chef on request.
[Ion City is a member of Design Hotels]