There's not a lot in life that can compare to waking up to the cool ocean breeze and azure of open skies and the Aegean Seas.
Myconian Kyma is a masterful expression of true "filoxenia", the Greek concept of hospitality. Embracing generations of family tradition, the 52-room, 29-suite hotel is a luxurious and secluded retreat, yet only a short stroll from the heart of the island's thriving nightlife and shopping in Mykonos Town. Here, the mythical wonder of the island is on full display–one where polished luxury and a culturally-rooted experience marry in perfect alchemy.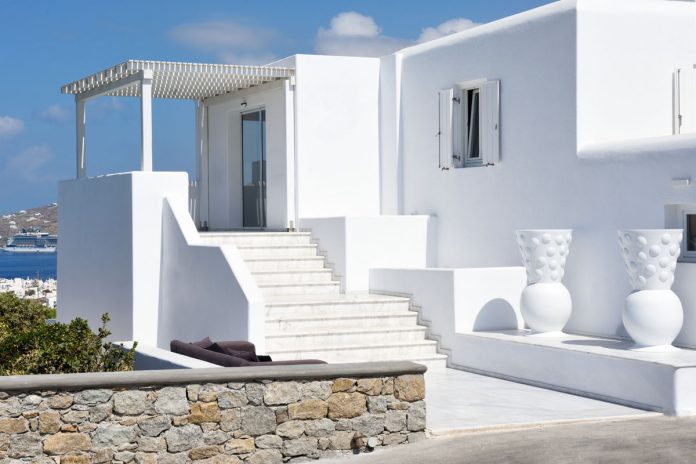 More than the glitzy nightlife for which the island is renowned, Mykonos' unique influence of history, landscape, and its distinct architectural language of harmonious white cubic houses make it a place like no other. At Myconian Kyma, brothers Marios and Vangelis Daktylides have harnessed this magic and transposed their tight-knit business ethos into a passionately warm and personalized approach to welcoming guests. Perched atop a hill with glorious views over the iconic windmills and fishing boats of the town's coastline, Myconian Kyma is poised to give visitors the definitive Grecian adventure.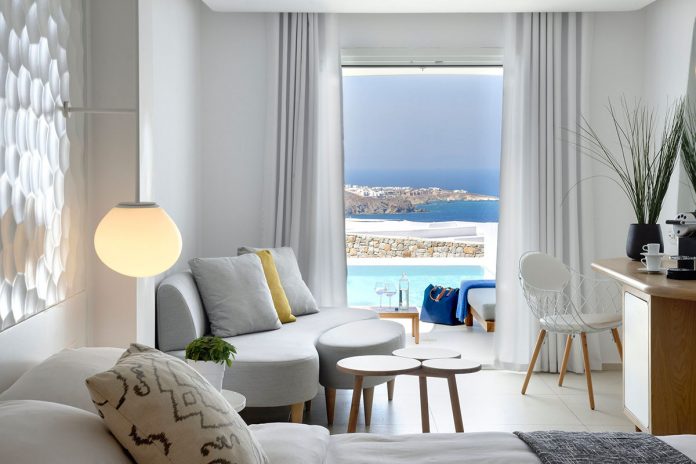 Taking its name from the Greek word for 'wave', the 52 room and 29 suite property carries this emblem throughout. From the curved lines of the multi-level infinity pool, to the design and furniture seen throughout the whitewashed structures, a gentle flow abounds. Evocative of the '60s glamor that originally drew celebrities of the day to the isle, buffed white marble dominates, allowing pops of fuschia to shine and the blue backdrop of the sea to sing. Guests of Myconian Kyma can expect a simply sublime experience thanks to lush gardens, private pools or terraces, a world-class steakhouse, and a full-service spa—a truly sophisticated yet family-friendly property.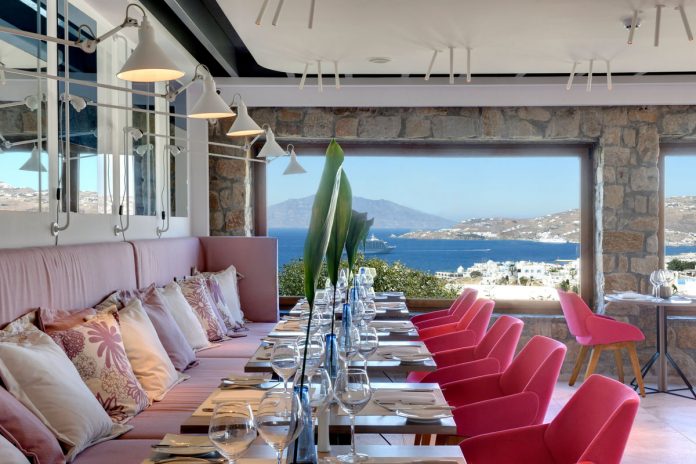 Crafted to blend harmoniously into its timeless environment, the hotel subtly and sublimely embraces guests in wellness and tranquility with such telling architectural flourishes as suites with infinity pools or Jacuzzis, bold white Cycladic forms, sun-dappled terraces, and those endless sea views.
Internationally renowned architect Galal Mahmoud expertly framed the expansive surrounding environment with serene retreat-like spaces. To fully immerse guests in this ageless environment, Mahmoud took a traditional frame and outfitted it with sleek yet subtle furnishings that impart a 1960s flavor. By mixing materials, such as marble, wood, glass, and stone, the designer has instilled a sense of vigor into a traditional setting. The tableau is rounded out with the works of well-known international artists.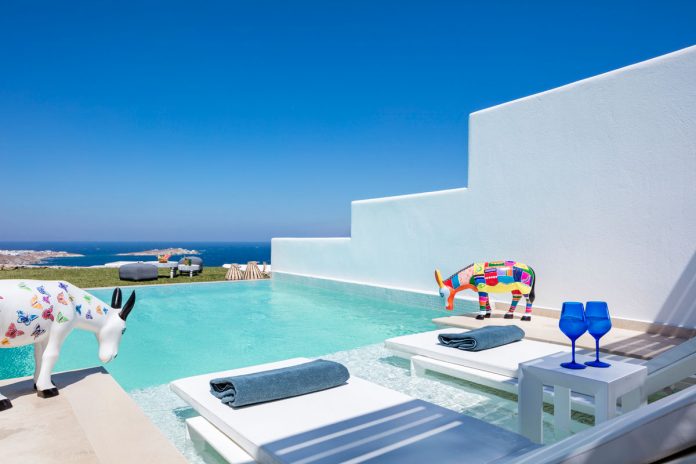 A picturesque Cycladic town with a maze of small streets and whitewashed houses and churches, Mykonos Town is set around a harbor and home to iconic 16th-century windmills, art galleries, cafes, stylish bars, shops, and restaurants. High-end boutiques, such as Chanel, Burberry, and Louis Vuitton, are part of the mix. Here, too, one finds the Aegean Maritime Museum and the Folklore Museum, perfect for those seeking a thorough introduction to the area's rich cultural and economic history.
[Myconian Kyma is a member of Design Hotels]