"Reflecting nature is the only way to integrate in it," said Stelios Kois, principal architect at Kois Associated Architects.
On the island of Tinos, also known as the 'Island of Madonna', largest of the Cyclades complex sits a residence on the side of a rocky hill. The Mirage house is camouflaged under an infinity pool, fused with its surroundings, and highlighting the region's identity. Designed by Kois Associated Architects, Mirage was recently awarded a 2016 American Architecture Prize.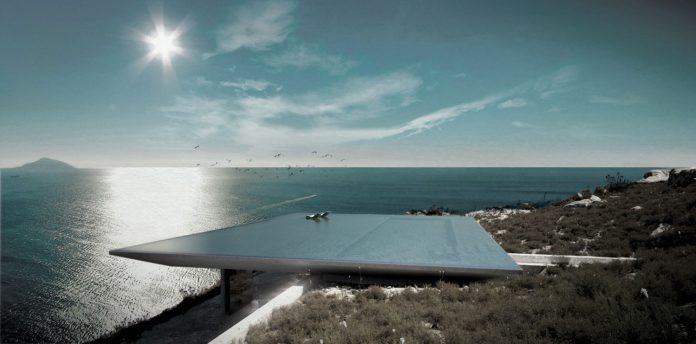 The residence is situated on a steep sloped rocky plot overlooking the Aegean Sea. The design's main essential was not only to integrate the volume of the house into the rocky island landscape but mainly to investigate the boundaries between built and natural environment, always keeping in mind the basic Cycladic architecture elements of functionality and simplicity, while not neglecting aesthetics.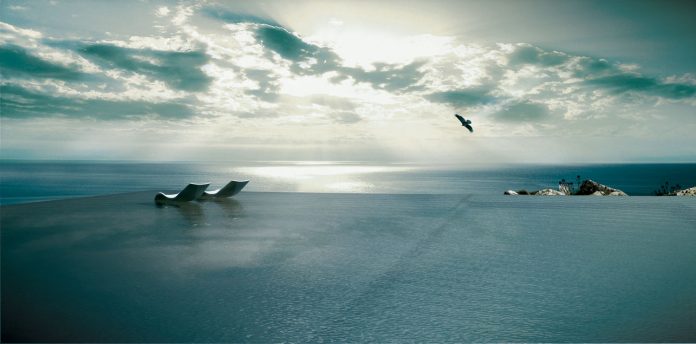 The house consists of a single-level structure. A linear wall, resembling the characteristic drystone walls of the island, runs from the outside to the inside of the house and separates the public from the private section of the house, also acting as a boundary of the territory.
On top of the residence overlays a rimless infinity pool, merging with the seascape and the Greek sky, thus providing an illusion inspired by the optical phenomenon of "mirage". The presence of the house is revealed only through the mirror-effect surface of the pool, keeping the rest of the property camouflaged.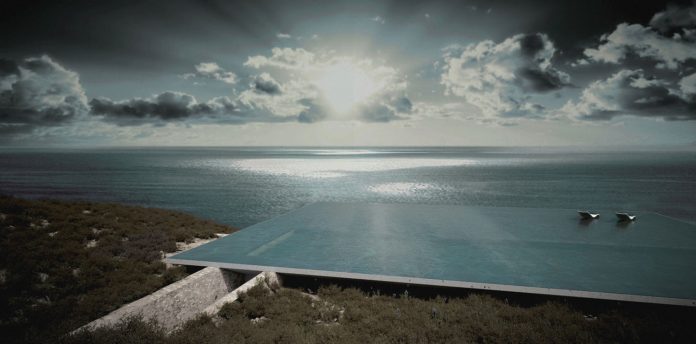 Reinforced rammed earth walls are the load-bearing structure of the house. Twelve concrete columns are positioned in the living room, to support the pool while at the same time making it appear as an independent floating volume.
The structural walls are constructed with a reinforced earth and cement mixture, poured and compacted into a mold. The inner walls have a white screed cement finish, allowing the metamorphosis of this 'cave' house through the reflection of light.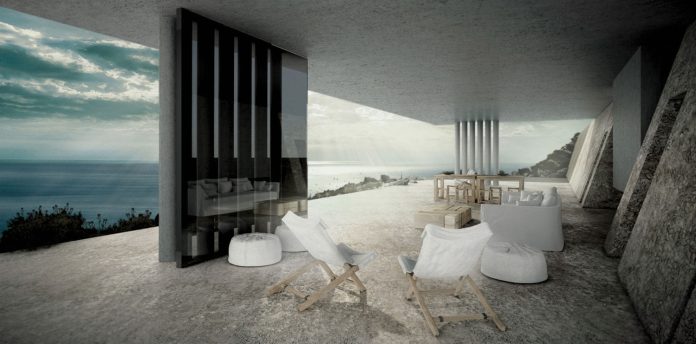 Sliding glasses blur the limiting boundaries between inside and outside, inviting light and movement and transforming the living experience. Controlled with a turnable corner system, the glass panels can be stored in a designated area, thus transforming the living room into an open-air observatory.
The pool, acting as a roof, provides thermal insulation and protection from solar radiation and heat transmittance. Cool sea breezes penetrate the house pushing warm air out, thus achieving natural ventilation.
At its core, the project seeks to illustrate the Greek Cycladic aura. By strategically using local materials, the house seems to disappear into the topography. The minimalist house, reminiscent of a cave, establishes a rapport with the landscape to illustrate how less is more.
[photos by Kois Associated Architects]