Wood floors are fairly standard in modern renovations. Wood ceilings, not so much.
When MXMA Architecture & Design was called upon to design a renovation for a turn-of-the-20th-century duplex, they got their inspiration from the location. The duplex is located in the heart of Montréal's Plateau-Mont-Royal neighborhood, facing Lafontaine Park. The space was inspired by the abundant foliage and a tree branch in particular.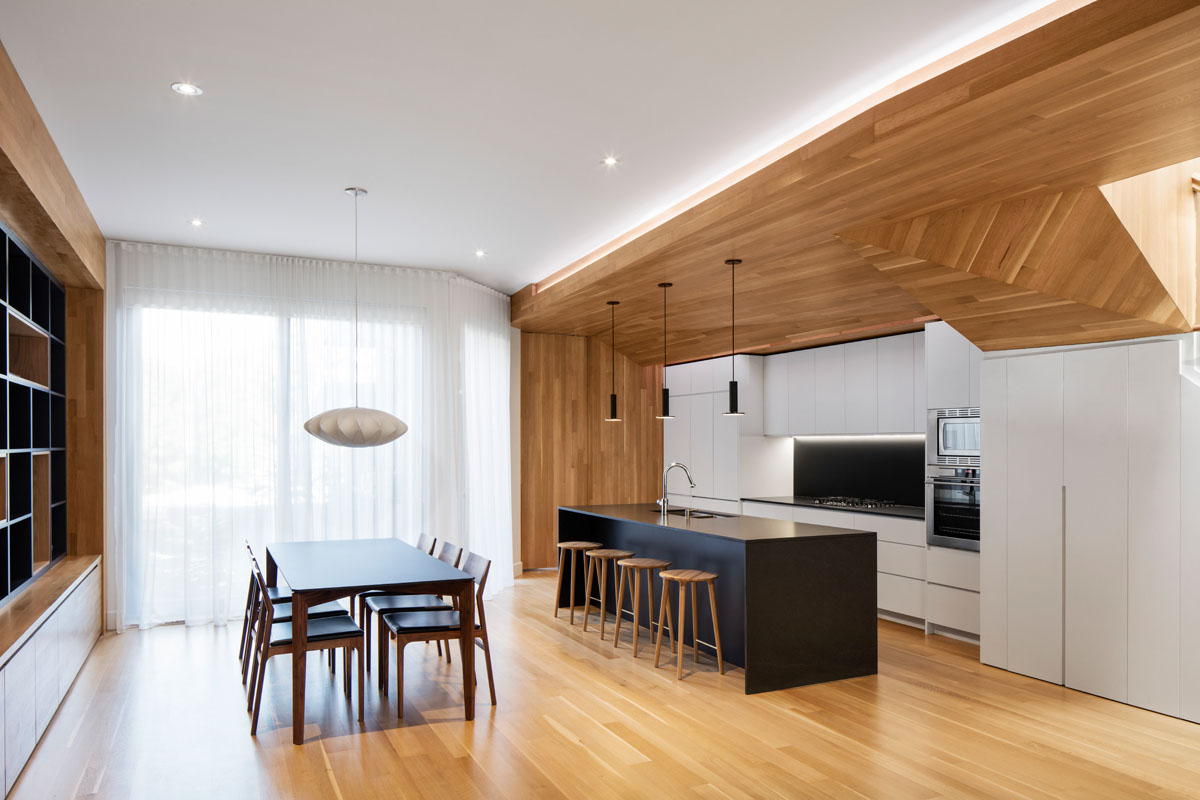 The second-floor entrance to the home is enveloped in wood which gradually unfolds as you go further into the home. Much like a tree branch, the wooden ceiling above is irregular and floating, not quite touching the main white ceiling further in the home. The wood surfaces extend out into the space becoming floors, walls, ceilings, handrails, and even the built-in furniture.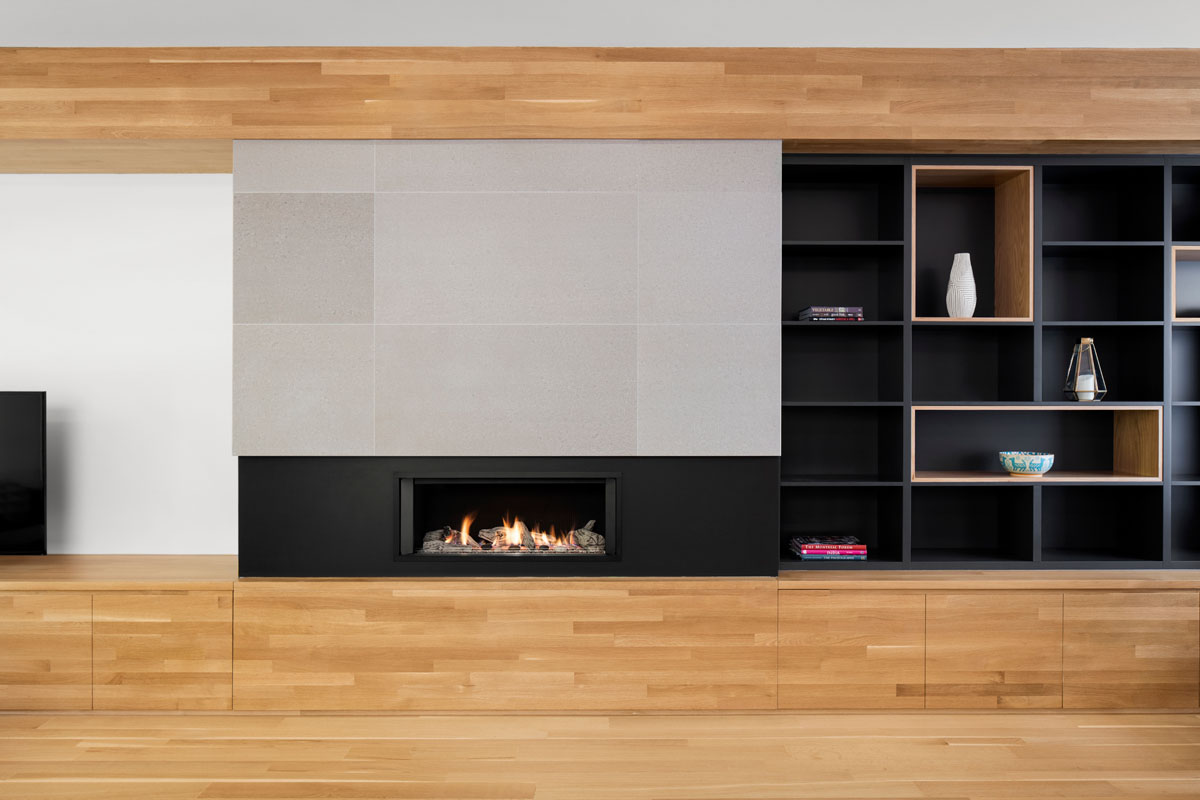 Filed under, "we don't hear this every day", the architectural form of the ceiling is the focal point of the design around which everything is organized, especially the more public areas like the entryway, living room, dining room and kitchen. Where the continuity of the wooden surfaces creates an experience of movement through the space and also leading up to the third floor.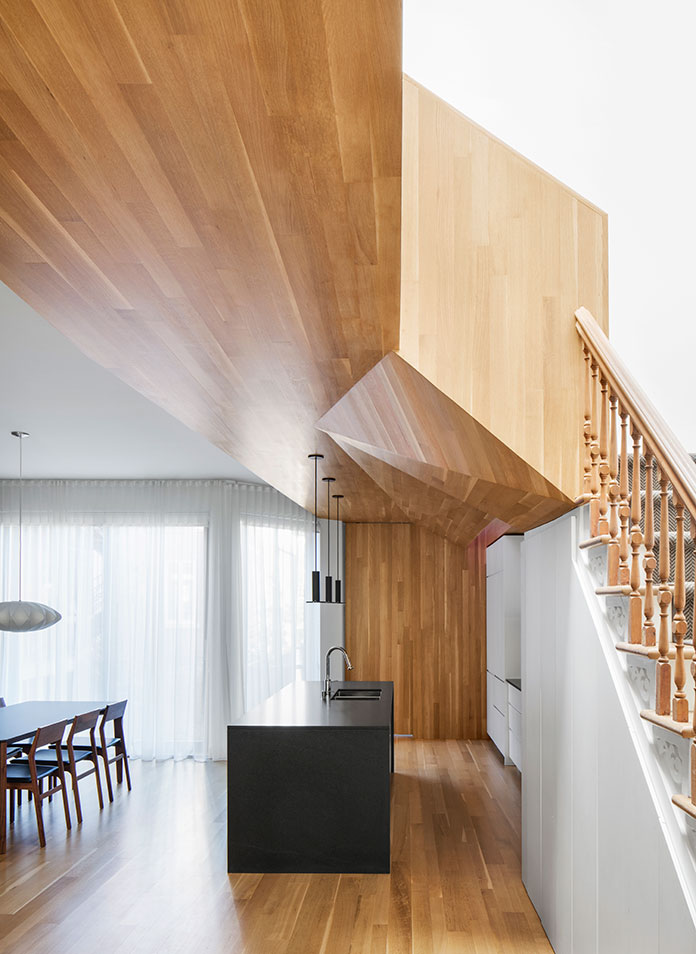 The initial rise of the staircase to the third floor is lined with a matching wood banister and rail and, as it turns to the left for the final steps, the wood ceiling wraps into the structure and becomes the railing on the third floor. Natural light spills down the staircase from a large skylight above. The wood details are present but more sparsely present in the more private spaces on the third floor, including the three children's bedrooms and the master suite.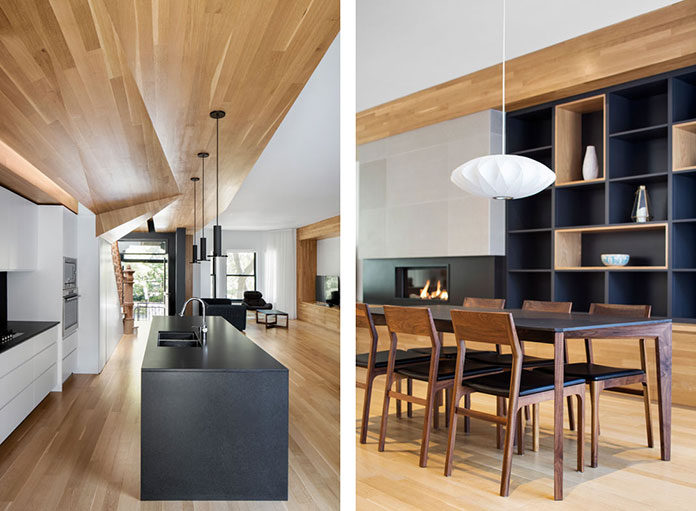 We give almost all of our attention to the design on kontaktmag, but this designed really requires us to acknowledge the craftsmanship that went into bringing this design into reality. Along with MXMA, contractor NewsamConstruction used solid planks of white oak to create irregular and angular surfaces to enhance and define the space and also conceal infrastructure such as a 33-foot steel beam to support the third floor and all of the ventilation ducts.
The woodwork is amazing, including the built-ins with high-quality finishes and precise craftsmanship and design. It gives the home a warm and natural feeling that is inspired by its environment.
[photography by Adrien Williams]