There's no standard playbook for renovating an old farmhouse. Thank God.
Sometimes a farmhouse can be completely torn down and rebuilt again and sometimes the outer shell has to remain the same due to historical preservation regulations. For an old farmhouse in the Dutch countryside, architect Jeanne Dekkers had the freedom to preserve the shell of the existing farmhouse as well as add some new modern structures to the complex.
The original structure had an L-shaped footprint with the short side being the house and the longer side the stable and a shed. In addition to creating a new modern living space for a vacation home, the plan called for adding a studio, exhibition hall, and a carport.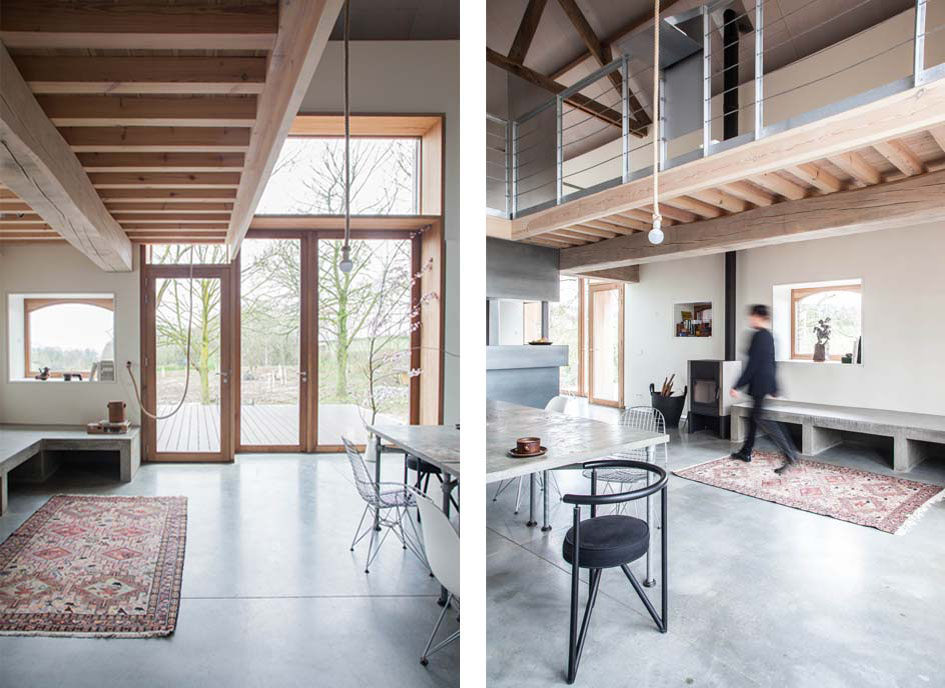 The additional structures were designed in a complimentary L-shape. The façade is a continuous horizontal larch wood slats starting from the old farm into a new carport and closing the courtyard coming back to the farm. The old shed was rebuilt and converted into the studio with a large circular skylight and a double-height glass window and door opening to the courtyard for an abundance of natural light. Next to the studio is the entryway to the courtyard and the new carport.
The additional structures created a completely enclosed courtyard which is the heart of the complex. Reused cobblestone and new anthracite concrete ties are used to pave the area while concrete retaining walls house planters for local vegetation. The landscape is designed on multiple levels, cascading down to the main farmhouse by a water system which flows through the courtyard and into a circular pond.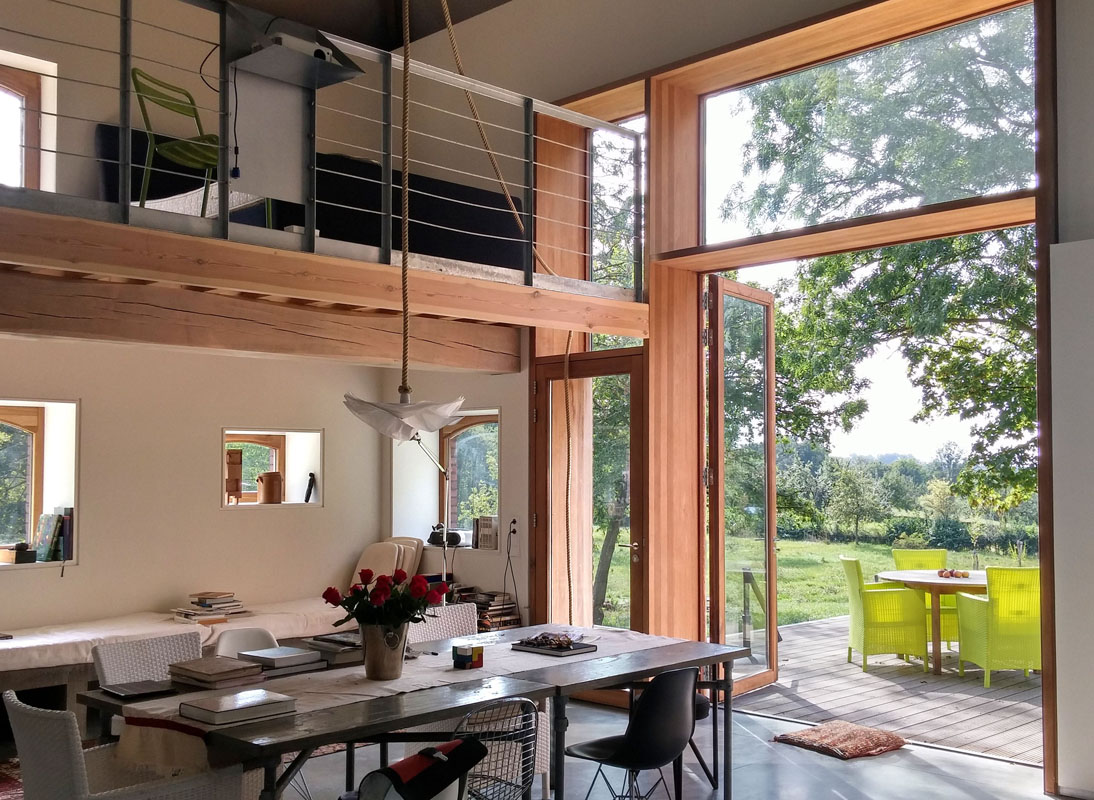 The old horse stable has been converted to the main living space. Two large openings made of Iroko wood let light in as well as lead out to a wood deck overlooking the property which used to be a grove of fruit trees. A stainless steel core was built in the middle of the open stable to house the kitchen and bathroom.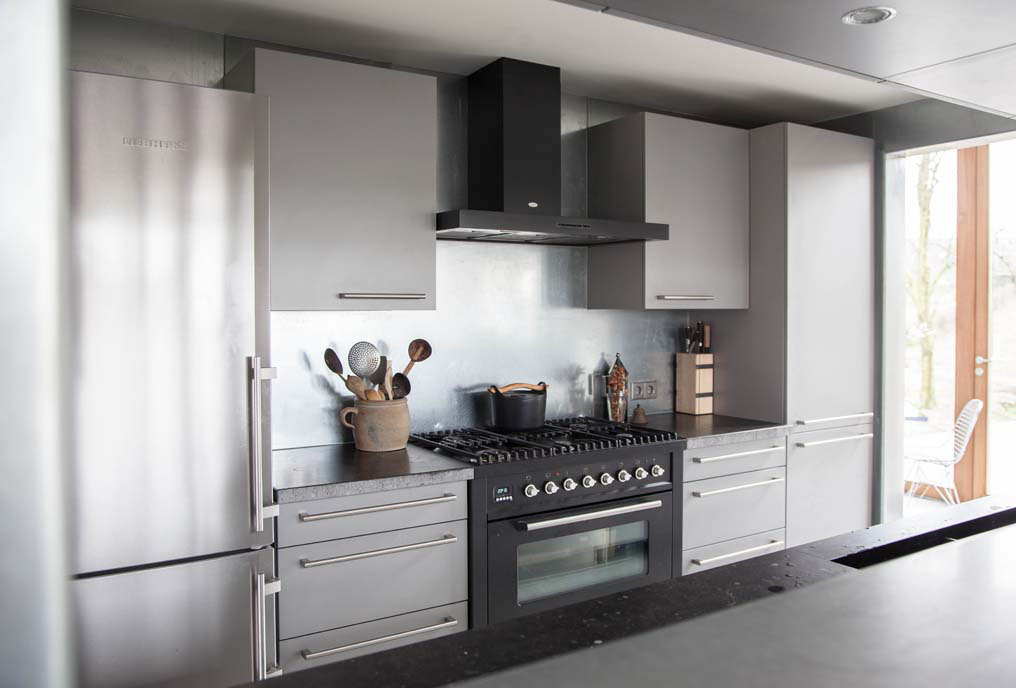 Two spiral staircases are completely clad in wood as they lead up to the mezzanine-style second floor. The floor is supported by massive oak wood beams that are finished and left exposed as are the original beams supporting the roof.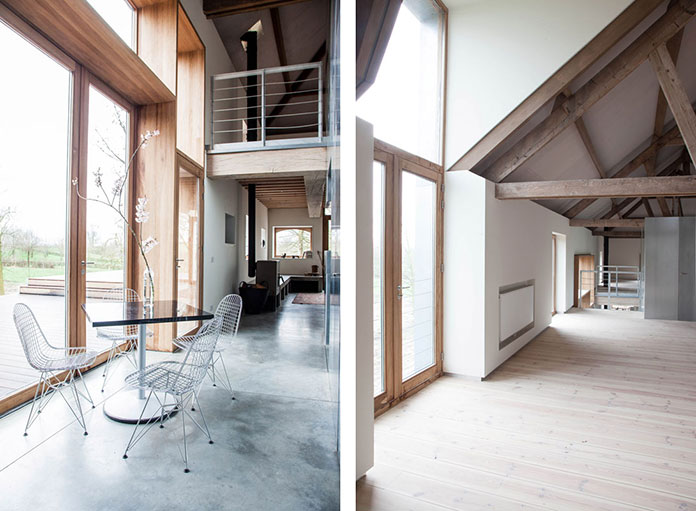 The addition and renovations were done in a sustainably conscious way using local materials and techniques. Sustainable materials were used when possible and many of the materials from rebuilt areas were reused for other purposes. The house was also designed for passive heating and cooling to minimize energy needs.
While many renovated farmhouses are a mix of old and new, the new is usually not revealed until you enter the home. In Banholt, the contemporary additions make this one stand out from the beginning.
[Photography by Holly Marder]