Spain, it seems, has no shortage of medieval villages in the picturesque countryside. Since most of those villages related to farming, there are plenty of old farmhouses ready to be restored.
It's no wonder Spanish architect, Gloria Duran Torrellas dedicated a special effort to the rehabilitation and restoration of these old buildings. Her studio has a number of these restoration projects under their belt, making is a mission to restore life to the original stone walls and wooden beams and to bring natural light and warmth to interior spaces that have historically been dark and gloomy.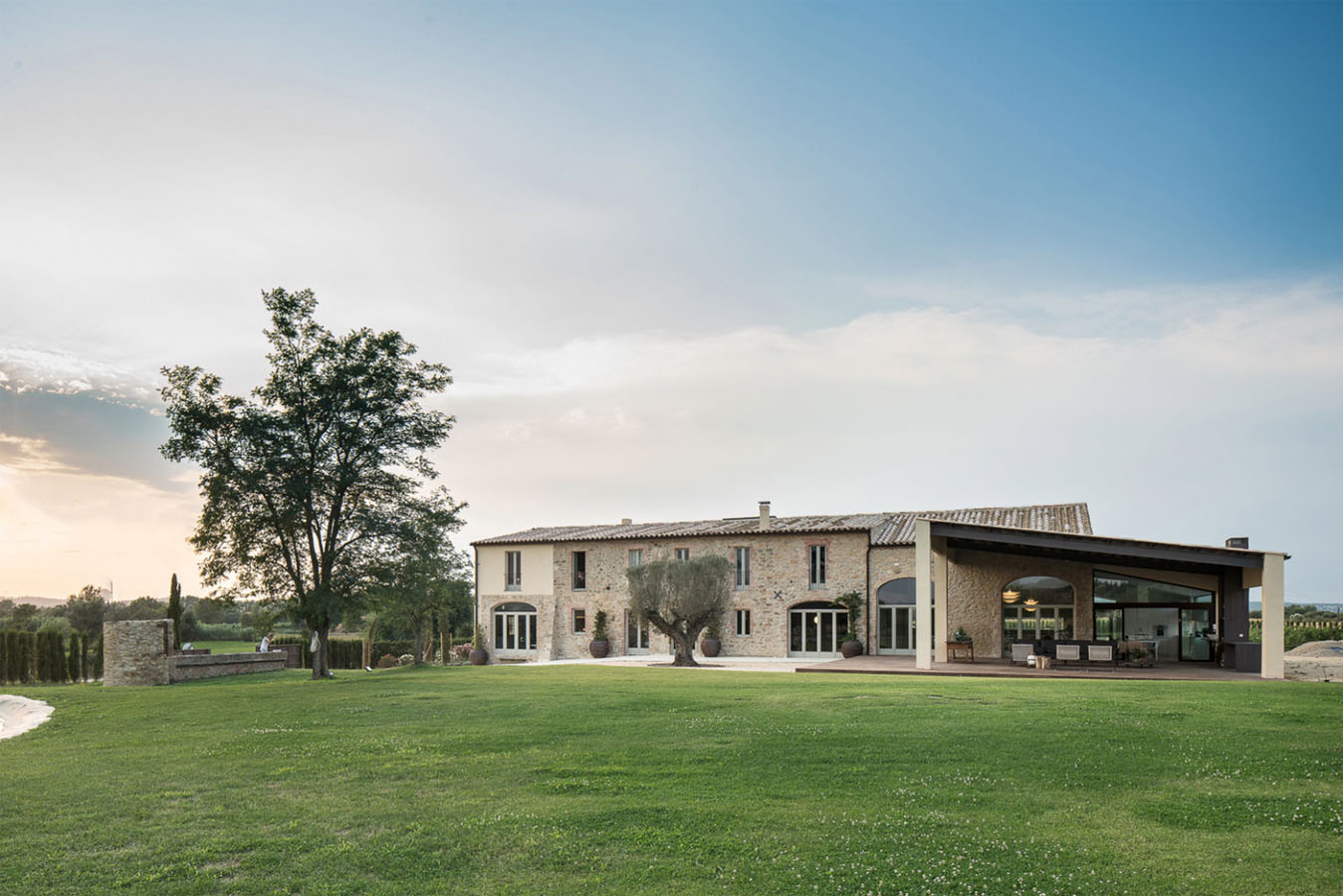 The latest restoration project for Duran's studio is a farmhouse located in the medieval village of Pals, Girona, mere miles away from the Mediterranean coast. The farmhouse was originally built in the 1850s and sits on a large plot of picturesque grassy fields with a pond. The original structure of the house remained intact with a few modern additions. Duran's intent was to carefully restore and update the farmhouse to preserve and enhance the original architectural essence.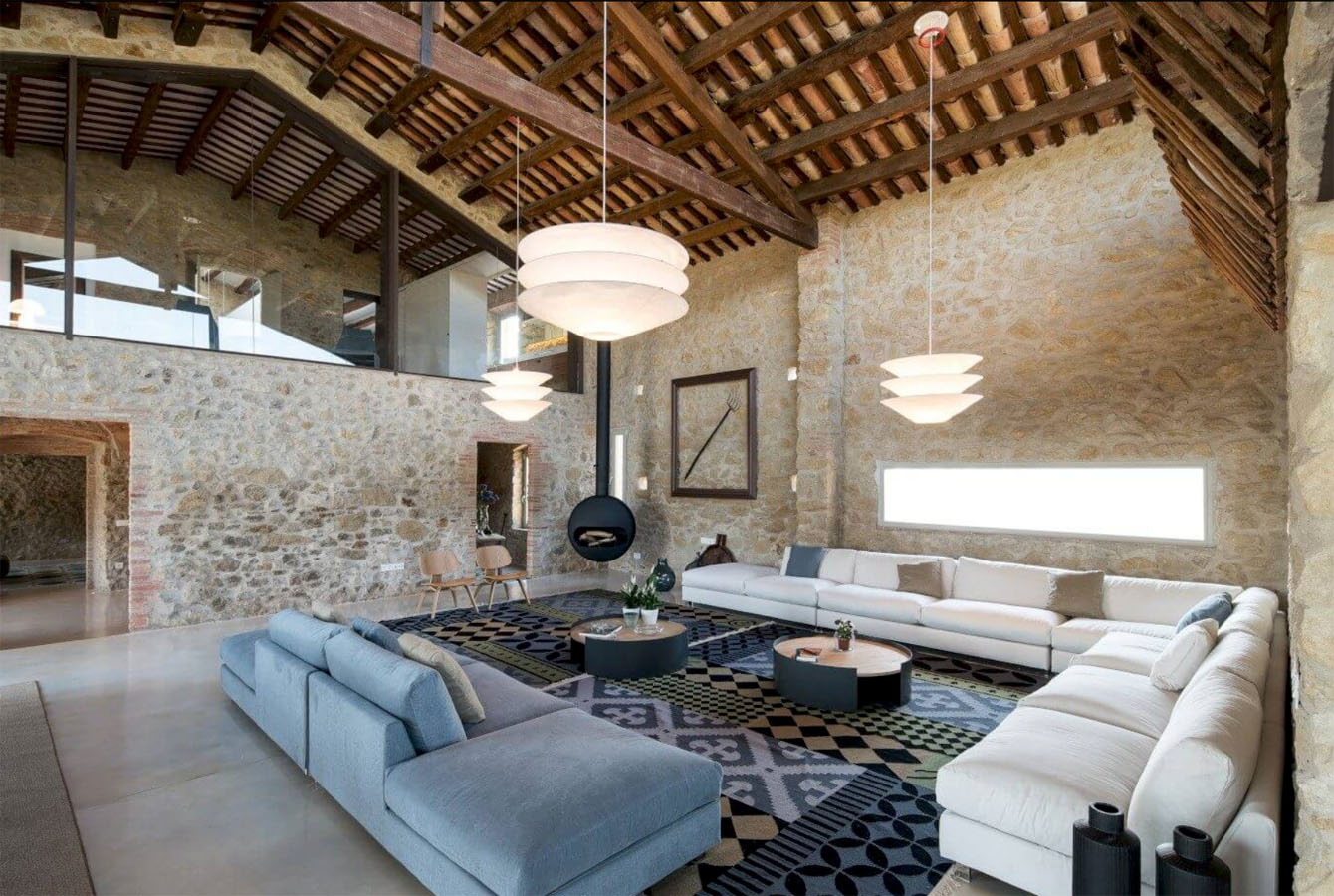 The rough rustic surfaces of the ancient stone walls and wood beams are juxtaposed with the smooth glass windows with black steel frames and modern furniture. The open spaces of the ground floor are flooded with light from large windows and designer lighting, making the once cool dark interiors warm, open, and inviting. Large area rugs provide islands of softness on the stone and concrete floors.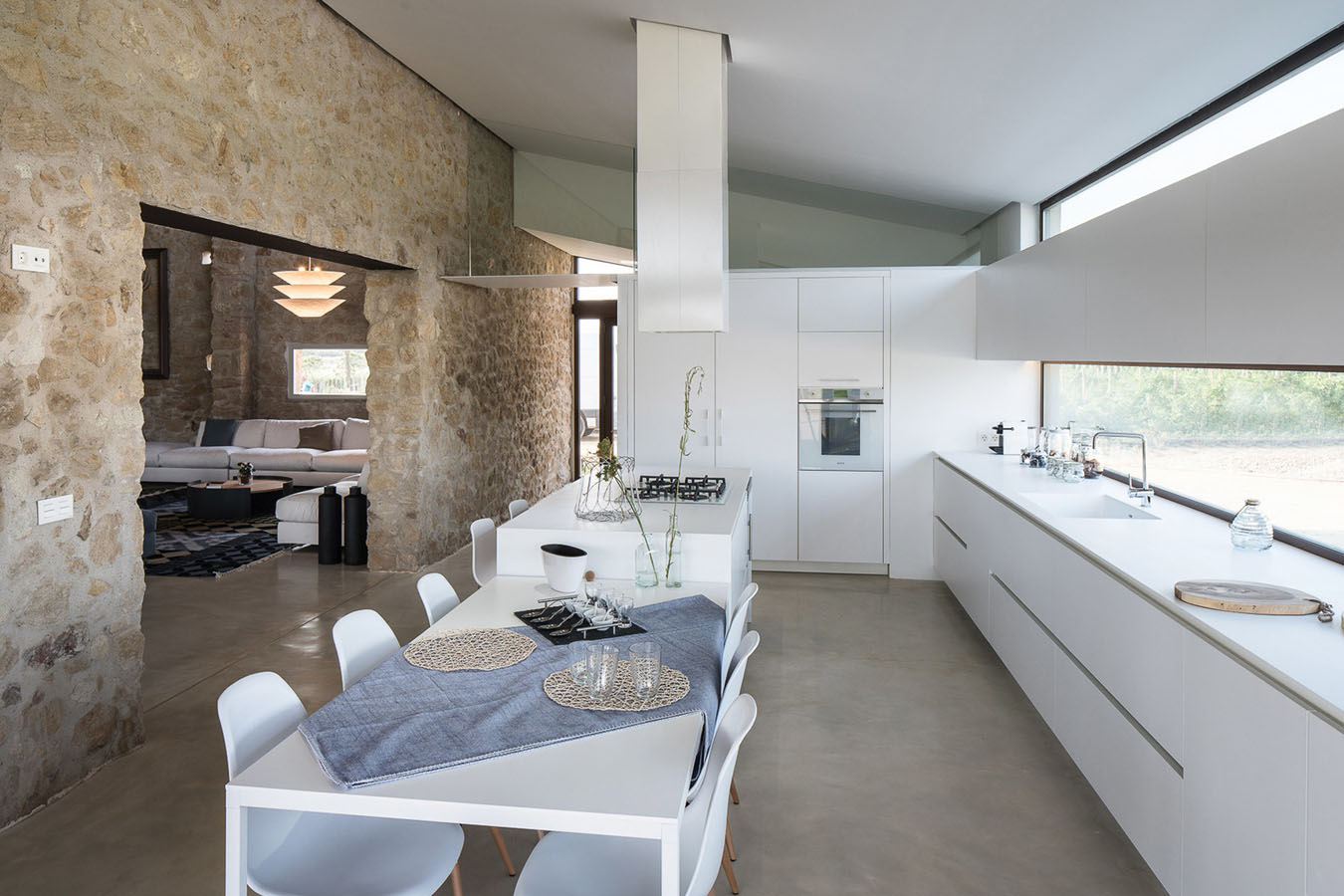 The modern kitchen is the main addition to the structure, built on to the end of the house using clean modern lines and angles that enhance, rather than distract from the original form. The kitchen is bright and clean with a mostly glass façade letting in ample light reflecting off the white cabinets and countertops. Since the inner wall is the original farmhouse wall, the new addition seamlessly integrates with the rest of the house.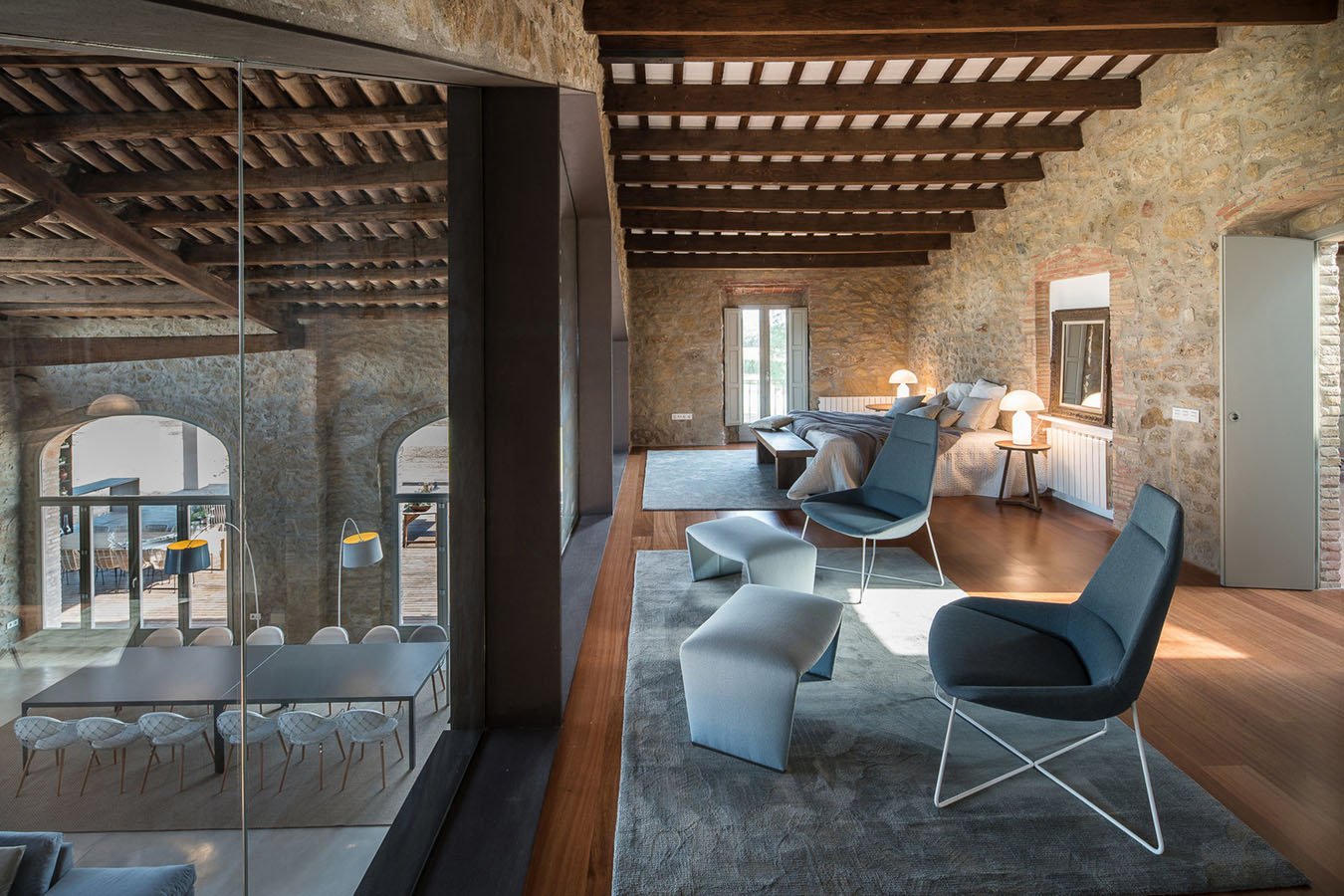 Seamless integration is the overall theme which reveals itself in the details throughout the house. Details such as the skylight above the staircase with a glass railing, cantilevered cabinets floating off the stone walls in the walk-in closet, and the glass wall enclosing the loft-style master suite overlooking the main living area, just to name a few. Somehow, the modern kitchen and bathroom fixtures just seem to fit.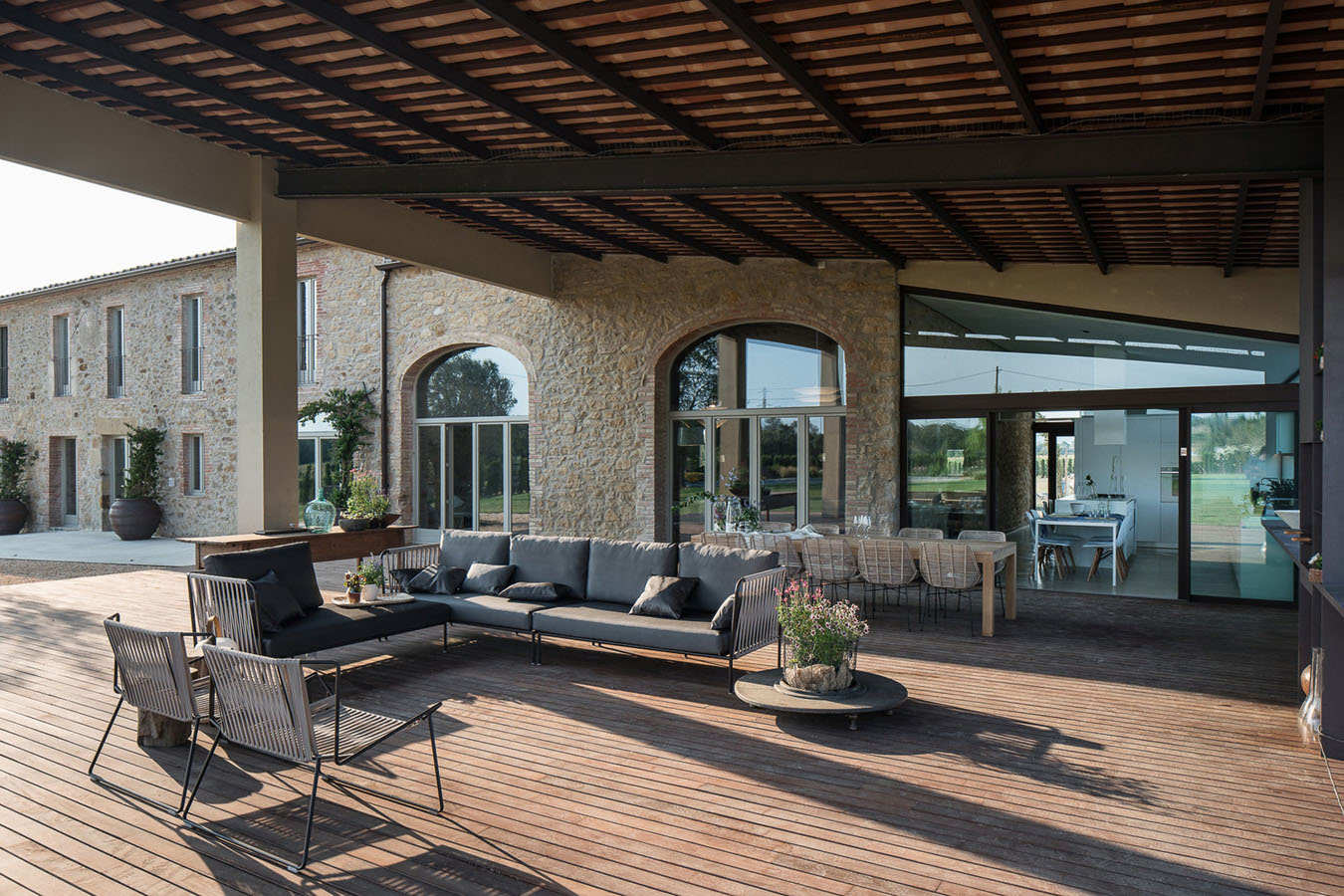 Off the new kitchen, a huge covered patio creates an outdoor entertaining space with a large dining table and a sitting area sits on wood planking. There is also a large pool on the side of the house connected to the patio with an additional large modern cabana structure.
Gloria Duran Torrellas Arquitectes has dedicated special attention to these types of restorations and it shows in every detail. With respect for the history of the structures, she is able create warm, modern spaces that enhance the historic character of the home. It is definitely a farmhouse designed for modern living and entertaining.
[photography by Miquel Coll]