Stop me if you've heard this one: "How many designers does it take to renovate an old farmhouse?"
The answer is two, but, to be fair, the farmhouse is more like a complex of six buildings. Plus a pool. See–this really adds up.
A couple who loved entertaining had bought the 80-acre property as a weekend retreat. The plan for the property was to create a cluster of buildings that suited their various needs, to include a guest house and caretaker's cottage with a small barn in between, a garage with a workshop, a 60-foot long barn to be used as the main house, and 60-foot long pool and pool house beside the main barn.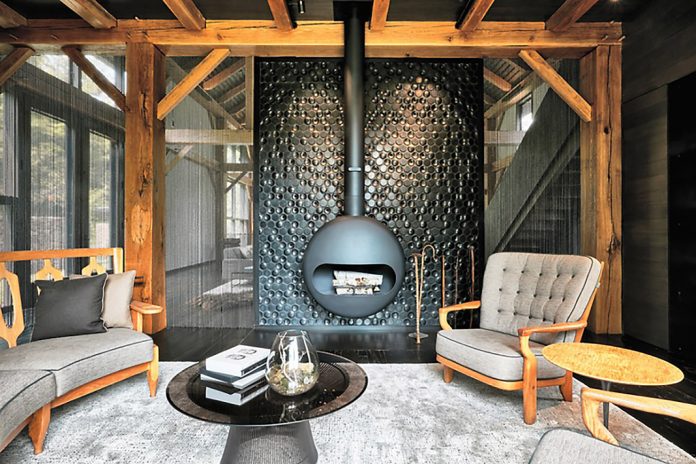 Because he has worked with the client on projects before, Stephen Clark Design Group did the bulk of the heavy lifting and was given the tasks of architecture, interior design of the two guest houses, and pool and landscape design.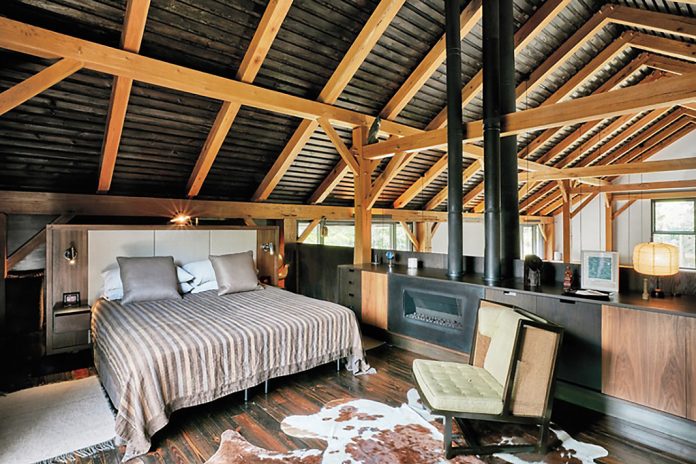 The exterior of the buildings are similar, clad in gray weathered wood with black painted trim, keeping to the farmhouse motif. "No screws or metal were used in the construction of the main house, just traditional posts, beams, and pegs assembled by a crew of two," said Clark. The natural materials extend to the design and layout of flagstone terracing around the pool and the guest house, and the stone wall between the main barn and the pool.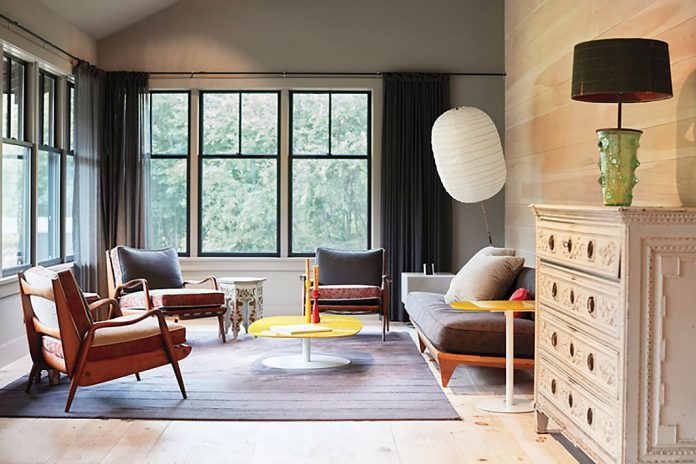 While the exterior remains matchy-matchy, the interiors are as different as night and day. Clark designed the guest houses with contrasting personalities. One guest house is light and airy in whitewashed pine, the other darker and moodier. The big hangout areas are in the main barn, and to decompress, visitors can find solace and privacy in cozy nooks or by repairing to the standalone guest houses.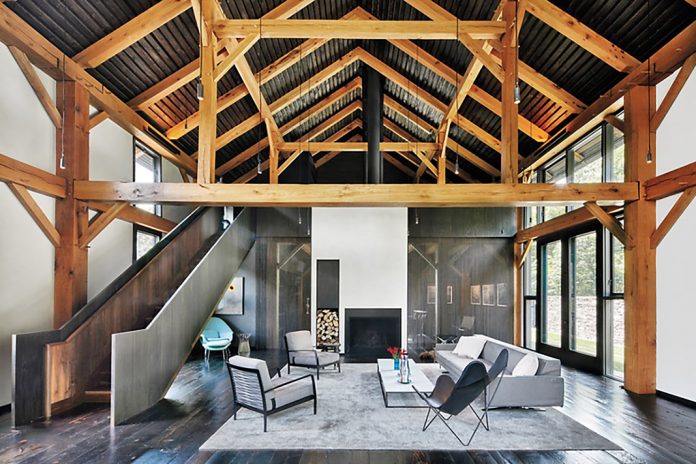 Speaking of the main barn, Mark Morton was brought in to design a dramatic entertainment area for the couple who planned on having guests often. Morton trained as a set designer so was no stranger to drama. He also grew up in the Adirondack Mountains so he understood the vernacular of the area. His design blended regional sensibility with a cosmopolitan flair using space and lighting to create a theatrical feel.
[photography by Garrett Rowland]