Between older concrete structures crumbling in the harsh salt air to the newer luxury high-rise apartments rising up, the area between Tel Aviv's southern and northern beachfront has been in flux for years.
In one of these new apartment buildings, prolific Tel Aviv-based design firm, Pitsou Kedem Architects was given a blank slate in which to design a modern luxury living space called N Apartment. The entire floor offers 360-degree views, from the dilapidated Dolphinarium and Charles Clore Promenade to the distant ancient Kasbah of Jaffa, and, of course, the Mediterranean Sea. The designers planned the interior architecture to maximize the views and take it all in.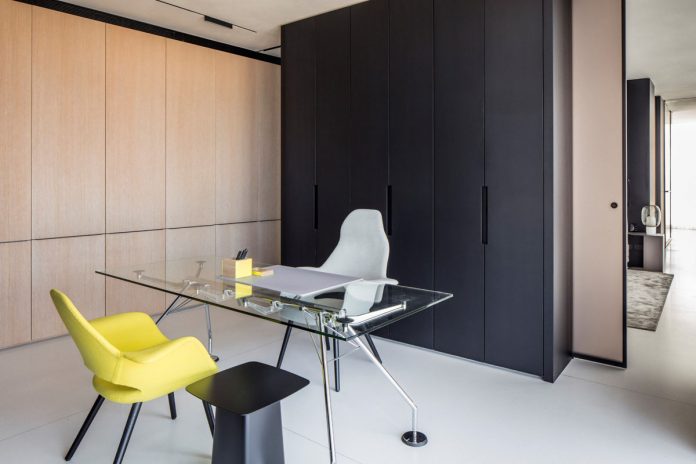 Everything is designed with movement around the central core of the building in mind. To minimize the impact of the central core everything is organized to move you away from the center, outwards to the glass windows that make up the primary exterior façade and the urban landscape beyond. The core is further minimized with wood cladding that's soft and organic to contrast it to the outer materials of glass and steel. Linear iron work embedded in the wood cladding creates a pattern around the core and ties it to the ironwork in the exterior windows.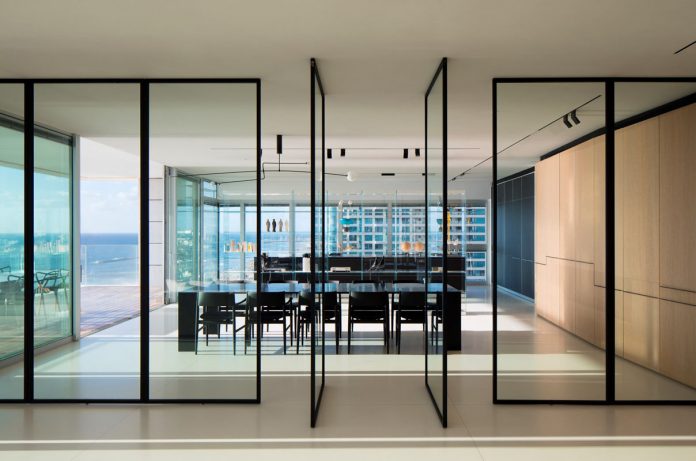 The floorplan around the core remains open and flexible, organized in an obvious and clear-cut arrangement. The different spaces are divided by partitions of various forms ranging from built-in cabinetry to different types of glass partitions. The main living room is marked off from the dining room using pivoting glass doors that can be opened independently of one another and the kitchen is divided from the dining room by a floor-to-ceiling glass display/bookshelf unit.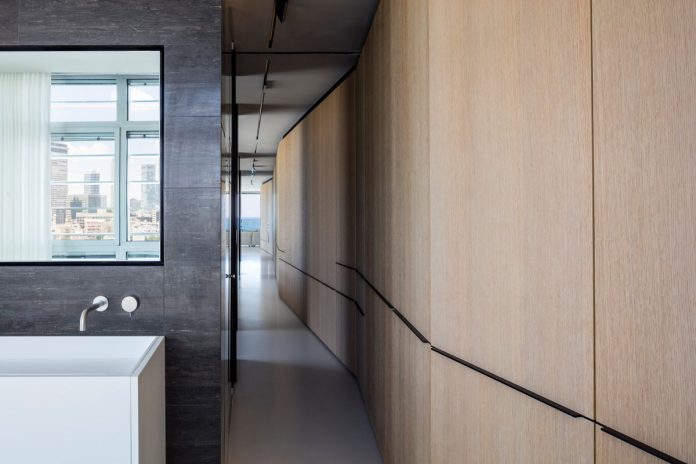 The private areas are also on the perimeter so as to still allow for unobstructed movement around the core, but are much more secluded and tucked away. Sliding pocket doors allow bedroom areas to be closed off for added privacy from the public areas. The wooden core provides a seamless closet solution.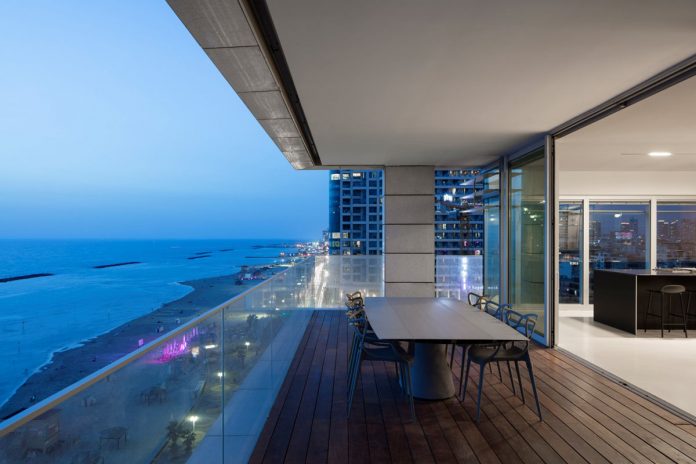 While the urban views can be quite captivating the real attention-getter is the deep blue of the Mediterranean. A covered deck runs the length of the side of the apartment overlooking the sea. Glass railing ensures none of the views are obstructed. In fact, you might say that unobstructed view is the overall theme of this apartment.
With these views, that's an excellent design choice.
[photos courtesy of Pitsou Kedem Architects]