The Spanish Riviera is not known for its surfing but if you're surfing for design, you can definitely catch a wave… and a cocktail.
Nestled inside One Ocean Club in the fancy part of the Barcelona Port, is the award-winning Blue Wave Cocktail Bar designed by Spanish architectural firm El Equipo Creativo. Located right at the water's edge, the architects were charged with creating an elegant atmosphere where patrons can savor some cocktails while enjoying the comings and goings of boats and yachts along the waterfront. El Equipo Creativo wanted to create the feeling of a wave, about to break, to embrace the customers in a marine atmosphere full of reflections and shadows.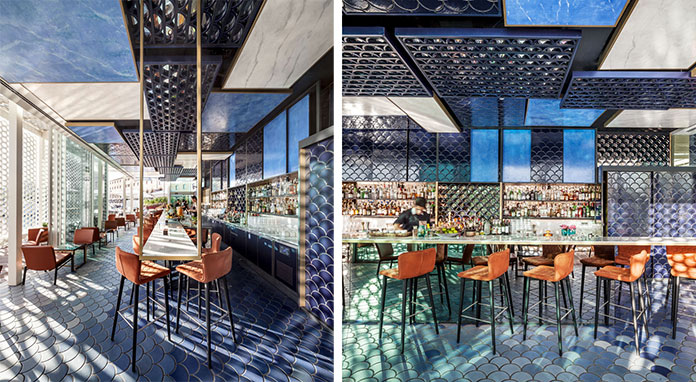 From the architect: "The cocktail interior is conceived as a wave. A wave before breaking creates an embracing tube that generates an aquatic, dynamic and unitary space yet fulfilled from reflections and shades. The material vertical water wall splits out becoming something else, sea foam. Sunset light breaks into golden pieces floating over the water."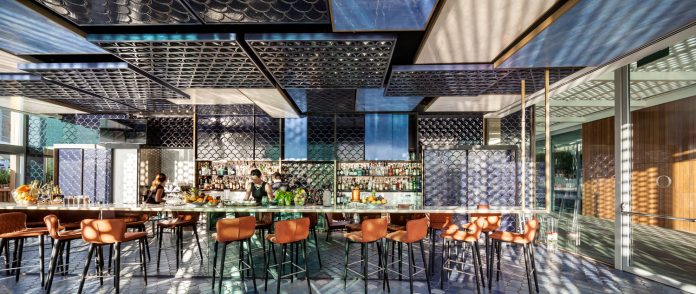 A single material was used for the floor, walls and ceiling to give a stronger feeling of being wrapped in the space. The unifying material was ceramic tiles handmade by local ceramic artisans furthering the relationship to the Mediterranean environment.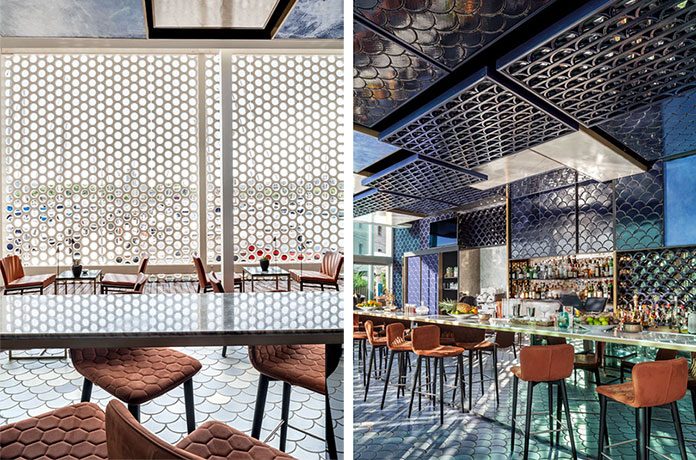 The tiles flow from a deep blue and fade into white to mimic the colors of a breaking wave. The white concrete lattice façade adds the finishing touch to the blue space as the foam of the crashing wave. The play of light splashes through the lattice and creates an effect of light dancing on water as it reflects off the shiny blue tiles.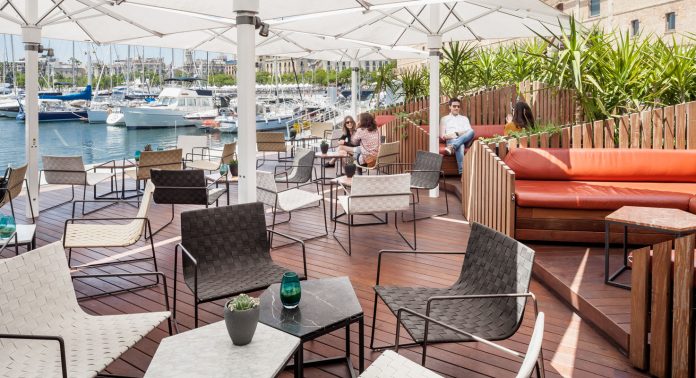 The bar opens up on the northern side to a wide terrace like a Mediterranean cove. The space offers a transition between a vegetal, wooded zone and the sea with different elevations to create multiple spaces. The wood deck rises to create VIP seating areas with the same wood as seat backing for continuity. To finish off the motif, low, irregular-shaped tables dot the deck like pebbles in the sand, tossed in the breaking wave.
Blue Wave Cocktail Bar is the winner of the Best Overall Bar in the prestigious international Restaurant & Bar Design Awards for 2016.
[Photography by Adria Goula]