The public swimming pool "Obermaintherme" in the Bavarian city of Bad Staffelstein is Bavaria's hottest and strongest saltwater emerging from over 5000-foot deep drilled spring. For several decades it has been the place for locals to go for relaxation and convalescence. Over time, the salt water took its toll and the design was very dated so a complete overhaul and redesign was needed.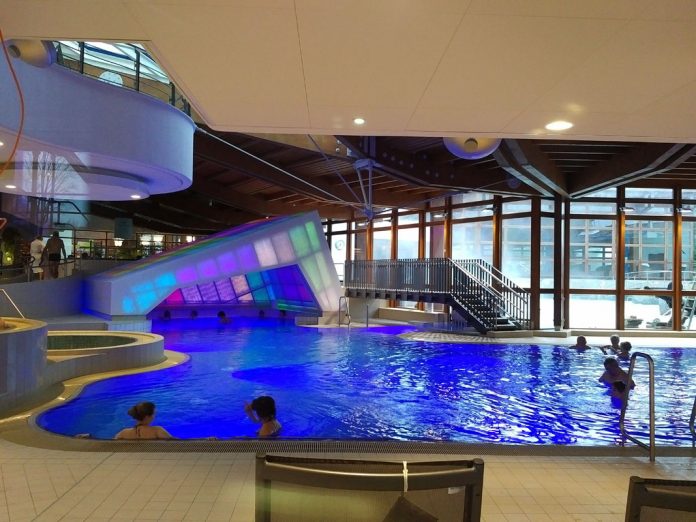 The former design of the interior pool included a cave made of natural stone and covered with artificial palms. This design was very popular for decades, so, the new design had to be modern and impressive. As part of the modernization of the baths, the cave should visually pick up and become a stylized salt crystal, self-illuminating and bright inside-out.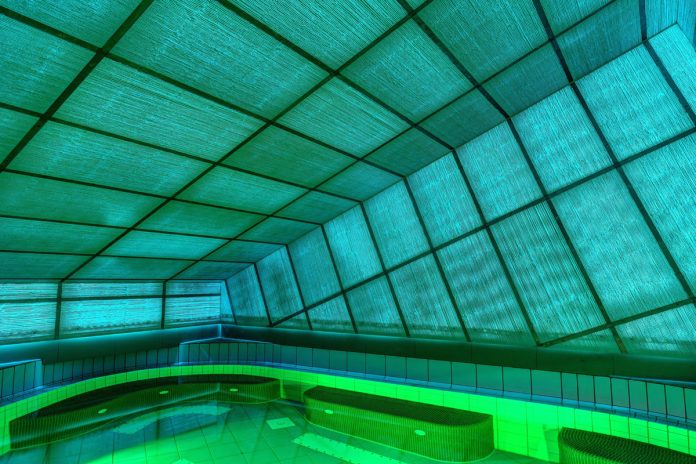 The architectural firm Krieger Architekten Ingenieure saw the light transmitting concrete as a perfect material for this use. Translucent concrete is a very elegant and visually appealing material, with the ability to transmit the light behind through thousands of fiber optics embedded within the panels. As a result, the panels look in one moment like a heavy grounded natural stone and when lit, they shine and glow and look like a hovering light material. The duality of this material gives different ambiance for the space, use and users.
Krieger Architekten Ingenieure and their team completely renewed a 560-square-foot large pool with underwater-jets, a waterfall and a channel as a connection to an existing outside pool. The new highlight was designed with a cave in the shape of a salt crystal made with LUCEM translucent concrete, allowing the new shell to light in different colors along with the water.
The light shines through the surface of the translucent concrete with more than 2 million fiber optics. Within the double wall construction on a steel frame there is a programmable LED lighting technology, that can be adjusted to different colored mood lighting. This ambient lighting concept, along with a special sound system in the Cave integrated with the massage jet nozzles in the water, creates a wellness experience for those inside this installation.
[photos courtesy of LUCEM GmbH via v2com]