You never know what wonders hide behind closed doors and unassuming façades.
Case in point, you might drive by a particular townhouse in Montréal dozens of times and only ever notice the darker paint on the front of the house. But, if you invited over, you would find a surprising interior design with a beautiful Nordic minimalist influence.
When a young family bought a duplex near the city center and public transportation, they knew they wanted to live a green lifestyle and have their new home reflect that. They hired architect Kim Pariseau and her team at Appareil Architecture to design the renovation with the main guidelines being urban integration, sustainable materials, and simplicity.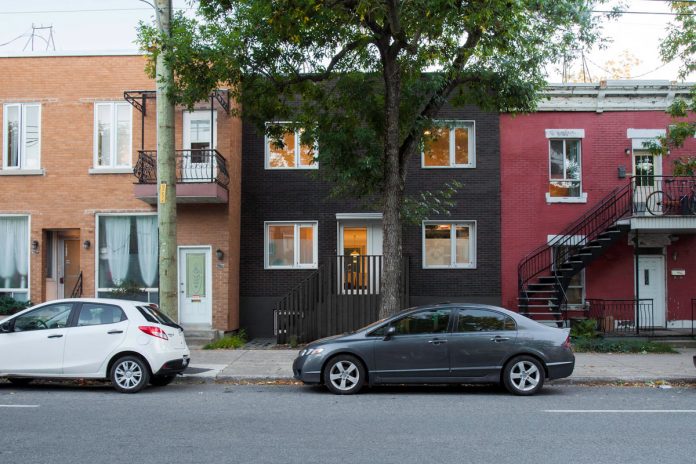 Pariseau has a double degree in architecture and interior design and, while studying at the University of Copenhagen, became enamored with the Nordic design philosophy. She brought this design influence to the project to create a clean, minimalist interior with an abundance of natural light.
The owners wanted large, bright living spaces so the renovation started by combining the duplex into one space and opening up the first floor. Part of the upper floor was also opened up to create a spacious mezzanine with glass partitions to maintain a visual connection with the living area and allow light to shine down from the skylight.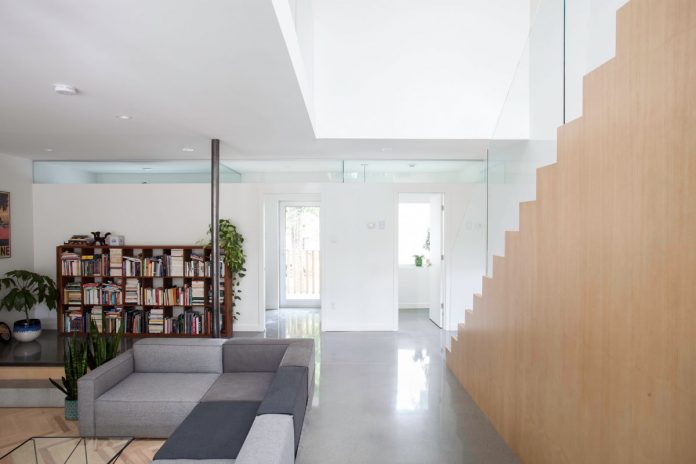 The living room is located in the center of the ground floor. Rather than adding partitions to define the space, the living room was sunk almost 16-inches below the rest of the main floor, framing the living room and giving it an inviting feel. The area is further defined by materials as the main floor is polished concrete and the living room area has wood flooring.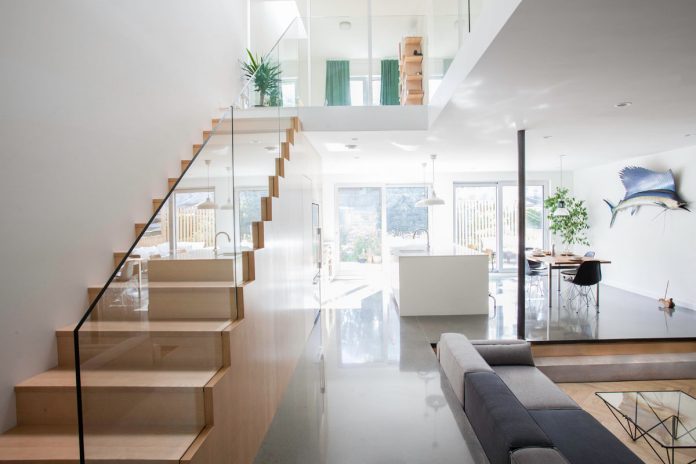 The staircase is a focal point for the home, made from lightly stained ash and glass railings. The glass railings help to reduce the apparent mass of the staircase while also allowing light to pass through from the skylight.
To ensure the house would be green, bioclimatic studies were done with a consultant. The insights from the study were used to rethink the space to have a positive impact on the building's performance. The polished concrete floor reflects light and stores heat from the sun which is great if you've ever been to Montréal in the winter. The use of high-efficiency walls meant lower heating and cooling requirements.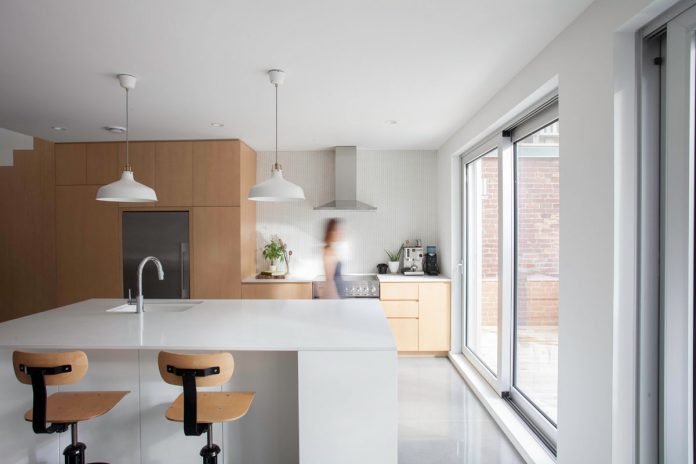 As much as possible, local materials were used. The staircase, wood flooring and the custom built-in furniture were all made from ash from the province. The front facade of the home was covered in brick made of recycled components, while the back is clad with Eastern white cedar, another durable material from the area.
No doubt the family is happy with their new home and doubly happy when new people come over their jaw drops once they step inside.
[photography by Francis Pelletier via v2com]