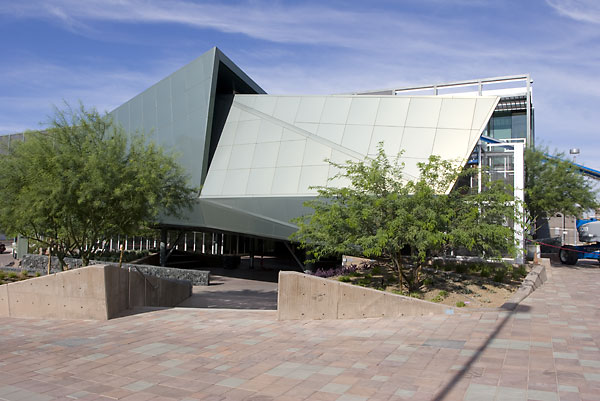 The Tempe Transportation Center is many things. It is the first bike center in Arizona, the first green light rail station and, most importantly, it is the first of many mass-transit hubs built with mixed-use in mind.
The center was built around water conservation, and features low-flow fixtures, waterless urinals, a vegetated roof, gray-water harvesting and native plants. Energy conservation features include energy-efficient office equipment, under-floor air supply, shading devices and solar-heated, hot water.
The three-story, 40,000-square-foot building includes a 2000-square-foot conference community room featuring pull down screens, room divider and self-healing bulletin boards. The gold LEED-certified structure also has evaporative cooling, fabric shade canopies and decomposed granite in the parking lot surface.
Built to act as a gathering place for light rail riders, the center will offer bike storage, retail, food shops and ticket sales. Memberships and lockers are available for regular commuters.
Tempe Transportation Center's interior is environmentally conscious throughout. Recycled countertops, low-VOC paint and local or regional materials make up most of the interior, allowing for the entire facility to claim as small a carbon footprint as possible.
Similar plans are in the works for a light rail hub in Chandler as part of the design for track expansion in the next few years.