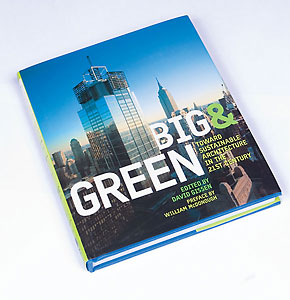 Featuring the work of the world's leading architects in words, drawings and images, Big & Green is a pioneering and definitive exploration of the transformative power of sustainable design. With a focus on big buildings – where the challenges are the greatest – this resource is a perfect medium to find out what's already been done and how to improve upon it.
Also included are essays that track the history and development of new sustainable building technologies, a glossary of green design terms and interviews with architects.
Nice enough to use as a coffee table book but small enough to tuck away and read in bed, Big & Green is a must have for anyone interested in new green building trends.
Available from Princeton Architectural Press.