One year ago today, Zaha Hadid suffered a heart attack in a Miami hospital and the architecture world lost one of its most visible and influential designers. She was the first woman to receive the Pritzker Architecture Prize, in 2004. She received the UK's most prestigious architectural award, the Stirling Prize, in 2010 and 2011. In 2012, she was made a Dame by Elizabeth II for services to architecture, and in 2015 she became the first woman to be awarded the Royal Gold Medal from the Royal Institute of British Architects. If you want more information about Zaha and her history and impact, Architizer has a great article about her with a brief bio.
To say Zaha was prolific would be a massive understatement. She is still very much in the news with new projects being completed and new products being released. One of Zaha's prophetic quotes was, "If it doesn't kill you, you're no good." She wasn't satisfied with just being 'good' at architecture and collaborated with many top fashion brands to lend her talents and vision to product design and other collaborations ranging from sofas to lighting design.
My first personal experience with Zaha's work was the Chanel Mobile Art Pavilion when it made a stop in NYC in 2008. Walking through the pavilion was an amazing and surreal experience. It was pure design, unfettered by typical building constraints. There was a sense of being inside Zaha's version of Wonderland.
Zaha formed Zaha Hadid Design in 2006 as an outlet for her art and product design projects and to collaborate with other design brands. The Zaha Hadid Collection features gift items and home accessories designed by Zaha to push the boundaries of design and technology using contrasting materials and colors. Here are some selections from the latest collection.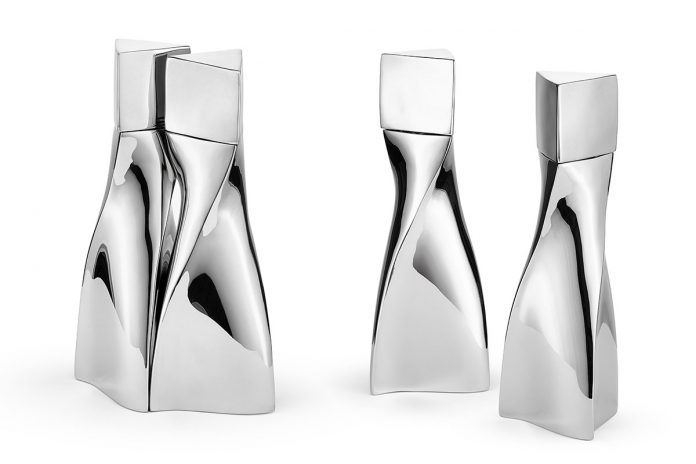 Duo Salt & Pepper Grinder
The duo salt and pepper grinders spiral polished stainless steel around a ceramic internal grinder. The set interplay as they nest into each other's curves.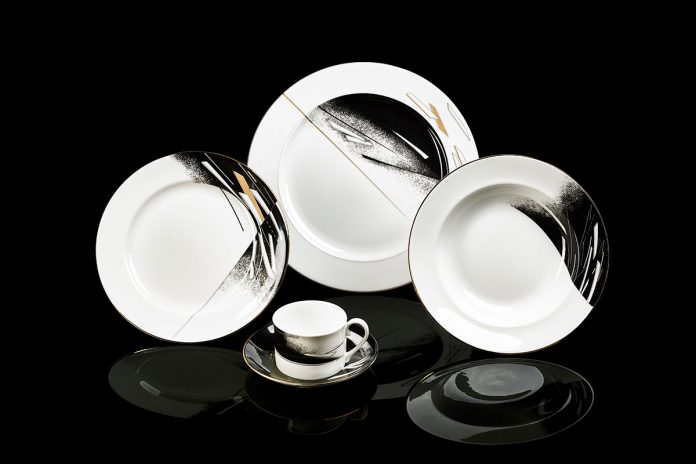 Beam Dinnerware
This range of fine bone china dinnerware is applying a visual abstraction of the Suprematist approach to both space and form, on its surface. The set is accented with gold leaf, and consists of a dinner plate, side plate, soup bowl, teacup and saucer.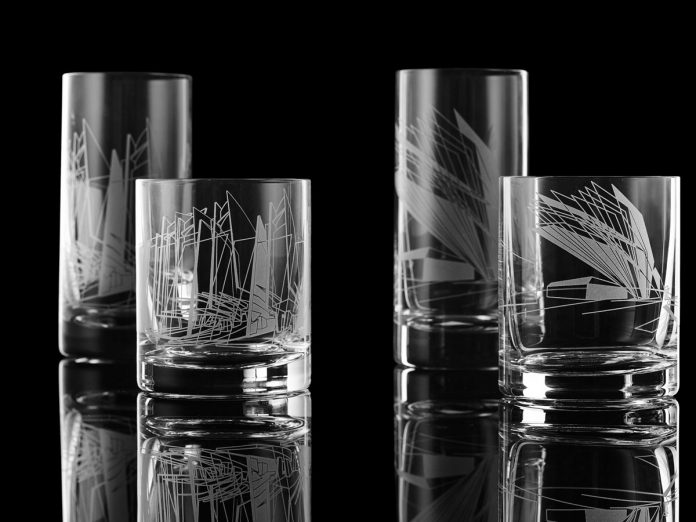 Sketch Highball & Lowball Glasses
Three original sketches from the archives of Zaha Hadid have been applied to high and lowball drinking glassware to stunning effect. Represented are designs by Zaha Hadid for three architectural projects, Kurfuerstendamm in Berlin, Hafenstrasse in Hamburg and Great Utopia.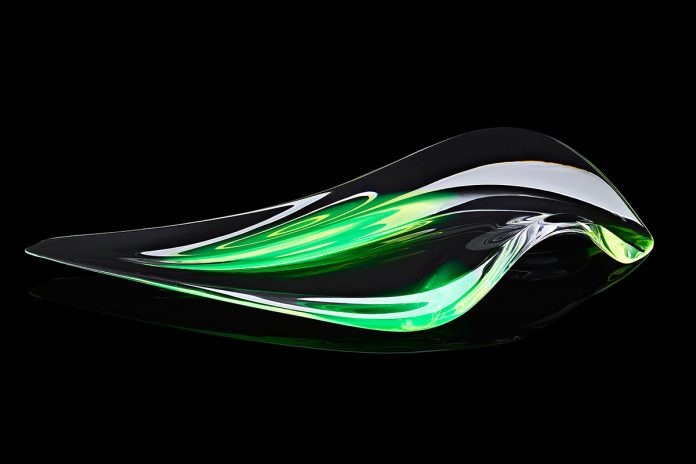 Aqua Platter
Inspired by the undulating wave of the London 2012 Olympic Aquatics Centre, the Aqua Platter conveys the fluid rhythms of water in motion. The weight of the platter is distributed across three curvilinear points that gently land the platter on a surface, each point lightly infused with color to create a visual effect that simultaneously grounds the Aqua and expresses the fluid forces that define its form.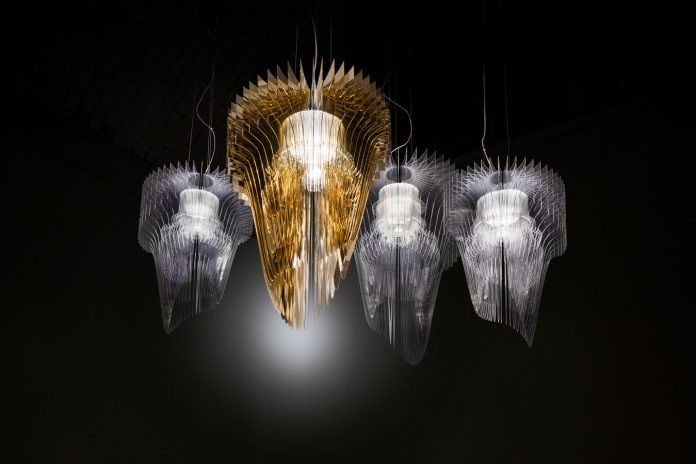 Aria Chandelier
A suspended centerpiece which gently illuminates its environment with light dramatically cast through its sculptural fins. An elegant embodiment of the seamless fluidity of movement. Zaha Hadid's dynamic and visionary architecture results in a volume that is apparently dematerialized, where illumination and lightness blend, defining natural design, becoming almost aquatic.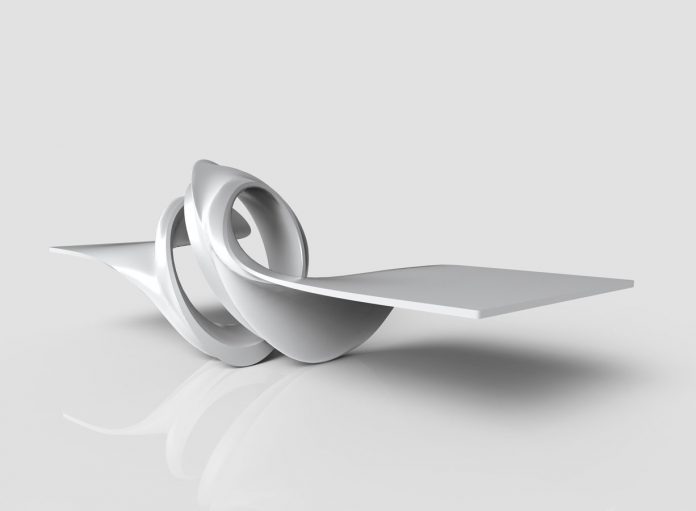 Leia Table
For the 40th anniversary of Star Wars, French furniture company Leblon Delienne teamed up with Zaha Hadid. The Leia table conveys Zaha Hadid Design's virtuosity with fluid geometries and Leblon Delienne's immaculate craftsmanship that has been perfected over three decades. The spiraling form of the iconic hairstyle worn by Princess Leia in the Star Wars films has been re-interpreted within the flat planar surface of the table; a seamless transition between two and three dimensions.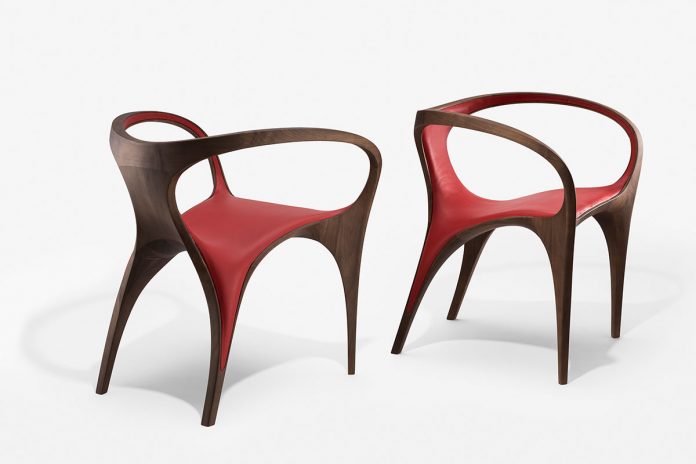 UltraStellar Chair
The UltraStellar chair is part of a collection Zaha Hadid Design collaborated on with David Gill Gallery as an on-going exploration of fluid lines, expressing complex interactions between surface and structure, solid and void, and light and shadow. The chair is an experiment with using the natural materials of walnut wood and leather to create the curved forms.
In addition to being regarded as an architectural pioneer and visionary, a unique Serpentine Gallery presentation also reveals Zaha as an artist with drawing at the very heart of her work. The work includes paintings, calligraphic drawings and rarely seen private notebooks with sketches that show the complexity of her ideas and concepts.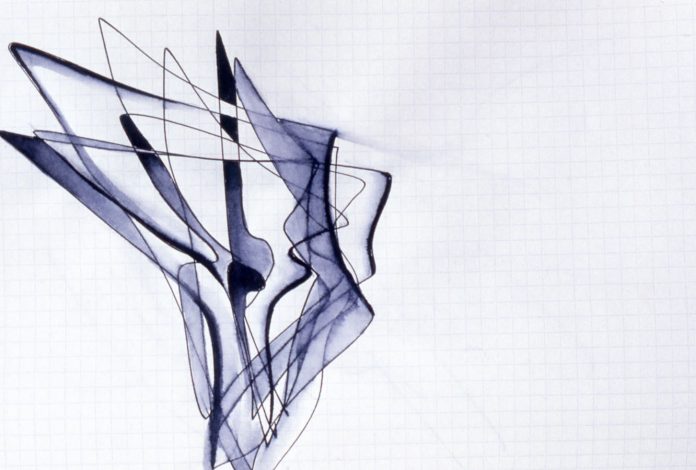 Drawing and painting were fundamental to Hadid's practice. Influenced by Malevich, Tatlin and Rodchenko, she used calligraphic drawings as the primary method for visualizing her architectural ideas. For Hadid, painting was a design tool, and abstraction an investigative structure for imagining architecture and its relationship to the world we live in. These works on paper and canvas unravel an architecture that Hadid was determined to realize in built structures and that was later seen in the characteristic lightness and weightlessness of Zaha Hadid Architects' buildings, revealing an all-encompassing vision of space and reality.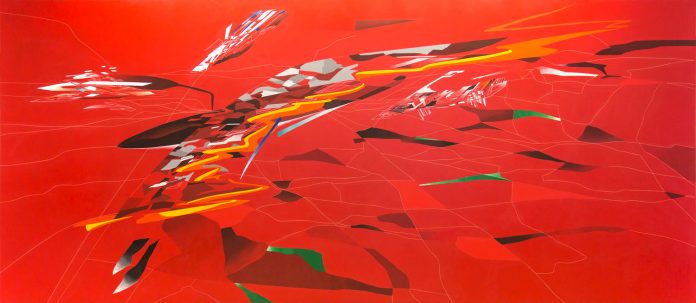 Sometimes it seems that Zaha is still with us, her design projects so diverse and numerous. We will continue to see stories of the latest building completing construction for several years to come and new products will be released. But, even when those things dwindle and stop, she will have left her mark. Not only in the landmark buildings she has designed, but also in the glass ceilings she shattered and the design industry she impacted.