A supertall skyscraper, designed by Zaha Hadid Architects has been proposed for Midtown Manhattan. The skyscraper would become Zaha Hadid Architects' second project in New York, after the 520 West 28th residential building that is nearing completion in Chelsea.
The $12 billion plans for 666 Fifth Avenue involve replacing a 1950s office building and adding 40 floors above its previous height. The glass addition would bring the tower to 1,400 feet tall – putting in the supertall category of skyscrapers between 980 and 2,000 feet.
The renderings, produced by Methanoia, present an incredibly slender structure with façade details that are characteristic of the architects behind them. An elegant latticework weaves up the lower portions of the tower, stretching out further up to accentuate the building's incredible height in relation to its high-rise neighbors. The entrance is encased with a concertinaed skin akin to a paper lantern, its fluted forms reminiscent of ZHA's stunning proposal for the Sleuk Rith Institute in Phnom Penh, Cambodia.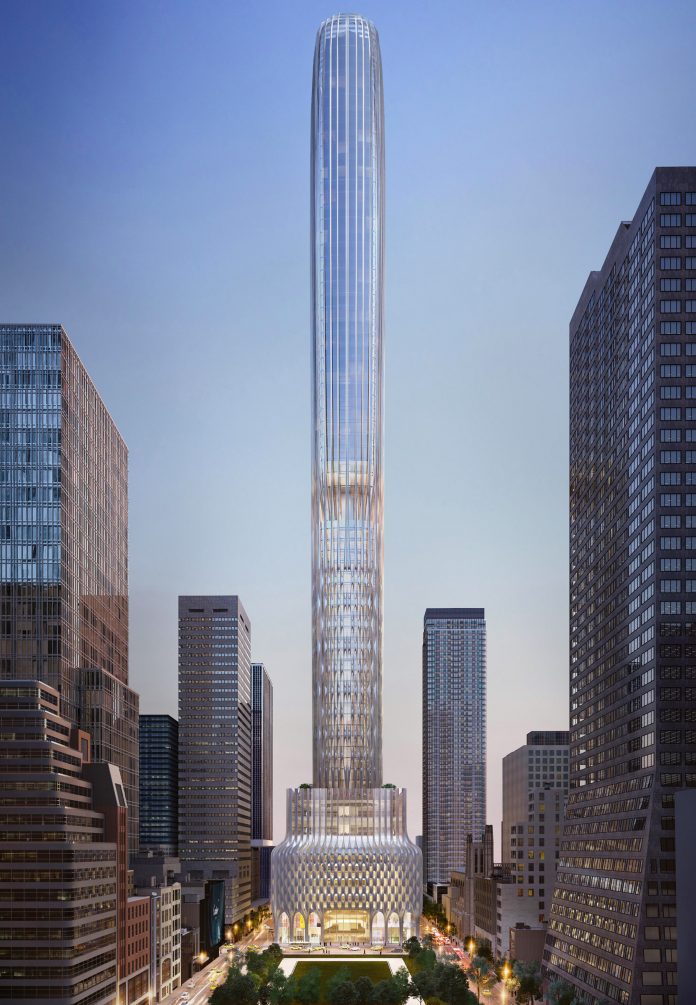 The proposal reportedly involves stripping the existing 60-year-old building back to its structural skeleton, before increasing its height up to 100 floors to accommodate luxury apartments and a hotel. Its lower levels would be let to high-end retailers.
According to the Wall Street Journal, its replacement would include 11 stories devoted to a hotel and quadruple the retail space of its predecessor. The residential portion would total 464,000 square feet. The developers also reportedly want to change the name of the building from 666 to 660 Fifth Avenue for obvious reasons. The ambitious project is by no means certain to be realized. The development is owned by Kushner Companies, which is reportedly seeking additional investment from Anbang Insurance Group to help bring the tower to fruition. Even then, Jared Kushner's new role as adviser to President Donald Trump raises serious concerns pertaining to conflicts of interest.
The site is located four blocks south of Trump Tower on Fifth Avenue. The real-estate company has had plans to develop it since buying the current structure at the address in 2007. The building, which features embossed aluminum cladding panels, was designed by New York firm Carson & Lundin and completed in 1957.
If the project goes ahead, demolition could start in 2019 and construction complete by 2025.