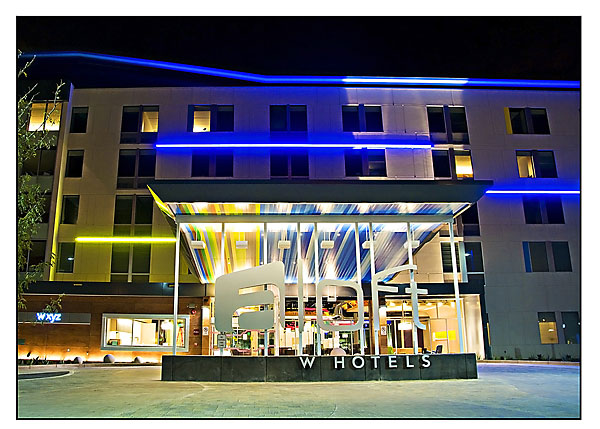 Things in Tempe are looking up.
aloft, the first Tempe hotel in nearly ten years, will open February 5, 2009, nearly seven weeks ahead of schedule. Geared toward the high tech-traveler, it's a place where fancy meets simple right where it makes the most sense.
Featuring WiFi, online check-in, iPod-compatible speakers throughout the property, TVs with laptop and video player hookups and even a re:fuel bar for quick food on the go, aloft is built for the fast-paced techie who doesn't have time to deal with hotels not quite familiar with the latest in technological comforts.
Created by the same team responsible for W Hotels, aloft prides itself on its open, inviting design. The lobby of the hotel, houses the aloha desk, re:fuel grab and go joint, w xyz–coffee bar by day, swanky bar by night–along with a pool table, lounge and entrance to splash, the hotel's sun and swim area.
Visitors will also be introduced to a variety of terms during their stay. Maintenance is called re:pair, housekeeping is referred to as re:fresh and bathrooms are named waterclosets. It might seem a bit cheesy at first, but it really does add to the charm of the place. For heavy travelers, anything unique is certain to be welcome.
aloft hotels has more than just the amenities rooted in the tech industry. During the initial design period, the brand built hotels inside Second Life, giving architect David Rockwell and the Rockwell Group plenty of feedback on how new hotels should be constructed.
King and dual queen bed rooms are offered. All beds face the windows, which is a rarity in the hotel industry. Walk in showers, along with voyeur-esque frosted glass, are standard in every room, as are 42″ TVs, a safe, a mini-fridge and ethernet hookups.
aloft has also made the green movement more than a trend. The landscaping is filled with water-efficient, native Arizona plants, guest rooms feature packaging-free bath products, the administration stores the daily reports in PDF form rather than on paper and used low-emitting adhesive, sealants, paints and coatings throughout the building. Energy is conserved by  allowing daylight in 75% of hotel space and 50% of the construction materials came from regional suppliers. Although the project is not LEED certified yet, the papers have been submitted and they expect to be awarded Silver certification soon.
The aloft brand is looking to open hotels in the Desert Ridge and Scottsdale areas, as well as San Diego. See more at aloft.