Much has been made of the new California Academy of Sciences in San Francisco and deservedly so. The enormous Renzo Piano-designed museum is rife with innovation in design and execution and is the largest building in the world to receive LEED Platinum certification.
From the distinctive green roof with the seven hills or domes with round portholes to the planetarium and rainforest, much has been written about this amazing achievement. Rather than covering the building as a whole, kontaktmag will do a series of articles focusing on some of the lesser-touted, though no less innovative, features.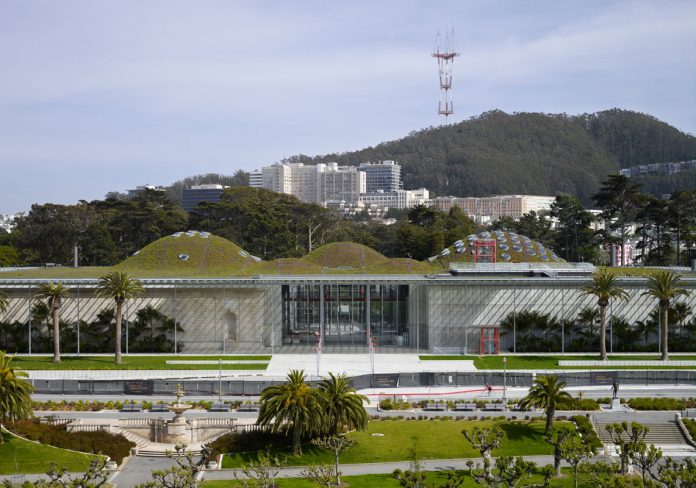 Housed in the lower level of the museum, the Steinhart Aquarium has been reimagined. The aquarium contains a multitude of aquatic environments from the northern California coast, flooded Amazon and ever popular African penguins to the 25 foot deep 212,000-gallon Philippine coral reef.
The vibrant centerpiece of the aquarium is the Water Planet display – a showcase of living animal exhibit tanks within custom fabricated walls that represent the movement of the sea. When lit with shimmering fades of undulating blue and green light the result is visually spectacular and creates the illusion of being underwater.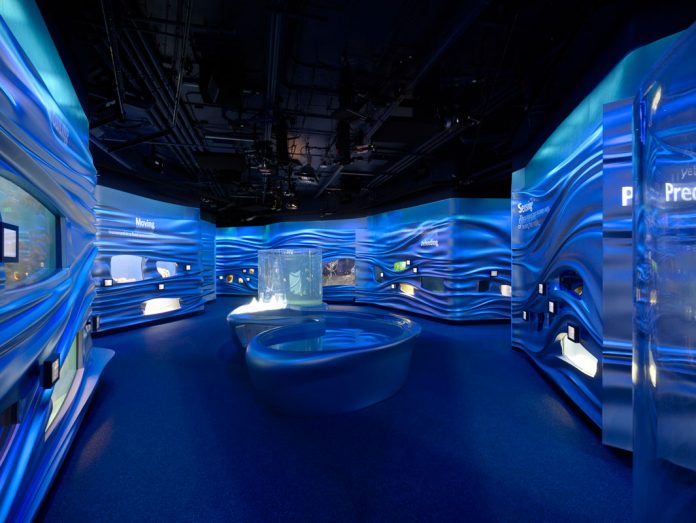 The striking lighting display – a collaboration between engineering and consulting firm Arup and Tom Hennes from Thinc Design – is the result of a painstaking process of design and commissioning that took place over a two-year period.
Arup lighting designer Jason Edling explains, "Two rows of light emitting diodes (LEDs), offset from the wall, are dimmed with a show controller to create the underwater effect. They are set at precise angles so deep blue light fills in all the gaps between the waves on the wall and a green light grazes the edges of the wall.
"More than 70 blue and green LED luminaires were designed and custom-made with adjustable orientation and shielding to create just the right effect for the exhibit. The fixtures were even manufactured to ensure that the blue/green color mixture would match the shade of the water in the adjacent Philippines Coral Reef tank. The level of detail is amazing."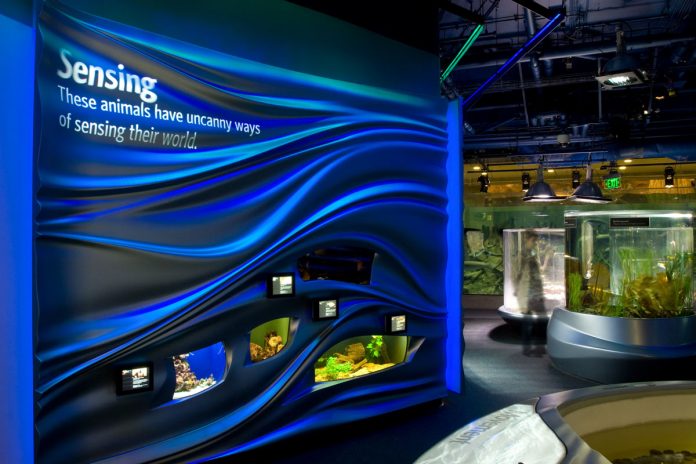 The lighting for the reef tank was designed in a way to allow for a higher particle content in the water. Most aquariums filter the water to make it as clear as possible for viewing. By using diffused light set at a distance, the water didn't need as much filtering which saves on electricity and is much healthier for the fish.
Arup worked on the project since its inception in 2001 to its completion in 2008. In addition to the lighting design, Arup provided services ranging from structural and building services engineering to acoustic and LEED sustainability consulting.