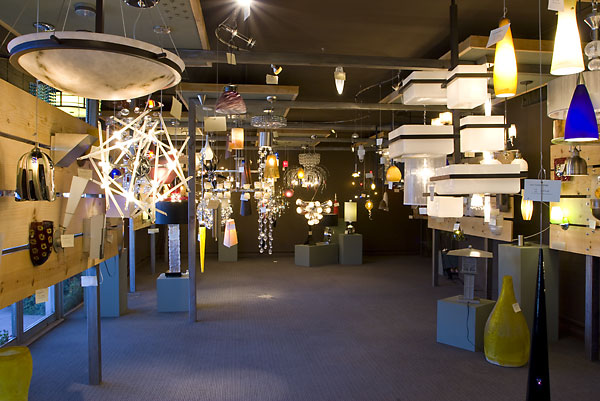 "I didn't know you did modern"
This was the comment heard most when Hinkley's Lighting unveiled their modern lighting display at the Phoenix Contemporary Design Fair two years ago.
Hinkley's Lighting has been a fixture in Phoenix as one of the oldest and most well-known lighting companies. They built their reputation over the years with an extensive portfolio of custom wrought iron and steel fabricated lighting fixture designs.
When one of the largest suppliers of modern lighting in Phoenix closed its doors two years ago, Hinkley's President, Michael Jackson decided the time was right to test the waters in the modern arena and PDCF was the best place to do it.
He called upon his in-house designer Eric Berkey to create a display to launch them into the modern market. The display was so well received, Hinkley's opened a separate showroom next door to their main Central Avenue location dedicated to modern lighting called The Studio. The design of the store was based on the display created for PCDF.
"Phoenix is becoming more urban and cosmopolitan, especially with such an influx of people from other parts of the country moving here," said Berkey. "The city is really growing up, and we are adapting to the times and giving out what is being asked for."
Berkey says that proper lighting is very important when creating a home, and he is seeing numerous homeowners looking for ways to light artwork and architecture. With a background in both architecture and interior design, he is familiar with the nuts and bolts of building a home while considering those detailed interior elements.
Afterall, according to Berkey, "decorative lighting is the jewelry of a house."
Visit Hinkley's at PCDF '09, April 24th and 25th.