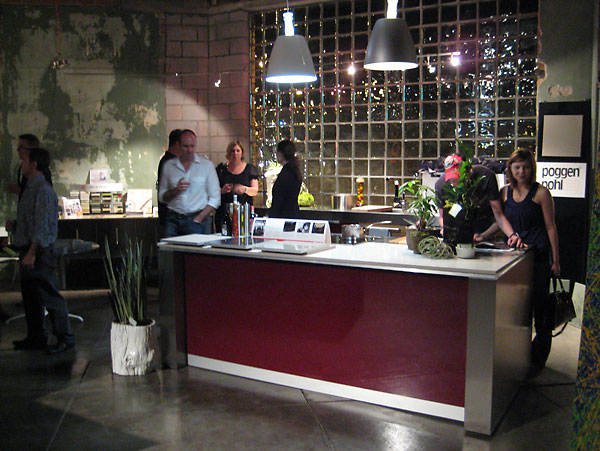 It's been a week now and I've had some time to reflect on the triumphs and tribulations of this year's PCDF.
For obvious reasons, the show was smaller than last year which was part of the reason of the change in venue. The Anchor Manufacturing Building turned out to be an aesthetic match for the show in every way. Those who attended the kick-off party witnessed a special treat as the show looked incredible at night. From Hinkley's Lighting display near the entrance to the multitude of fireplaces burning from Sytek's Design and the lighting of the Poggen Pohl kitchen set against the backdrop of a glass block wall, the interior seemed to glow.
Those of you who missed it… well, you missed out. Don't complain about how nothing cool happens in Phoenix because something did happen and you decided not to go.
I've always had a vision for PCDF and what it could be, often inspired by what I've seen at NY Design Week. PCDF was smaller this year so in an hour you could have easily walked through all the displays and talked to the vendors. Not exactly a full day out. But what if the Anchor Building was just one stop of PCDF and there were several more along the way? What if architects and designers opened up their spaces and, along with showrooms, had open houses and cocktail affairs? Now we're beginning to get to the heart of my vision for PCDF.
A big part of the purpose of kontaktmag and PCDF has been to be a catalyst and a hub for the creative community. Some say that is exactly the way they see us (thanks Luis). But I know for certain that we cannot do it alone.
At this point I am uncertain as to the future of PCDF. Uncertain whether it can ever reach my vision. Uncertain whether other forces will join in to make PCDF more. Because that's what it's going to take.
To everyone who came out to the show last weekend, thank you for supporting. To all the companies who spent their time and effort to help make it a great show, you have my sincerest gratitude. Job well done.