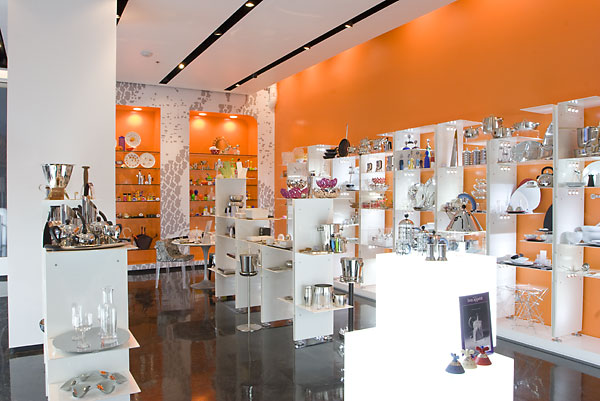 Find them here. No wait, there. No wait – they've moved again! haus modern living has seen many homes over the last seven years. But with the two current locations, they seem to have found the perfect place to return to their roots.
Owners Lew Gallo, Gregory Gordon and Brad Plumley originally opened haus modern living in 2002 to indulge their love of innovative design.
"We wanted to create a show place to share new and classic pieces," said Gallo.
Featuring the classics – Bertoia, Eames, Nelson – as well as the contemporary – Adler, Rashid, Starck – haus offers up a chance to own and appreciate good design that endures generations. In addition to the big names, haus has participated admirably in the local design movement, as well as support new and upcoming furniture and product designers. Gallo, a furniture designer in his own right, served as a judge on last year's PCDF Independent Furniture Design Competition. The winning design, the Mesa Verde table by local designer Mario Lopez, was to be sold in haus modern living.
The new location at CityNorth provides an exciting opportunity for lovers of all things modern in Phoenix. haus modern living is opening the first Alessi boutique in Arizona.
"We are extremely pleased to be opening this new Alessi shop with haus modern living," said Paolo Cravedi, Managing Director of Alessi USA.  "haus has always offered a fun and unique shopping experience to the Phoenix and Scottsdale communities and we are thrilled to expand our already successful partnership with them."
Gallo, Gordon and Plumley know they're lucky to be here now. And they know to attribute it to the many people who love and shop at haus.
"We would like to thank all of our customers who have supported use over the last few years." Said Gallo, "It is a great feeling to have such wonderful people as part of our success."
Visit haus modern living and Alessi at PCDF '09, April 24th and 25th.