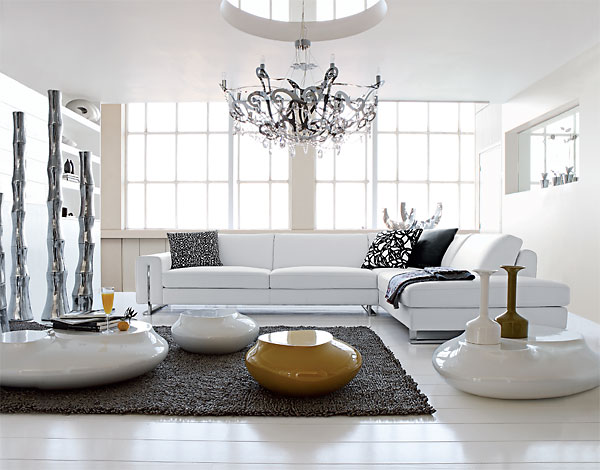 R-oh-chay Bo-boy-ss?
Rawsh Bob-oh-iss? Ok, no…
Paris based Roche-Bobois has been creating classic, contemporary and luxurious designs for over 40 years. With a commitment to quality and style the company has become an icon for modern home furnishings that push the envelope in construction, design and materials. With a mix of Modern and French country styles, Roche-Bobois delivers furniture that appeals to a wide audience. Their stunning designers continue to amaze with their 2009 collection.
Roche-Bobois has been in Scottsdale for 25 years. A trip to the current Scottsdale location, owned by Nathalie Chianura and opened in 2006 is a feast for the eyes and senses. With a delightful "Bonjour" upon welcome, the staff is friendly, helpful and knowledgeable. Many of the clients who visit Roche-Bobois are east coast transplants.
"I wanted to bring the Roche-Bobois uniqueness to our Arizona clients where they can enjoy it and know they can depend on true Roche-Bobois quality east or west," says Chianura. "In sync with the needs and desires of its customers, Roche-Bobois has created a definable style which, though modern, is ultimately timeless."
It's that timeless appeal that sets Roche-Bobois apart. And that timelessness is achieved by painstaking detail in construction and material. Each piece is created in close collaboration between the designer, manufacturer and Roche-Bobois to ensure a display of strength and originality with an organic and refined sensation. Yes, these pieces carry a high price tag. And yes, it may take several months for delivery of your furniture. But this is truly one-of-a-kind, heirloom quality furniture that sets the tone for the entire house.
And besides, R-oh-sh B-oh-bwa is fun to say.
Visit Roche Bobois at PCDF '09, April 24th and 25th.
You can also visit the showroom in Scottsdale.