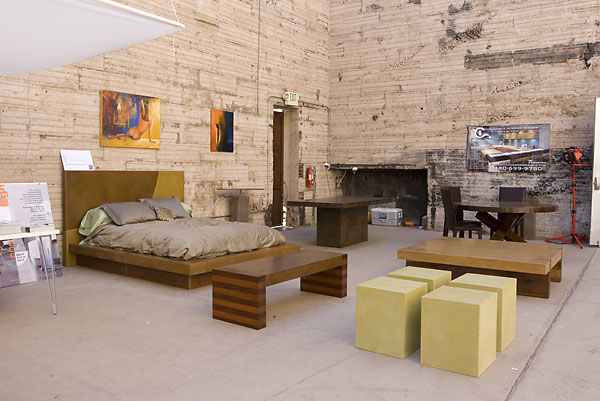 If you can think it up, chances are they can make it – out of concrete.
Dave Crawford and Brian Szczech of Concrete Interior Designs have been championing the use of concrete in Arizona for over 6 years. The concrete creations are designed and fabricated in their north Scottsdale location where they have spent valuable research and development time and money perfecting the optimum mixtures for color, durability and, most importantly, stain resistance.
"The main knock against concrete countertops has always been the lack of resistance to stains," said Crawford, "Most concrete fabricators have accepted this as the natural aging of the countertop. We have developed a mixture which is even more resistant to staining than granite countertops."
While most projects Concrete Interior Designs take on are kitchen countertops and bathroom sinks, their creativity and the versatility of concrete takes them beyond the typical.
Last year, they completed and office for Scottsdale Architect, Nick Tsontakis. The job consisted of white concrete with exposed quartz aggregate throughout the office including the reception desk, large conference table, individual workstations and a ten-foot cantilevered desk for the main office.
Concrete Interior Designs have branched out from the countertops to fabricate indoor and outdoor fireplaces, complete bathrooms, including sinks and showers and have even designed and fabricated concrete furniture.
Last year, at PCDF '08, Concrete Interior Designs debut several pieces of furniture. The hit of their display was a giant king-size platform bed cast in concrete. Another popular piece was a circular dining room table with a custom steel base.
"The houses in Arizona tend to be larger and the owners are looking for substantial pieces of furniture to fill these rooms," said Szczech, "The concrete furniture we make definitely have the substance to compliment these type of house."
Concrete Interior Designs have been working hard to complete a number of new pieces to be displayed this year at PCDF '09.
"We've got some really cool new pieces for this year's show," said Crawford, "Each year we try to outdo ourselves and show people something really different from what they expect."
Visit Concrete Interior Designs at PCDF '09, April 24th and 25th.
You can also visit their web site at concreteinteriordesigns.com