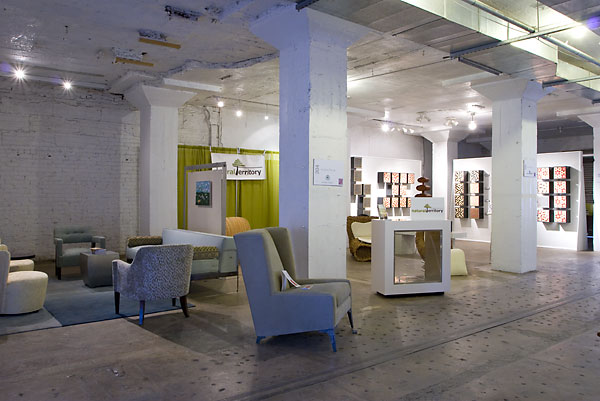 Be creative. Be inspired. Be contemporary. More than just tag lines for the Phoenix Contemporary Design Fair (PCDF), these three tenets lead to innovative design.
On April 24th & 25th PCDF brings the best innovative design from local, national and international designers together in downtown Phoenix for two days of creative and inspiring contemporary design. In just its fourth year, PCDF is beginning to get national attention from design blogs across the country and design industry magazines.
One of the things that sets PCDF apart from the usual trade show is the setting. PCDF has always been held in a historic warehouse environment rather than a convention center or meeting hall.
"It adds a whole new level of character to the show," said Don Crossland, creator of PCDF, "It's a point of interest in and of itself and the perfect counterpoint to the clean lines of the modern furniture."
Another characteristic that gives the show a unique quality is the openness of the spaces. Forgoing the typical uniform rows of pipe and drape booths, PCDF allows exhibitors to literally be outside the box. Space size vary as well as placement within the warehouse allowing attendees to meander through the spaces and isles to engage with the displays instead of walking down isle after isle looking at them from the outside. The openness inspires creativity as exhibitors pull out all the stops to design a space to draw the attendees in and connect with them.
"People love the format and the environment," said Crossland, "It gives them a sense of urban authenticity. Though some people just don't get it and that's ok, too. We're here for the people who do get it and they are very enthusiastic about it."
PCDF '09 will feature a balance of some alumni from past shows as well as a number of first-time participants. Poliform will be returning with a line of furniture as will Roche Bobois and haus modern living. After missing last year's show Aletier will return with a Poggen Pohl kitchen display is a space with newcomer, Zero to Nine House Numbers. Hinkley's will light up their corner of the show with a bevy of modern lighting and newcomer Lightform will illuminate another corner of the show. First time participant, Syteks Design will be showcasing a collection of modern, clean burning fireplaces. Local artist Kyle Jordre will be displaying his large format paintings.
"I was a little disappointed when some of our past participants opted out this year," said Crossland, "Unfortunately, some are no longer around, but it's encouraging to see new creative ventures forging ahead and we're happy to have the opportunity to showcase them at PCDF."
This year, PCDF will be held in the Anchor Manufacturing Building – built in 1928 – located at the intersection of Central Avenue and Lincoln Street in the warehouse district of downtown Phoenix. The building is owned by Steve and Andi Rosenstein and is the headquarters for R & R Surplus, a line of vintage military clothing. In addition to warehousing the inventory for online sales, a section of the building is set up as a store and clothing will be on display during PCDF.
PCDF will be open from 10am to 5pm Friday, April 24th and Saturday April 25th. As every year, PCDF is open to the public and free to attend.
Phoenix Contemporary Design Fair
Friday & Saturday, April 24th 25th 10am to 5pm
Anchor Manufacturing Building (map)
525 S. Central Ave.
Downtown Phoenix
Admission is free.