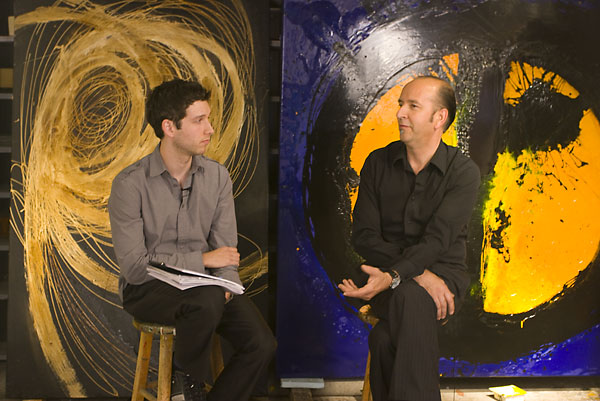 In a quiet residential neighborhood in north Phoenix, something big looms over a fenced-in back yard. The late afternoon sun reflects its luster, and it seems out of place in this typical suburban locale.
Bové's home studio is a mess of bolts, metal, solar wind power and heavy paint fumes. Built by hand, he claims it was a necessary element to his craft. "I was looking for something that is timeless," he says of the simple yet futuristic design. He works diligently in these confines daily, all year long, despite temperatures soaring past 100° in the spring and summer months.
Bové doesn't seem to mind; rather, he is quite welcoming of this desert environment. He chose Phoenix over 10 years ago when he moved to the U.S. because the desert spoke to him. It seemed the only likely destination, as he feels a strong connection with the open spaces and beauty of the landscape. "Everything ties together," he says. "The desert is a place that evokes the mystical. It is a place that I feel is really appropriate for me. It inspires me."
Born in the Catalonia region in Spain, Bové spent most of his time discovering the arts and finding an appropriate niche. Despite not having familial art ties, he acts as if he was born to paint, and treats it as a necessary duty just as much as a passion. "I grew up living with art in my community," he shrugs, as if it's natural to paint from day one.
Constantly studying the human form, Bové bases most of his work on the concept of the space-time continuum and the human role within. "I view human history and evolution as an annex of relationship with the universe," he says. "The relationship of man versus the universe is the main concept in my paintings. How do we see ourselves in this vast universe? Where are we coming from? Where are we going? I try to apply all these ideas to my paintings."
But don't take his words too literally. There won't be any sign of stars or planets in his work. It's much more of a metaphorical representation of these concepts.
"My aim is to analyze philosophical and spiritual aspects of human nature and document this rapport throughout my work and to project the time cycles of the human life and/or the planet Earth under the co-influence in the universe."
His newest collection of paintings, "Orbital Laps," follows a sequential pattern of the human mind in motion. "You can see that I did these paintings in a lot of segments of lines," Bové says. "Each segment is represents a cycle of human life."
Viewed as a cyclical presentation, his interpretation of time under gravity is embodied by curves from all different angles, torques and vectors in a lively presentation. Bové's fusion of swooping curves and vortexes and intense color make for an incredible visual presentation. Visceral, sometimes spastic strokes in carefully selected pigments demonstrate to the viewer not only a vivid look inside Bové's head, but also a glance at his perspective: We as humans are but a blip on the timeline of the universe, and though we may be insignificant in the grand scheme of things, we are amazingly complex.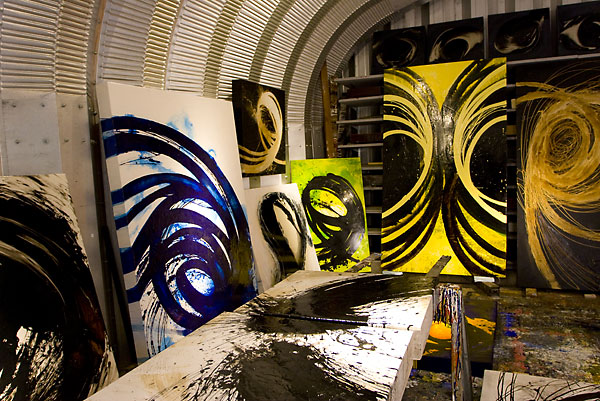 Looking at the paintings, there is an uncanny luminous style in Bové's work. The viewer can almost see his or herself reflected in the painting. Bové's pairing of oil-based paints and resin results in a luster that has become sort of a signature of his pieces. "I've been experimenting with ideas with great results. It's really the way the layers are done that gives such contrast to the background," Bové says. "That way, you can really enter the painting – that's important. You can really go into this fourth dimension. I want the viewer to be engaged and get into the painting."
Use of color is a key part of Bové's work. He tediously unites pigments and blends hues in an effort to cast the vivid images he sees in his mind's eye. "The colors I choose are very intense. That's my intent," he says. "I want to project to the viewer the intensity of the energy. It is what I feel when I work – there's a lot of motion and a lot of dynamics; it's something I want to communicate with the viewer"
Bové's collections show regularly in several U.S. cities – Scottsdale; Atlanta; Denver; Santa Fe, NM; Laguna Beach, Calif.; and Sun Valley, Idaho. He is happy to debut his work in the Valley and then take it to a different setting for some fresh perspective. "It's interesting to see and hear different comments about my work. People that live in different places, their perspective and their way of thinking is different. It's a great experience for me."
"Orbital Laps" will debut at the Bonner David Gallery in Scottsdale on April 9 and run through May 11, with an artist's reception on April 16 from 6 to 9 p.m.
Here is an excerpt of the interview.