Find an old factory warehouse and create the perfect modern loft apartment, live the dream.
Sounds easy, but most of the time, locating an available and suitable warehouse is like finding a needle in a haystack. In this case, the haystack is an affluent suburb of Sydney and the needle is an old factory built in 1926 by the prominent Australian tea merchant Edward & Co. Also, the needle is diamond-crusted gold, because the space is on the top level of the building with a former caretaker's quarters on the roof.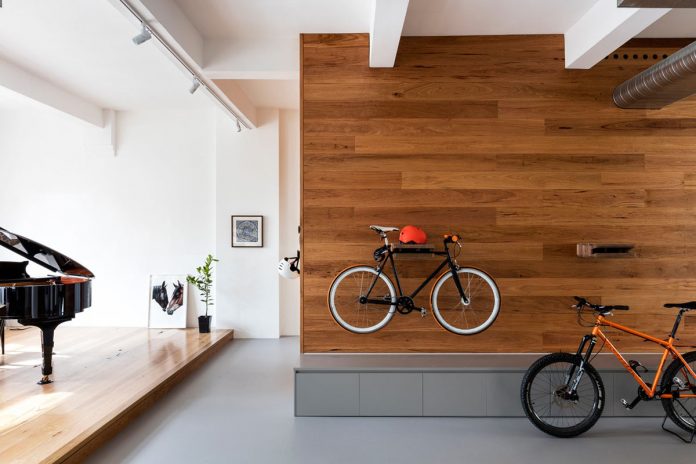 Enter Sydney-based architect, Josephine Hurly Architecture, who was charged with designing a renovation which respected the history of the old building while creating a space suitable for the modern lifestyle of the owners.
To start, the floor was gutted and the plaster was removed to expose the original red brick walls. An additional challenge was maintaining the original concrete floor and beam ceiling system while still being able to run the service pipes and electrical conduits. The solution was to build raised areas to accommodate the services.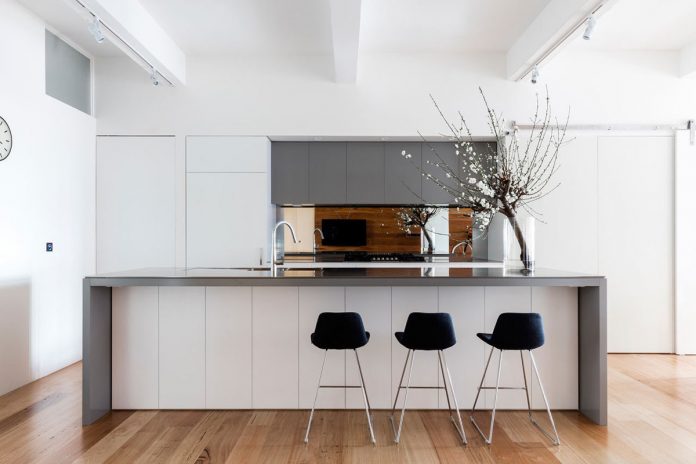 The main living area is an open floor plan with arched windows that form the federation warehouse-style façades letting in abundant light and giving the apartment a distinctive look. The design palette is minimal with hardwood floors, white walls, and the kitchen and built-in furniture in white and warm gray. The kitchen and dining room transition smoothly to the living room. Around the corner, a 'stage' was built for a piano with soundproofing so as not to disturb the neighbors below.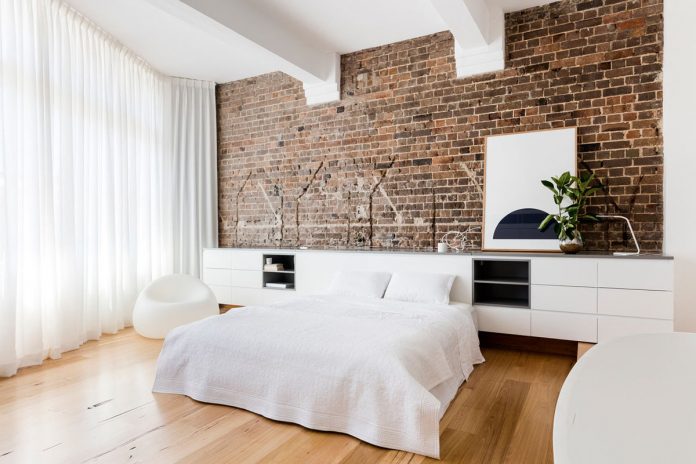 The bedrooms are located in the back of the apartment with more large windows letting in lots of light. The master suite features built-in headboard/cabinetry in white with gray trim and a free-standing bathtub on a platform outside of the bathroom. The second bedroom also has a built-in headboard that is part of a hidden bathroom with a reading loft above.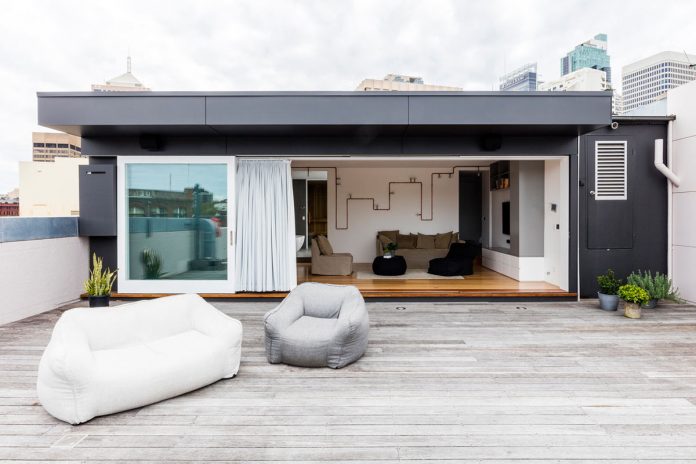 Stairs lead up to the rooftop where half of the roof is an open deck and half a caretaker's flat that has been replaced with a third bedroom in a self-contained guesthouse. The guesthouse uses the same design palette as the main apartment with the same minimalist design sensibilities. The small kitchen and entertainment center are equipped with gray sliding doors to keep them hidden when not in use.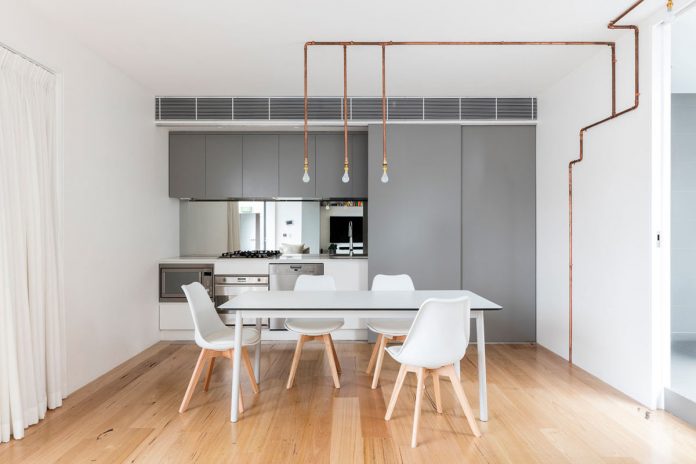 The bedroom and bathroom are situated across from each other through an open central courtyard. The large bathroom also has a free-standing bathtub and the added bonus of a sauna. Throughout the guesthouse, Hurly designed an exposed 'Hende' copper pipe lighting system creating an interesting pattern along the walls.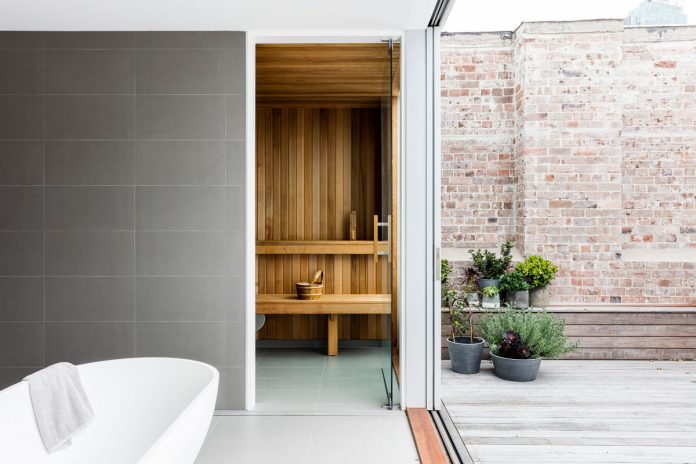 It's great to see that spaces like this can still be found and even better to see when an architect can design it in a way that respects the heritage but also makes the most of it to create a beautiful modern living environment.
[photography by Tom Ferguson]