Chioco Design has been working with Torchy's Tacos for several years, helping to establish a look to the interior design that embodied and enhanced the Torchy's Tacos brand. Most of the work consisted of interior refurbishments and second generation remodels. After many years of testing the look was established and Chioco Design was given the opportunity to design the Torchy's Tacos flagship location.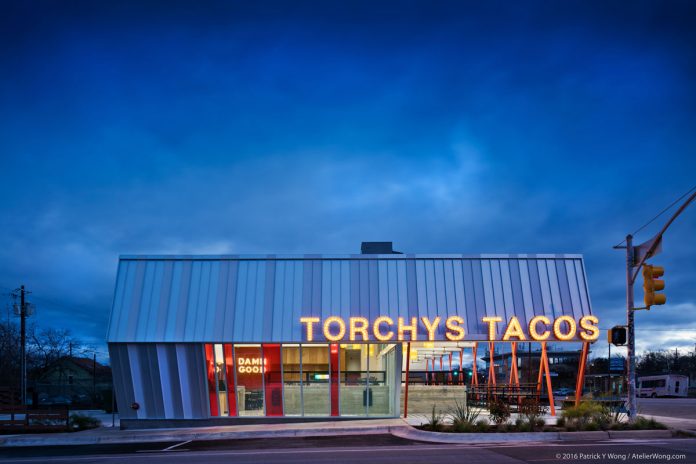 Located along Austin's iconic South Congress Ave., the new building is situated on the site formerly occupied by Fran's Hamburgers, an Austin-based restaurant established in the 1970's that symbolized a nostalgia for the archetypal Texas drive-in diner. Chioco Design set out to create a building able to respect its iconic setting, allude to its historic roots and fulfill the needs of a modern restaurant.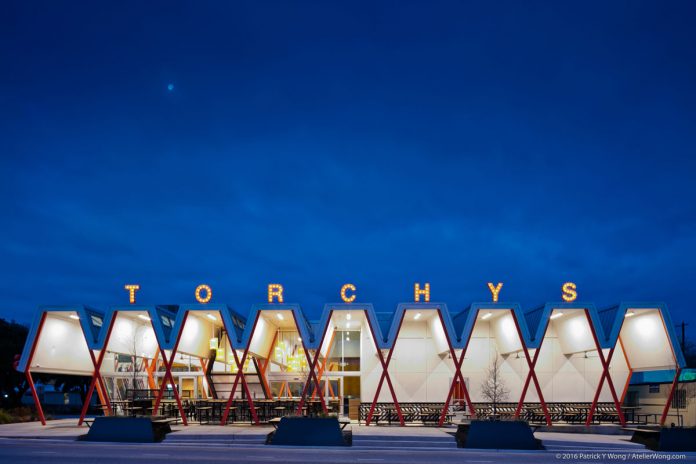 Consciously referencing the archetypal 50's-era drive-in diners, Chioco Design developed an iconographic structural 'X' & 'Y' form traversing the length of the block facing South Congress Ave. These bright red columns support a crenellated roof profile extruded through the entire building, seamlessly connecting inside to out, and allowing for the addition of numerous north-facing skylights which provide an abundance of consistent natural light. Steel planters and tree wells extend out to the sidewalk and street to act as an inviting and accessible area adjacent to the vibrant energy of South Congress Ave.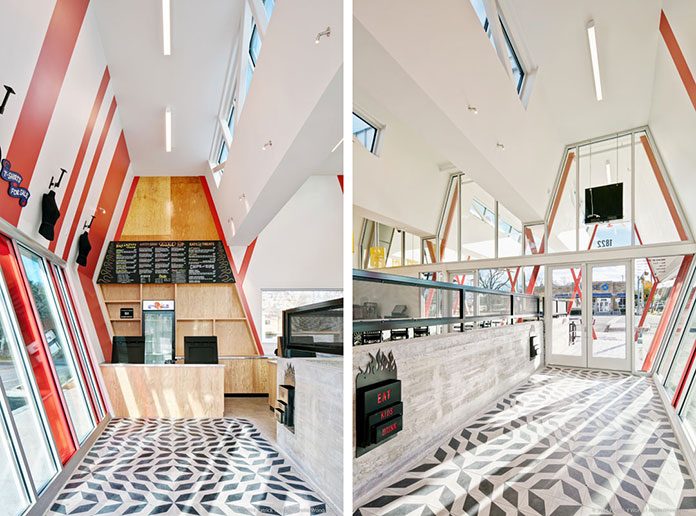 Drawing from a carefully developed and dynamic material palette from previous Torchy's locations Chioco Design implemented the now-symbolic red road reflectors across the western facade emphasizing the eclectic character of the neighborhood.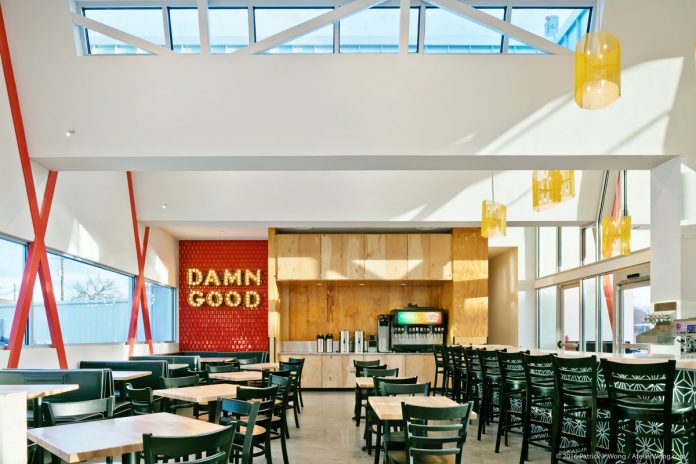 Encaustic cement tiles are thoughtfully used around the interior and exterior, even materializing as a flooring surface to distinguish the entrance and queuing area. Brightly colored custom fabricated light fixtures hover above both bar areas serving as a significant contrast to the white ceilings during the day and brilliantly illuminating the space at night. Half-height board-formed concrete walls, a staple of the Torchy's brand, serve to direct traffic and act as a complement to the warm wood tones found around the space.
Chioco Design was awarded a 2016 Restaurant & Bar Design Award for the design of the flagship restaurant.
And now I want a green chile pork taco.
[photography by Patrick Wong]