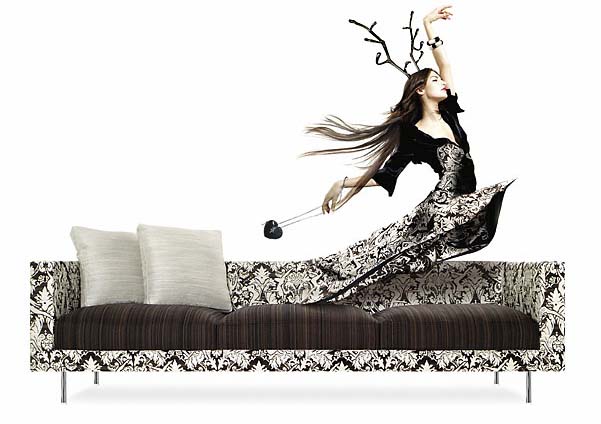 Exploring the relationship between fashion and interior design
From runways to wearable clothes to a home's interior, fashion design gets around. Colors and trends that start out in a fashion context are soon followed in upholstery, wallpaper, paint colors and home décor. Whether fashion sets home trends or indicates an inevitable direction, there's no missing the influence it has on interior design.
Meet the Experts
The design of Hub's new location within Scottsdale Fashion Square, a mutual effort between fashion expert Tom Simon and architect Michael P. Johnson, looks exactly like Hub apparel: modern, fashionable and a little rock star. Clean white walls let the fashion speak for itself while warm cork flooring help make the shopping experience more comfortable. The design of the unique dressing rooms, part burlesque, part rock-and-roll and part luxury, have become a signature aspect of the new store.
Quality is in the Details
The rustle and swish of a cocktail dress; the way light dapples on a wall through the window; the softness of a well-worn pair of jeans; the soothing din of evening conversation and clinking dishes in a restaurant. It is these elements designers must consider that can create the difference between mediocre and fabulous design.
Simon and Johnson know that both fashion designers and interior designers care about detail. The difference between a well-made or flimsy purse is the detail and craftsmanship that goes into it: the quality of the leather, the hidden seams of the lining and the density of the handle. Architecture and interior design follow similar rules; the quality of the materials and the construction speak for themselves, there is no need to cover good architecture with unnecessary ornamentation anymore than there is to add unnecessary frills and accessories to good fashion.
This also means listening to the client. "People want that personal attention, whether it's in an architect or clothing, said Simon.
Of all design fields perhaps none are so intrinsically concerned with the human body as those aforementioned. While fashion clothes the nude form, interior design provides the body with shelter, comfort and a space to rejuvenate. This focus on the body provides designers endless opportunities to create something beautiful and functional.
Art and Culture
Surrounded daily by images of this global world we live in, designers look closely at trends in the arts, international culture shifts and advances in technology.
Fashion and design have always been closely linked with art and culture of the day. The staid Victorian era saw restrictive corsets and rigid crinolines, as well as stiff button tufting and opulent ornamentation on furniture. The 1920s felt the Bauhaus influence. Women's fashions and furniture in general became slimmer and more minimal. The vibrant and fast-paced 1960s brought an explosion of color and pattern to both interior and fashion design, the boundaries between art, fashion, design and culture were blurred. Yves St Laurent designed a dress based on Mondrian's art and architecture. George Nelson's Saucer pendant lamps feel very space-age while his Marshmallow sofa harkens to the style of pop art.
One major contemporary influence is the movement toward eco-friendly materials. We have seen a huge increase in organic and sustainable fabrics such as wool, linen, hemp, soy and bamboo fiber being used in clothing and upholstery. Living in a global economy has fashion designers searching around the world for new materials. Oscar de la Renta and Diane von Furstenberg are playing with the global feel by using ikat and kente style fabrics.
Speaking of fabrics, textile design has often been cited as the link between fashion and interior design, and it certainly applies to both. Patterns and textiles that are stylish and comfortable for the body tend to be stylish and comfortable for furniture. Marimekko's textiles are easily adapted into both clothing and fabric for the home. Animal prints are an excellent example of design overlap. Zebra, leopard, tiger and snakeskin are popular prints that appear season after season in both fashion and interior design.
We are also seeing an increase of designers playing for both sides. Many fashion designers who want to create a lifestyle design for their clients are making the foray into furniture and household design, while interior and product designers are venturing into fashion. Karim Rashid is taking his colorful and bubbly style into the realm of eyeglasses, shoes and women's apparel. Now known for his interior and furniture design, Todd Oldham was once the darling of the couture fashion industry; his designs once clothed the likes of Julia Roberts and Uma Thurman. They now come in the form of flower arrangements, dorm room accessories and decorative plates. Vera Wang, designer of every girl's dream gown, is designing home décor, china and even mattresses.
Human Architecture
With the myriad of cultural influences out there, fashion and interior design have no chance of moving in separate directions. Trends in fashion do appear first, but that is simply because people update their wardrobes faster than their furniture.
Tom Simon believes in the quiet genius, regardless of what design is being practiced. It doesn't take a flashy, brand name designer to create a living space that is well designed or a dress that flatters the body. It simply takes a designer who is willing to listen, focus on the details that matter and respect their craft.
According to Michael P. Johnson, there is "no difference between fashion and design. No difference. There's good fashion and there's good architecture." Maybe it's just as effortless as that.