When you mention an authentic Mexican food experience, Toronto is the last place to come to anyone's mind. Or anywhere in Canada, for that matter. But, Mexican transplant, Arturo Anhalt was undaunted when he decided to open a torta shop in Toronto.
Multi-disciplinary studio +tongtong recently designed Torteria San Cosme, a Mexican sandwich shop in Toronto's eclectic Kensington Market. Principal designer John Tong worked closely with his client Arturo Anhalt to bring his childhood memories of Mexico into the 700-square-foot space. With this objective in mind, Torteria San Cosme evokes the vibrant color, playfulness and authenticity of Mexican street food stands.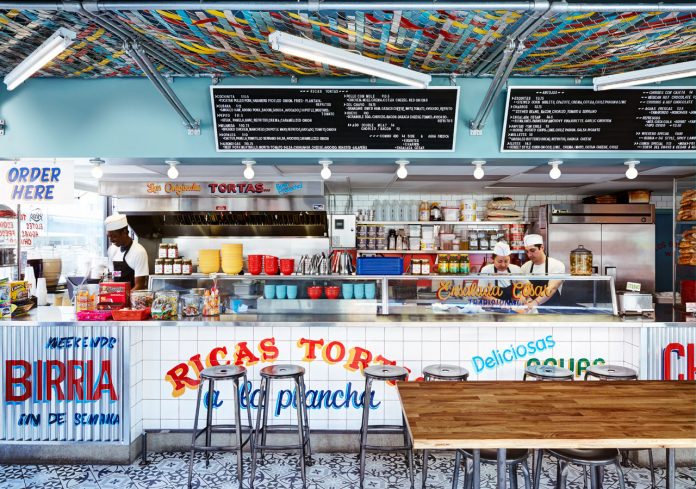 Walking into Torteria San Cosme, you're immediately struck by a cacophony of color. Patterned tiles and hand-painted signs perfectly clash with a vivid large mural covering an entire wall, while an awning of multi-hued webbing cantilevers over the take-out counter.
"We wanted to play with this idea of a stall within a space," explains Tong. "In Mexico and Central America, a lot of street food stalls are in larger buildings. There will be 10 or so inside a market, all individually contained."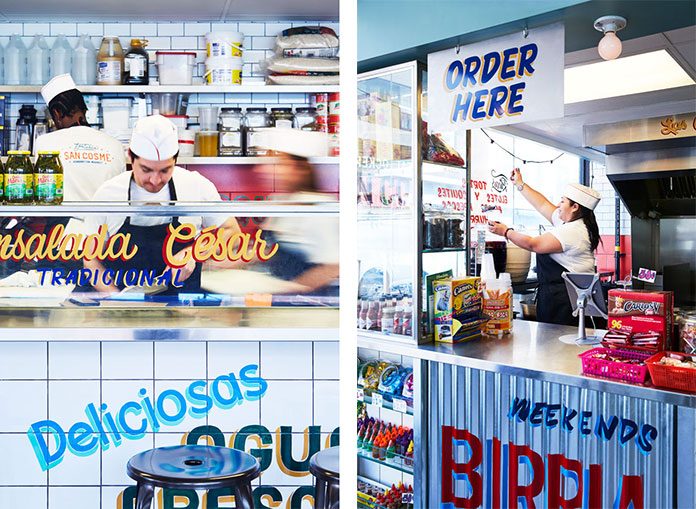 Riffing on this idea of a space within a space, Tong designed the awning to mimic the structure of a traditional puesto (street food stand.) The awning is made industrial nylon strips weaved by hand through chain link fencing. Underneath, the take-out counter, which doubles as spot for diners to eat their tortas (Mexican sandwiches), is peppered with hand-painted signage by Hamilton-based artists BrushBoys.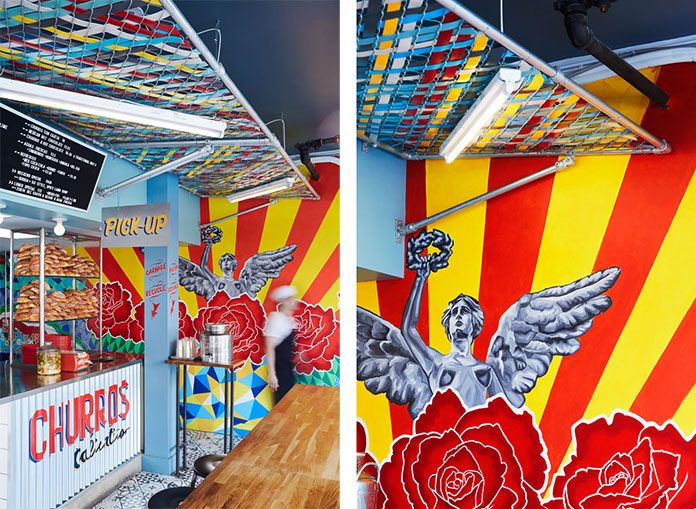 This hand-painted quality continues via the large-scale art mural. Designed and painted by Stephanie Latulippe, the nearly billboard-sized mural reminds Tong of the murals he'd see while visiting Mexico and Central America. "When you drive around, you see these huge murals that seem to have a narrative," says Tong. "This mural is very graphic, colorful and has its own hidden narrative."
The fluorescent tubes, which dangle diagonally above counter-height tables, are also inspired by the food markets of Mexico. Rather than having dim, ambient lighting, Tong notes that these markets were brightly lit.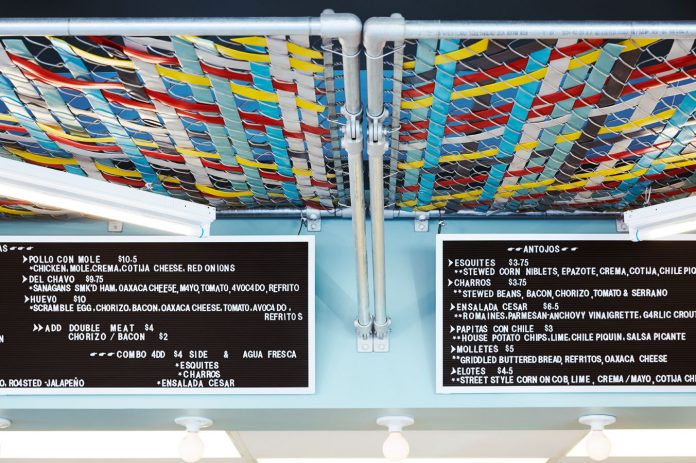 "The warmth of the space comes from the color and texture," said Tong.
Meanwhile, the patterned blue and white floor tiles are a contemporary take on traditional Spanish tiles. These tiles contribute to the riot of color throughout the space, from the mural and vintage-looking signage to the weaved awning and the colorful ingredients on display in the open kitchen.
"The design of Torteria San Cosme has a kind of casual haphazardness to it," said Tong. "But if you look for it, you can see it's actually very controlled. It's an urban twist on tradition."
[photography by Naomi Finlay]