If you mention a Spanish island in the Mediterranean Sea, most will automatically think of Ibiza.
Though Ibiza is the most known of the Balearic Islands, the largest island of Majorca is where the capital of Palma lies. The city is rich in history dating back to the Roman times and changing hands many times leading to a mix of Byzantine, Medieval, Arabic, and Gothic architecture. One of the historical centers of Palma is called La Lonja. This is where you'll find the newly renovated Puro Hotel.
The boutique hotel utilizes several existing buildings for its 22 rooms, which was fine with Palma-based design firm, OHLAB, as it gave them a chance to create unique and unexpected spaces in the irregular configuration of the hotel. The designers approached each room as its own space with a unique configuration, tying the designs together by using natural and local materials to emphasize the Mediterranean essence.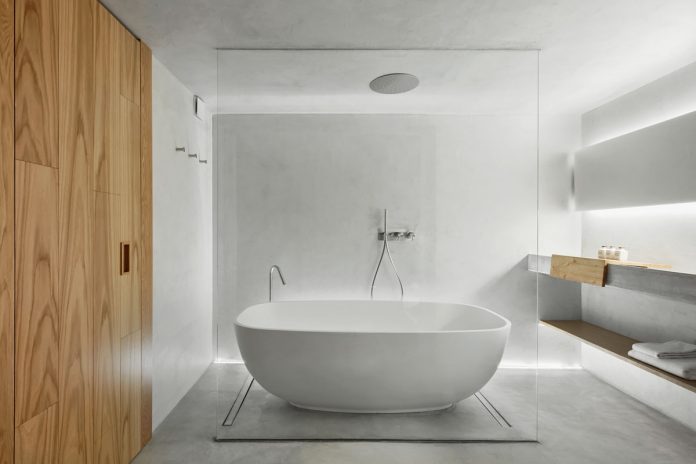 There was a strong focus on the bathrooms. Rather than a necessary afterthought, the bathrooms were conceived as spaces for pleasure. They are modern and spacious with large, sculptural, and freestanding bathtubs, sometimes placed in the bedrooms like just another piece of furniture. The larger rooms have even larger freestanding bathtubs in the bathroom areas that are separate but still integrated into the bedrooms.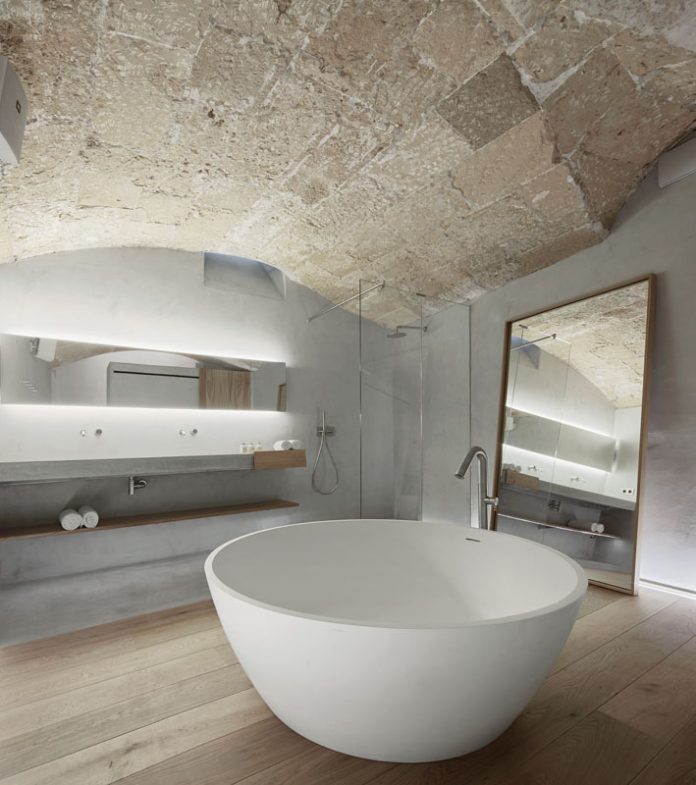 Puro is a cosmopolitan and contemporary oasis surrounded by history and historic architecture. The solid wooden mandala doors, a hallmark of the hotel since is origin, were restored and so was the mares-stone, the limestone used in traditional Majorcan architecture. To stay consistent with its roots, OHLAB created a simple palette of materials to use throughout the hotel. Some of the materials include oak hardwood, concrete sinks and bathroom walls, aged leather, hemp ropes, and fabrics designed by OHLAB and produced on ancient majorcan looms for upholstery, cushions, and plaids.
Leaving no detail out, OHLAB designed a majority of the furniture specifically for the hotel. beds, headboards, and benches were made from oak and designed with clean, simple lines to integrate in the room. A series of pieces were designed using aged bronze, inspired by traditional metal carts that bellboys used to carry luggage. These pieces were used to replace the old cabinets, desks, and minibars.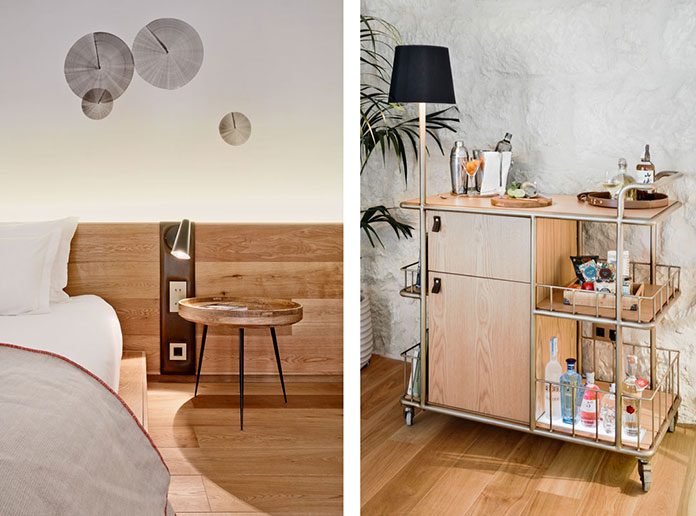 For a finishing touch, OHLAB worked closely with Spanish painter, Pedro Oliver who produced a series of unique custom-made painting placed in each room.
So the next time someone says, "Let's go to Ibiza!" Skip the foam parties and head over to Palma de Mallorca for some history and relaxation at Puro Hotel.
[photography by José Hevia]