Hotel veterans might say newcomer Tom Michelberger is playing at being a hotelier which would be fine by him as "play" is a central theme to his brand new hotel.
The "first" Michelberger Hotel is set to open in September near the Oberbaum bridge over the river Spree in Berlin, Germany. The entire team behind the hotel is new to the industry allowing them to toss aside any stereotypical notions of what a hotel should be. Instead they set out to design a hotel in which they themselves would want to stay.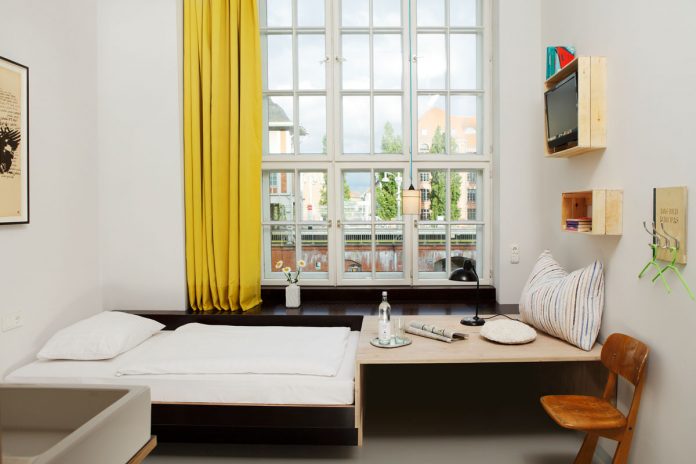 As lovers of everything Berlin, the team wanted the hotel to reflect the feel of the city with a cosmopolitan, yet street-savvy attitude. Much like Berlin, anything goes here.
"Perfection does not create memories, because memories only result from movement, from a lively experience of interaction –with people, the surroundings and the atmosphere," said Michelberger.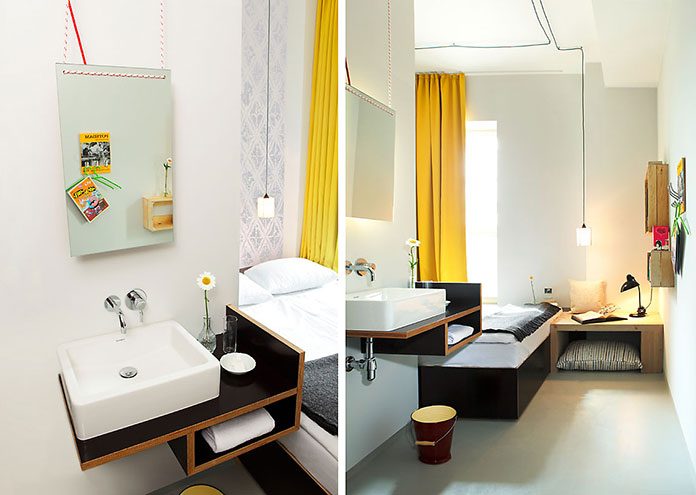 Internationally renowned designer Werner Aisslinger redesigned the turn of the last century factory building, complete with period details like a clinker façade, high ceilings and massive paned windows.
"My approach was to do a collage world, not a clean, designed world," said Aisslinger. "It shouldn't be something where everything is clean and perfect, but rather one with something family-like in it, a bit of chaos. It's not so much ambitious architecture or interiors stuffed with details."
The brick façade is graced with a Hollywood-style marquee that provides a jolt of half-ironic glamour; through an entryway lit up with oversized light bulbs, guests enter a space that is an analogue to the city, a mix-and-match paradise of vintage and hand-crafted surfaces and spaces.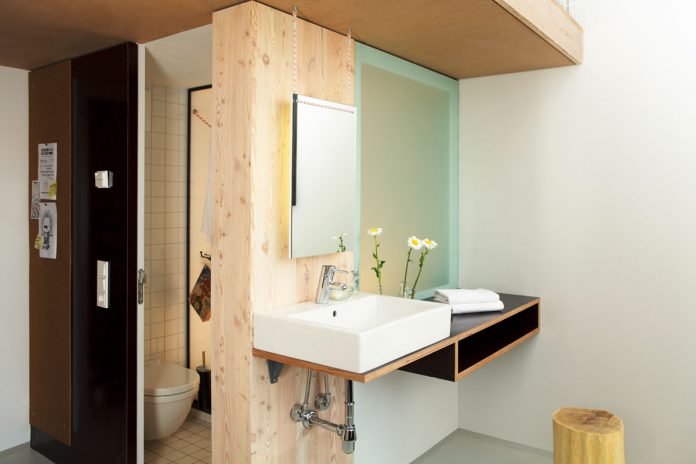 The reception desk, a circle-shaped island, is situated in the middle of the bar and welcome area, keeping a low profile. It's low-key, informal yet professional, the opposite of the usual looming desk that dominates the public space. The ground floor branches out from here in a series of highly textured spaces that retain rough-edged, historical patina. There are polished concrete floors, walls that still bear the marks of time, complemented by crowded bookshelves lining the walls with seating alcoves worked in between them.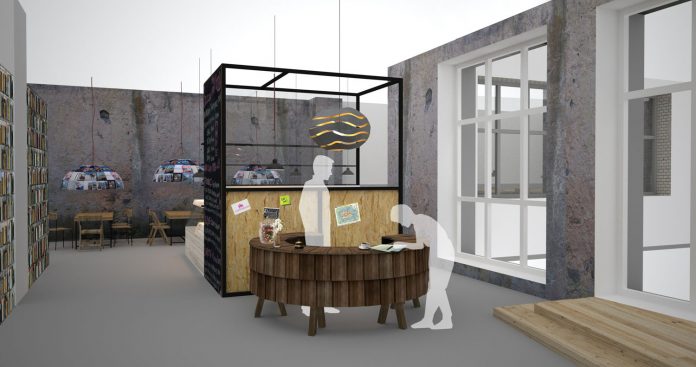 Guests will realize instantly that they're in a playful universe, Berlin done one better and conceptualized but not overdone. Oversized lampshades made of books, exclusively built by Aisslinger especially for the Michelberger Hotel, are made out of old, retained German travel picture books from the 60s and 70s. There's a bar with a stage so that performance-inclined guests can let it all out. It's all done up in a aesthetic raided from flea markets that provide a connection to the past – the effect is modern yet relaxed, a setting for a good long chill-out that will attract a cool local crowd as well.
The courtyard is the heart of the hotel. A greenhouse garden, trees and wooden platforms with garden swing seats, mini-huts and bars provide the feeling of a playground where guests can sit, stand, swing, observe, have drinks and circulate. But the rooms offer the clearest sense of the group's efforts to create an innovative guest experience.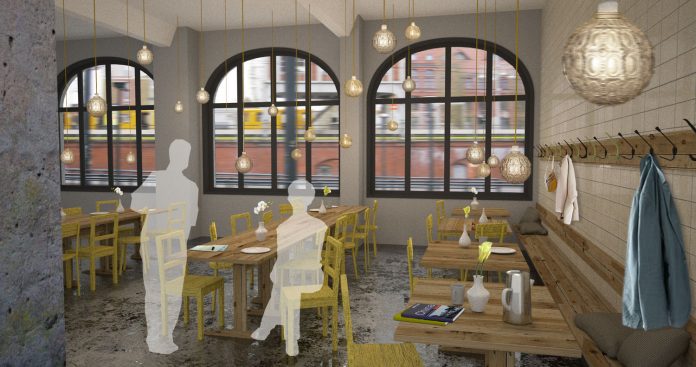 Five different room categories offer a range of different layouts. The rooms display a high level of space efficiency and lots of vertical drama and airiness – a feat allowed by the placing of loft bed areas above the bathrooms. Most rooms fall into the category of 33m and 55m for singles, couples and threesomes but other options including The Big One allow groups of 4 or even more to room together. The Big One is a great space for play or work on a grander scale. The core rooms feature king-sized beds on brushed larch-wood platforms, glass-walled bathrooms, free WIFI access, and flat-screen TVs running Michelberger-created loops of favorite movies and documentaries.
All rooms sport soothing grey tones, natural wood finishes and sunflower-yellow curtains, as well as custom-made wallpaper with symbols and images from the Michelberger group's own experiences and fantasies – everything bears the team's signature playful disposition.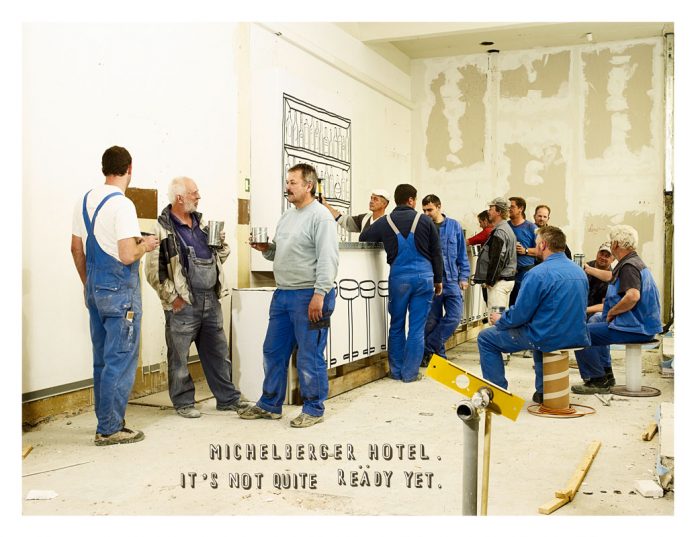 Stylists Anja Knauer and Sibylle Oellerich worked with Aisslinger to decorate rooms in a personal way that connects to the history without relying on kitsch.
"The thing people in East Berlin do now is to take old stuff, put it together and get something new," said Knauer. "These elements have a story behind them, a connection to the past of this city. You typically see this around Berlin, but not in hotel rooms."
She and Oellerich scoured flea markets and antique shops, finding sugar bowls to mount on the wall for use as towel racks, flower vases that are transformed into soap dishes, different books for each room.
This anything-goes execution and an abundance of personal, human elements from flea markets and antique stores provide a compelling counterpart to the hotel's flowing, modern social space and the city outside.