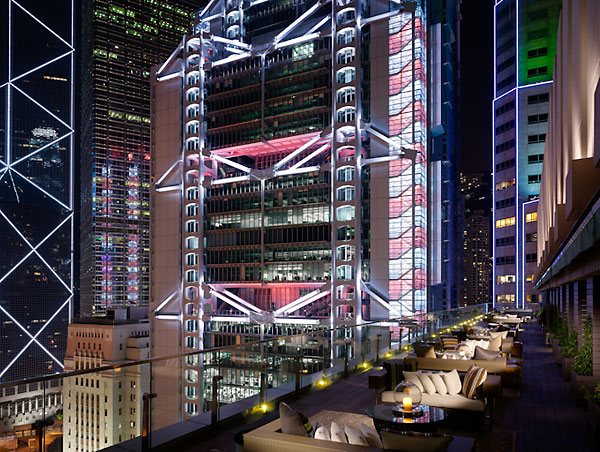 SEVVA (pronounced savor) is the newest "it" spot in downtown Hong Kong.
Hong Kong style icon and SEVVA creator, Bonnie Gokson enlisted the aid of Calvin Tsao of Tsao & McKown Architects in New York to design the 13,000 sq ft space. The new restaurant/club, located on the 25-floor penthouse of the Prince Building, is divided into four distinct areas- Bank Side, Harbour Side, Taste Bar and the terrace.
"We envisioned SEVVE as a minature city within a city, a composition of distinct 'neighborhoods', said Tsao. " Each one embodies the essence of one of SEVVA's menus, thereby offering guests a panoply of experiences to choose from, much as any great city does."
Bank Side is the upscale portion of the restaurant, catering to the business power set. The space is designed with clean-lined Minimalism featuring views of Norman Foster's groundbreaking HSBC headquarters on one side and modern art along with pictures of iconic banks on the other.
Harbour Side is a counterpoint to Bank Side with an 'easy glam' ambiance meant for a relaxed all-day dining experience. The space is bright and airy with an unpretentious décor using the warm tones of ivory, ebony and buttercup yellow. A unique vaulted ceiling casts a soft, luminous glow over the room.
Taste Bar starts out as a bento box bar at lunch-time and transforms to an urbane cocktail lounge in the evening. Guests can enjoy the many signature cocktails while sampling the tapas style dishes offer as live jazz and bosa nova music fills the room. A tropical palette, complete with faux rhinoceros horns and a lush vertical garden of aromatic maiden hair ferns from Belgium bring a whimsical touch of the exotic to this ultra-metropolitan setting.
Adjoining each of the distinct dining areas is a sprawling terrace allowing for exquisite year round al fresco dining and stunning 360-degree views over the heart of the Hong Kong harbor and financial district.
The restaurant also features a lounge area for guest to socialize with light streaming in from the floor to ceiling windows opposite the fresh green vertical garden.
The Cake Corner is the home of Ms. B's Sweets where confections morph into décor of glass encased treats. A huge chandelier, originally designed for the British embassy in Rome in the 1950s illuminates the chamber.
Like entertaining at home where guests can retire from one room to another, SEVVA entices people to move through the various spaces and moods.