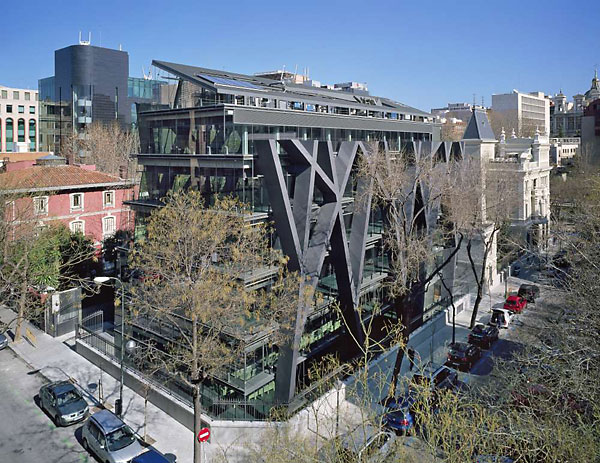 When Spanish architect, Rafael de La-Hoz Castanys was asked to design an auditorium located in the old garden of the palacete built by Salaberry in 1907, he took the context of the location very seriously.
Based on the garden that previously existed in the same space, the Rafael del Pino Auditorium in Madrid, Spain is transparent and open with a unique arboreal structure that supports the structure on both sides.
"The reference of the project is not the heterogeneous architecture that surrounds it, or the most long-lived-el palacete-but rather its location: a garden," said de La-Hoz. "Therefore, it is not about substituting a garden for a building, but rather about transforming a garden into an inhabitable garden."
The trees surrounding the garden inspired the branch-like steel support structure giving the building a distinctive look. The latest technology in laser cutting and computer topography was needed for assembly as well as the design of the curved and inclined shapes of its north facade, one of the outstanding features of the project.
"By transforming the existing plant network into sustaining geometry, the inhabitable solidity is introduced," said de La-Hoz.
Another remarkable characteristic is the transparency and translucency of the building.  The metallic structure and the use of concrete floor structures supported on the pillars allow for an absolute transparency of the 525 square meters of surface area on each floor. The absence of pillars in the center and the glass facades allow natural light to enter the interior, creating an open and transparent building.
Keeping in line with the theme of transparency, the auditorium is located on the ground floor with views of the street and a capacity of 250 people. The building has five floors above ground with two levels underground and a basement. In addition to the auditorium, the build also houses office space.
The Rafael del Pino Auditorium was completed in late 2008 with the goal of contributing to the culture and knowledge of Madrid in addition to offering a new place for debates.