Bookshelves aren't just for books in the Bookshelf House.
When Italian architect, Andrea Mosca was hired to transform a dark, run-down three-story house outside of Paris, the owners had several goals in mind for the house. The family of five wanted a brighter interior with a separate, but visible kitchen and dining area and also create an enclosed office area on the mezzanine.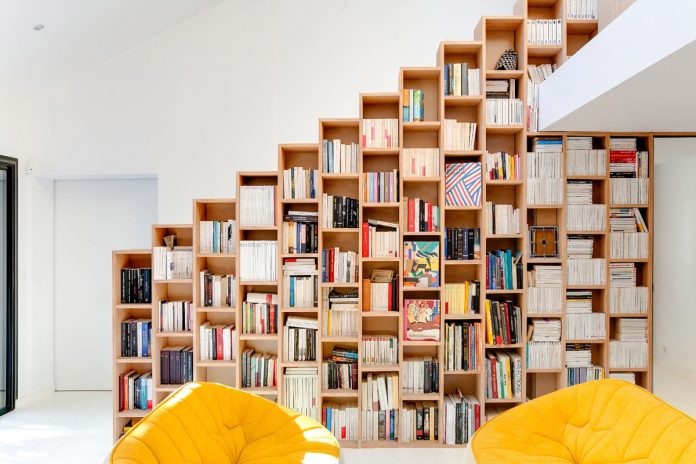 During the renovation, the family was staying at a friend's house. The house had a room-length bookshelf which quickly became an obsession and a new objective for the remodel. Using the bookshelf as inspiration, Mosca decided to make it the focus of the design and take it to the next level by using bookshelves not only for storage, but also to define spaces and create a dominant feature in the house.
The bookshelf definitely dominates the main living room. Normally, the bookshelf would be hidden from the main entry, but a large mirror was installed on a wide column opposite the bookshelf so the reflection of the books greets visitors straight-away. In the center of the living room sits two comfy-looking Ligne Roset Ottoman sofas in bright yellow with white bases. Another, smaller row of bookshelves act as a divider between the living and dining rooms and the clean, modern kitchen beyond.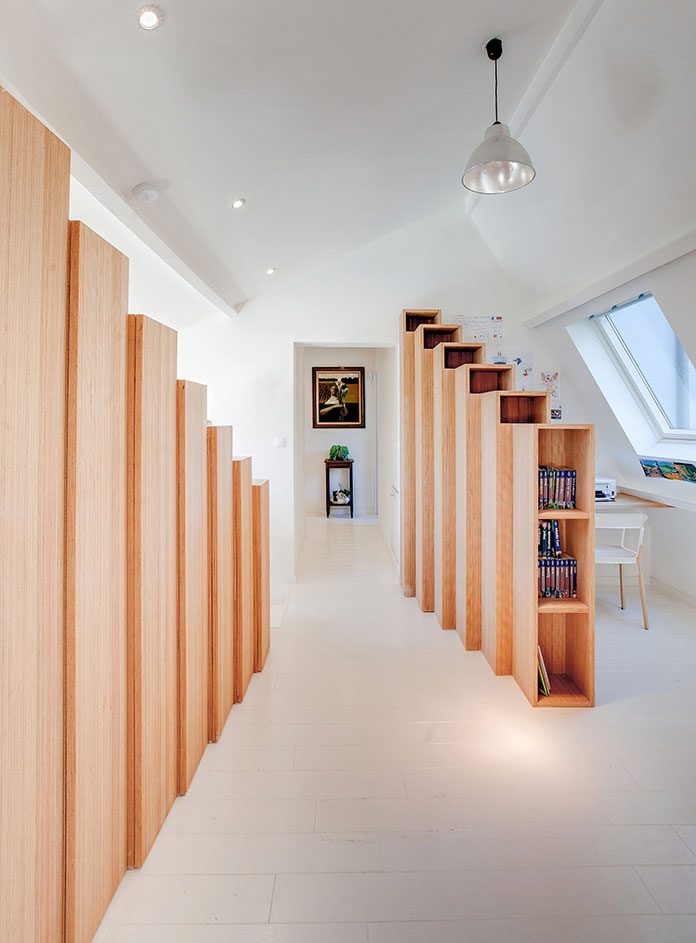 The main bookshelf rises up to the second-floor mezzanine performing double-duty as the banister for the stairs. The rising steps of the bookshelf continue to the right to form a wall, partially enclosing the mezzanine and becoming storage cabinets with doors. Another row of shelves stepping down in the opposite direction create the enclosed office area. Two bedrooms and two bathrooms are on the second floor, including the master suite, and two more bedrooms are on a third floor.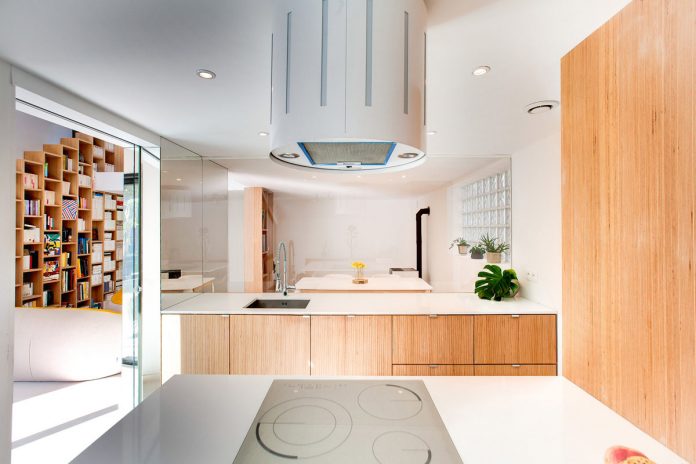 To ensure the house is bright, the wood floors and walls are all painted white. The living room and kitchen have large glass walls with sliding doors to the outside deck which let in ample natural light. There are also several skylights to ensure plenty of light even on overcast days.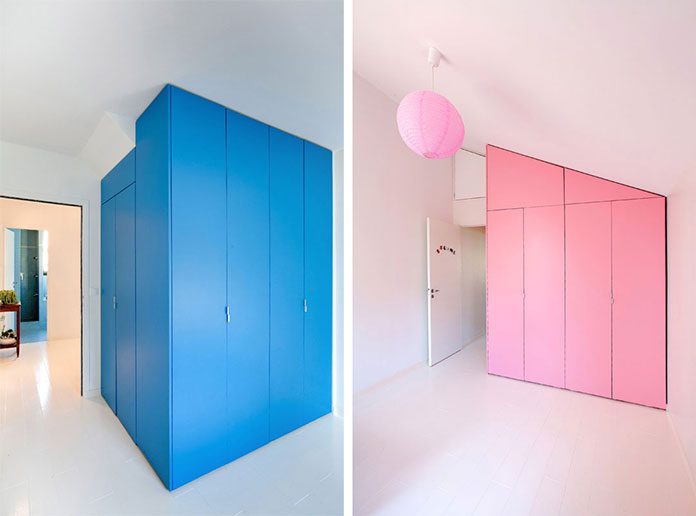 All of the bookshelves are made from beech wood, helping to warm up the space while still keeping it bright. The kitchen cabinets are made from the same wood to tie all the spaces together. All of this is a clean base for the collection of books in the shelves to add the color a character to the home. But not all the character; the children's bedrooms have built-in storage cabinets painted in bright blues and pinks.
You don't have to be a bibliophile to appreciate this house, but if you are one, you can't help but want it for your own.
[photography by Andrea Mosca]