Those crazy Brits are always giving buildings nicknames: Gherkin, Cheese Grater, and the Shard. The Civil Justice Centre in Manchester, England is no exception, dubbed the 'filing cabinet of justice' because its cantilevered floors resembling pulled out drawers.
The building offers a striking presence to the Manchester skyline at 16 stories punctuated with six green and blue glass boxes with yellow patches stacked on top of one another, protruding randomly from the narrow building. The long western façade boasts an eleven-story glass atrium while the eastern side is veiled in decorative aluminum panels with cutouts for natural lighting.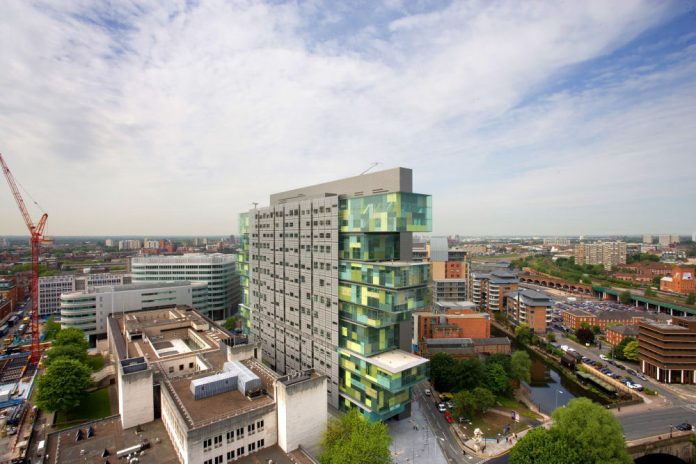 Australian architects Denton Corker Marshall (DCM) along with engineering consultant Mott MacDonald designed the Civil Justice Centre. The first building in the UK by DCM was chosen through an international design competition in 2002.
It houses 47 law courts and 75 consultations, making it the largest court complex built in the UK since the Royal Courts of Justice in London in 1892. The Justice Centre has three primary elements. On the west is the glass atrium containing the public concourse and pods used for waiting and meeting rooms. Beyond the atrium is the spine of the building with the elevators, which had to meet a legal requirement for separate routes for the public, defendants and judges. It also acts as a natural barrier to the restricted area containing the courts, consultation rooms, and offices.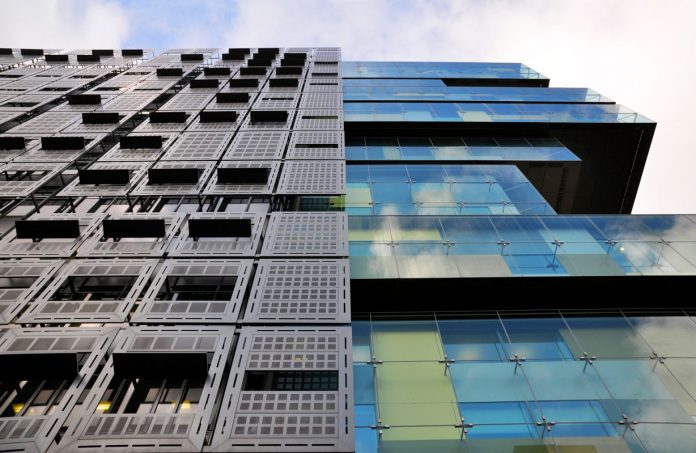 A clear hierarchy was requested within the building, with the bigger, more important courts being higher up. The grouping of the courtrooms determined the length of each story and led the cantilevered floors.
The overall design was balanced with environmental efficiency. A passive cooling system was implemented into the design. In a natural ventilation mode, fresh air is drawn in from the west façade and passes through a shaft and up to the floor above and the warmer air exits high on the east side. Fans circulate air when the wind is too low to be effective. The passive system is in use 26% of the year.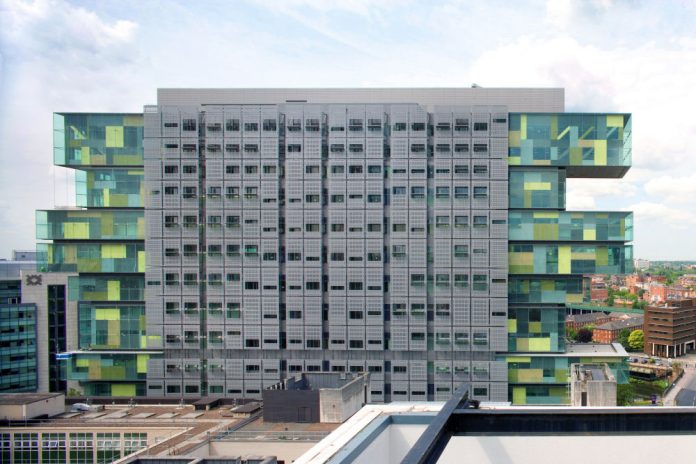 The glass façade on the east side is shielded by perforated aluminum paneling. Angled light shelves are fixed to the veil to provide natural lighting to reduce the need for artificial light by 15%.
While glass buildings have a tendency to be less efficient, many energy-saving features were incorporated, allowing this spectacular looking building to meet energy efficiency requirements.