If you ever get arrested in Italy, make sure it's in the Province of Arezzo. At least you'll get to see the new Law Court.
Located in the eastern part of Tuscany, this province is one of the area's best-kept secrets. Upon rolling hills of olive and grape groves rests the city of Arezzo, fanning out from the top of a single hill to the city gates at the base. Rooted in the medieval era, Arezzo seamlessly blends centuries of architecture from the base of the city to its peak.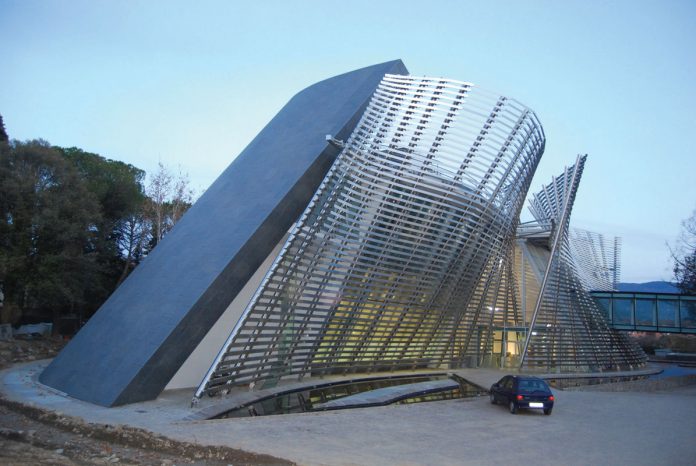 The Law Court, the town's latest architectural addition, presented Italian architect Manfredi Nicoletti with the challenge of designing a new modern building that would complement the surrounding historic and neoclassical architecture. Successfully meeting the challenge and melding the styles, the court was completed in the fall of 2007. Today, the new building houses the main city courtrooms and the Hall of Justice headquarters.
The modern structure twists and curves to achieve an organic shape, symbolizing the environment and lush vegetation. The north side of the Law Court is a forbidding wall with no windows. The curved north wall is clad in black granite, which was flamed to dull the surface and leave a dark gray finish.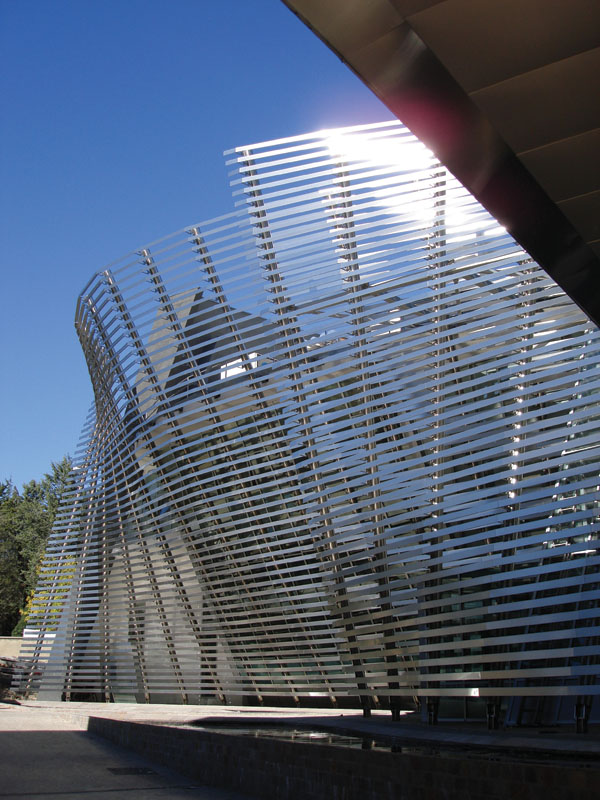 The inner façade of the south side is almost completely glass. The building's most striking feature is the outer façade, an undulating stainless steel screen. The screen is comprised of hundreds of straight strips that appear to curve and twist as if caught in a frozen ripple. Nicoletti was inspired by nature when designing the curvilinear form with only rectilinear elements geometrically warped in shapes characteristic of nature and leaves. The silver bio-climatic screen protects the inner spaces with shade while letting ample light through.
The form of the screen blends with the surrounding environment and avoids clashing a specific neoclassical building to which the Law Court is attached by a glass and steel walkway.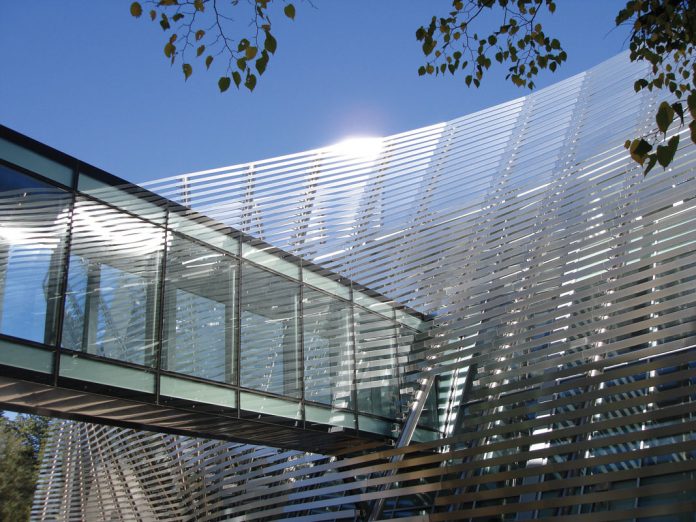 The interior is a green-tinged glazed envelope contrasted by mirror-like polished black granite flooring. Horizontally perforated aluminum acoustic panels separated by narrow maple fascia cover the walls. The three-story entrance hall adds drama to the interior with natural light pouring in from the glass ceiling. An elevator dominates the entry with the case covered in the same polished granite as the floor. A stainless steel staircase and walkway creates a line to draw the view up and across the entrance hall.
As a result of its modern design and sophistication, the new Arezzo Law Court manages to blend with its surroundings while creating an architecturally significant addition to an area of Tuscany thought to be largely focused on classic design.