It takes a village… unless you're sending your young children to a modern-day kindergarten, then it's more like an institution.
It started with a design competition (as these things usually do) for a new kindergarten in Copenhagen, Denmark to reimagine what a kindergarten/daycare environment could be. It took a unique firm like Copenhagen-based COBE to win the competition with a design that completely breaks away from the traditional institutional daycare environment.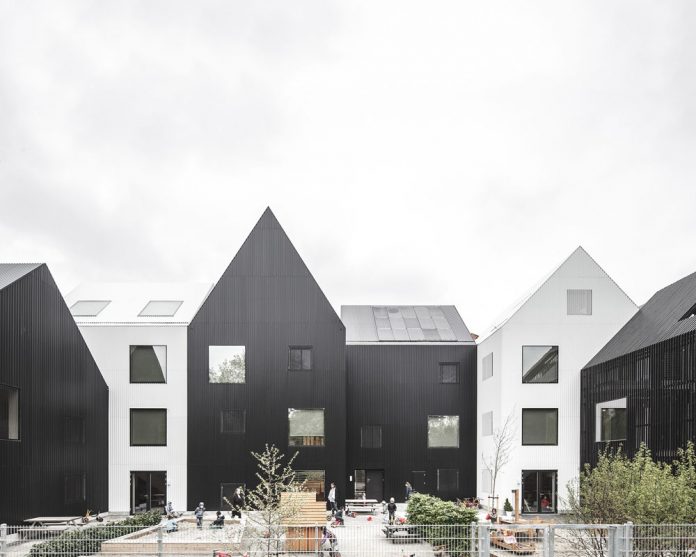 Rather than a single facility, COBE envisioned the Frederiksvej Kindergarten as a small-scale village by dividing the building into 11 different small houses joined together but slightly offset to create a division between the different programs. From the outside the offsets of the façades divide the kindergarten into smaller outdoor areas and play zones while allowing daylight to enter the building. Within the building, various size and types of rooms are created for the occupants as a result of the offset. The kindergarten consists of two to three floors with group rooms that have individual access to the outdoor space on each floor.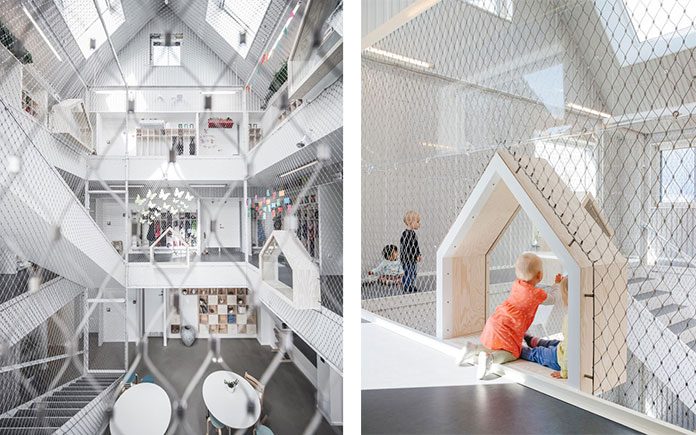 The Frederiksvej Kindergarten offers children the opportunity to establish small individualized play spaces, but at the same time, a coherent and clear organization of the institution has been highly prioritized. The two atriums in each end of the building connect the different floors and group rooms. The atriums also function as central gathering points, where informal meetings between children, employees, and parents can take place. A continuous simple design has been key to the concept of the building.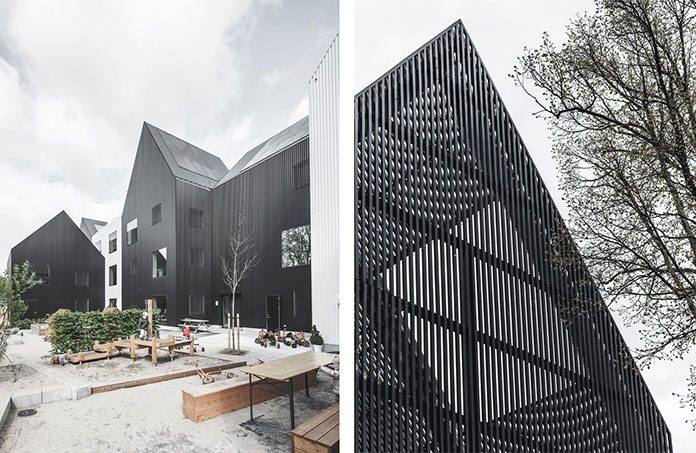 "We have worked to create a simple expression as a caricature of how a child might draw a house. The roofline, for example, is kept uncluttered by means of hidden drains and precise material connections, and the windows are carefully designed to look frameless – as a child would maybe draw them," said Dan Stubbergaard, founding architect of COBE.
Surrounding the main kindergarten, six additional smaller houses located in the playground area are used for storage of strollers, toys, and tools. Within the main kindergarten building, small house-shaped structures are used to enclosed spaces such as kitchenettes, cradles, playrooms and baby changing facilities. All in keeping with the main concept of a small village environment.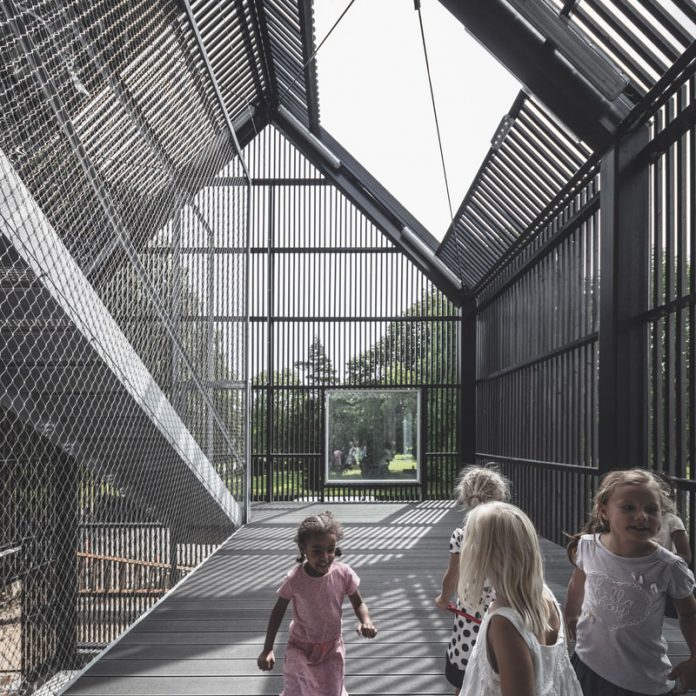 The kindergarten is named after the street it currently located on, where apartment buildings, villas and small gardens meet. The new kindergarten adapts to the different scales of the local community and reflects the neighboring pitched roofs that range in different heights and pitches. The Frederiksvej Kindergarten was opened in May 2015 and currently accommodates 182 children aged from infants to six-year-olds.
[photography by Rasmus Hjortshøj]