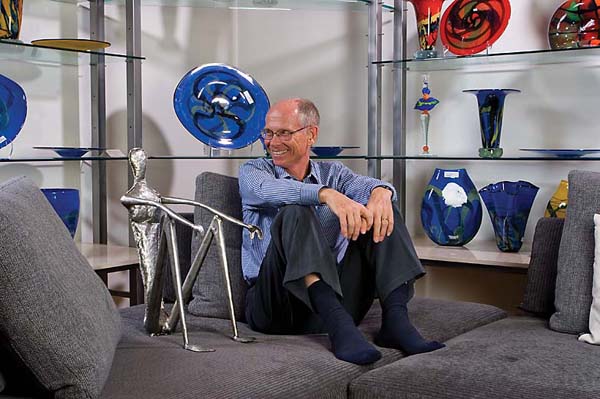 Whether described as on the cutting edge, ahead of their time or simply visionaries, our ever-evolving Valley hosts a few brave souls who are casting the mold that will shape the future of our burgeoning megalopolis.
Meet , a Danish native who went out on a limb and opened the first modern furniture store in Arizona in 1970 with his business partner Tony Christensen, and later, his brother Jürgen. After almost 40 years in the Valley, Hansen reflects on his early days in the industry.
————

What influenced you to start your own business in the furniture industry?
Actually, I grew up in a furniture store in Denmark. My grandfather was a cabinet-maker and designer and my father opened up a shop to sell his designs. We lived in the same building above the store, so basically the furniture business was my life.
Of course, what they sold in their store at that time was very traditional furniture. I was not taken with the style at all. I grew up during the years when Arne Jacobsen was a big star and a young man. Then there was Hans Wegner, Finn Juhl, Poul Kjørholm, etc., who are now icons in contemporary design. I was very influenced by these guys and what they did. My father didn't like it at all, so I decided that I didn't want any part of the business.
As a young man, I became an apprentice for a shipping company. I was very happy with the field and stayed with the company for about four years. I was going to continue in that direction, but I had love for design. The love for it had always been there, but I just didn't want any part of my father's store. As luck would have it, one rainy afternoon I saw an ad in a newspaper for a local contemporary furniture company needing a manager for their store in St. Thomas. I wrote them a letter and told them that though I did not have the skills to be a manager, I would do anything to have to experience to work for them. Sure enough, they hired me.
How did that lead to opening Copenhagen in Phoenix?
I ended up in La Jolla, CA working for another Danish furniture retailer. There I met my future business partner, Tony Christensen. The two of us decided to open up our own store together. Since there were already two or three other Danish furniture stores in San Diego, we decided to brave a new market: Phoenix. We opened Copenhagen in 1970 and my God, it was a different market at that time! When we opened, we had other local furniture retailers come into the store to check out their new competition. They would look around in confusion thinking, "what the heck is this stuff?" I remember one person in particular said, "I give you guys six months and you are out of here." Obviously, he was wrong.

How did the public react to your product line in the beginning? Did you immediately have a following?
We had enough immediate success to survive, but I wouldn't say that the public embraced this new type of furniture. Those who did like it were extremely excited and really hooked on it. There was perhaps one percent of the Phoenix population who liked our products. At that time, it was enough.

In 36 years you have seen a lot of trends change in home furnishings. Is there a period of time where the Danish lines were more popular than others?
We would not have survived if we remained a strictly Danish teak store. Started to see sales taper off in the early eighties. That was also a time when the Italians started to make a splash in the international design scene. We started to carry new Italian product lines and that was exciting. It breathed new life into our current collections. It was very chic. They really experimented with different kinds of woods, steel, glass and leather. That was when we became an international design store rather than purely Danish design.

What do you say to detractors of contemporary design…or those who prefer Tuscan?
Oh, this Tuscan style is unbelievable. I don't want to offend anyone, but I have to quote the Bible and say, "Lord forgive them. They don't know what they are doing!" It is mind-boggling that we have hundreds of little Tuscan villages strewn all around this beautiful desert. They do not fit here whatsoever. I have been to Tuscany many times and I love the original villas, but what was right for that time, is not necessarily right for today. That is my conviction.
In Europe, you would be the laughing stock of the town if you built something like that. You go to London, Paris, Rome, Madrid – all the big cities in Europe – you will not find one subdivision built today to look like older styles. They just do not do that.
We have fantastic architecture today. Sadly, so many buildings that go up are copies of what our fathers and grandfathers built in their day. We should progress and express our own contemporary style. But be that as it may, I have many friends who enjoy the style. I guess it is just personal taste.
Do you have a favorite product or product line that you carry?
If I had to say I have a favorite product line – maybe because I'm old – I really love the classic Danish teak furniture that we have carried from the beginning and still sell today. That is closest to my heart.
What do you see happening in Phoenix in the next five to ten years?
Frankly, I see a lot more contemporary design. I see trends slowly, but surely developing into greater acceptance of contemporary and modern design even more so than now. More and more people are beginning to embrace clean lines, functionality, good design and simplicity of contemporary furnishings.