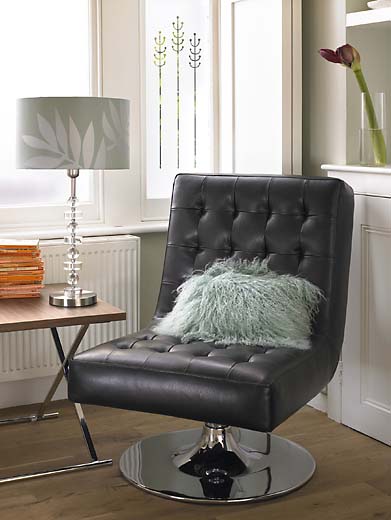 Tired of neighbors calling you Ugly Naked Guy? Ever feel like breaking out your circa 1990 Hammer pants and busting a move in private?
With new products like woven vinyl, transparent curtain rods and light-diffusing window films, brilliant new window treatments leave no excuse not to control your privacy. It also means searching for window treatments no longer has to mean frustrating trips to the local hardware store, bemoaning the lack of anything stylish for your windows.
Chilewich has designed a delightfully modern collection of roller shades and panel systems for The Shade Store. Easy to operate, panel systems are also a fantastic way to bring color and texture to a room without committing to a wallcovering. Chilewich, owned by Sandy Chilewich, who, inspired by the color and innovative texture, began designing table mats, bags and floor mats out of woven vinyl. She and her husband, architect Joe Sultan, recently created Plynyl, a commercial grade flooring that is winning all sorts of design awards. Her latest venture into window coverings is sure to delight those who desire texture with clean, simple form. Offered in wood grain and several woven patterns, they cut down heat and glare while preserving style.
The Skyline™ Gliding Window Panels are a sophisticated, sleek panel collection designed by Hunter Douglas. A dual channel track that is only 2″ wide allows for an infinite number of panels to be attached, allowing you to dress even the largest windows in your home with minimal stack back. The design collection includes sheer to opaque fabric, natural grasses and woven fibers. Also available as a room divider, this panel system is versatile and fashionable.
While fabric draperies conjure up images of musty, heavy, elaborate curtains that are the antithesis of modern design, they are making a comeback with bright patterns and original ways of hanging them. Fabric is still an excellent window treatment option that will increase privacy, reduce glare and introduce another design element into your home. Grommet window panels are a modern, easy way to incorporate a new pattern or color into your room with little permanence. Minimally designed, grommets offer a sleek way to update a traditional curtained look. A fresh, modern fabric illuminated by a window behind can truly be viewed as a functional work of art.
Once the perfect fabric is chosen, it's time to decide how to hang them. Blome, a curtain rail hardware company located in Germany, offers a line of striking curtain rails. With a range of materials such as stainless steel, iron and wood, Blome's designs feature smooth styling with a distinctly modern feel. Their transparent curtain rails inspire a room filled with softly flowing fabric, while the curtain wire set is a simple, unobtrusive way to decorate your windows.
If fabric isn't a viable option, a window film is a stylish alternative. Window films are easy to install, fairly easy to remove and clean up with soap and water. Films may be typically used in a variety of applications. As people begin to look for more ways to save energy, installing an interior door with a glass panel allows natural light to illuminate normally darkened spaces. Window films help retain privacy in those rooms without reducing the daylight. Love the look of glass cabinets but not crazy about actually seeing any dishes? Cover up the clutter with film.
While you can find basic film at any home improvement store, individuals with a bit more flair can look across the pond to see what those crafty Brits are designing. Emma Jeffs is a London-based designer who is receiving wide acclaim for her work in window film design. Her films diffuse light, but give privacy from nosy neighbors. These are not your ordinary window films. Whimsical, elegant and with a hint of arts and crafts, Jeffs' films bring life into even the dullest room. She has an array of colors and patterns available and her products are suitable in every room of the house.
Brume, another company based in the UK, offers a frosted window film that allows total privacy without sacrificing natural light. Decorative cut outs in the film offer a peek to the outside world. Allowing for extra security, their product is excellent for street facing windows as the film laminates the glass, making it more difficult to break. Brume can design for the home or office, with numbers and letter options obtainable.
Windows are an asset to any home, particularly one of modern design. As designers create innovative window treatments, windows can become a beautiful focal point in your home, brightening your day as well as your room. And with the additional privacy you can go ahead and do your chores in the buff.