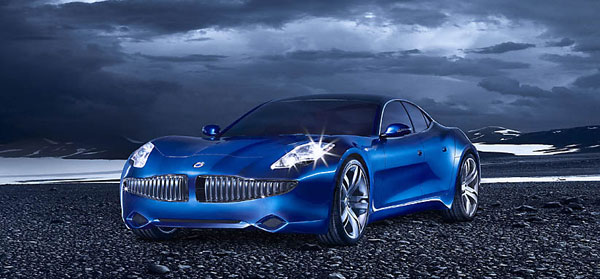 Finally a hybrid that gets all the ladies.
Henrik Fisker, designer of such beauties as the BMW Z8 and the Aston Martin DB9 has unleashed a handsome new automobile with the launch of his own company Fisker Automotive. Dubbed Karma, this sleek new daily driver uses plug-in hybrid technology called Q Drive, which consists of a small gasoline engine that turns a generator. The generator then charges a lithium ion battery pack, powering the electric motor that turns the rear wheels. Provided the car is charged every evening, consumers can drive it emissions free for up to 50 miles. It's possible that if consumers follow this daily routine, the Karma will only need fuel once a year. Currently more than 60% of Americans and Europeans drive less than 50 miles a day.
The Karma has regenerative brakes that capture otherwise lost energy. Fisker also offers a solar roof panel for the car that helps charge and cool the interior while the car is parked.
Though the exact power numbers aren't released, Fisker claims the Karma zooms to 60mph in less than 6 seconds, with a top speed over 125mph. Fisker plans to release an initial batch of 15,000 Karmas in 2010, priced at $80,000 each.