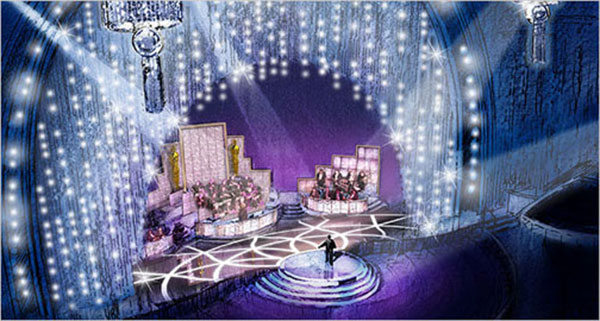 From the moment the Oscars started, it was apparent something was different. It went beyond Hugh Jackman replacing the usual comedian as host. The static backdrop of the show had been replaced by a dynamic set designed for the first time by an architect.
David Rockwell is no stranger to set design having designed sets for several Broadway shows and even the interior of the Kodak Theater, in which the awards show was set.
Together with the producers, Rockwell took a fresh look at the award ceremony, and developed sets that created an atmosphere of an elegant party rather than a formal gathering. The theatre and sets were re-envisioned to concentrate the energy for the live and broadcast audiences, powered by a visual narrative that unfolded through twelve transforming sets throughout the night.
"We created a spatial and architectural solution for the 2009 Oscars that is based on storytelling, spectacle, and community," explained David Rockwell, founder and CEO of Rockwell Group. "We wanted to use a surprising and dramatic integration of technology and movement to celebrate the awards ceremony, which has become one of the greatest shared rituals of our time."
An elaborate bandstand was placed onstage with a full orchestra that had the capability to move up and down the stage, and then break apart and disappear throughout the night. Rockwell also added a thrust stage to the theatre, with only four steps between the stage and seating level in an effort to bring the presenters closer to the audience. The paving of Michelangelo's Piazza del Campidoglio in Rome was reincarnated as colorful, shifting patterns of light on the stage floor.
The highlight of the set design featured custom designed Swarovski Crystal curtains that created a sparkling rainbow illuminating the grand arch of the Kodak Theatre, a building Rockwell Group completed seven years ago. The curtains shimmered with approximately 100,000 Swarovski crystals flown in especially from Austria and was an awe inspiring 60 feet tall and 100 feet wide.
"We could not think of a better partner than Swarovski to fulfill our vision of not just a curtain, but a frame to capture all the elegance, excitement and high-fashion that is the Academy Awards," said Rockwell.