"It should not be 'big and important', but 'small and correct'."
This was the mandate from the client when the owner of a 1950s holiday home in the Westphalia area of Germany enlisted Düsseldorf-based interior architecture practice, Falkenberg Innenarchitektur to completely renovate House Rheder. Led by founder Heike Falkenburg, the design team was chosen because of the shared philosophy of reduction and a return to the essentials of nature–creating an ideal for living by using light and space.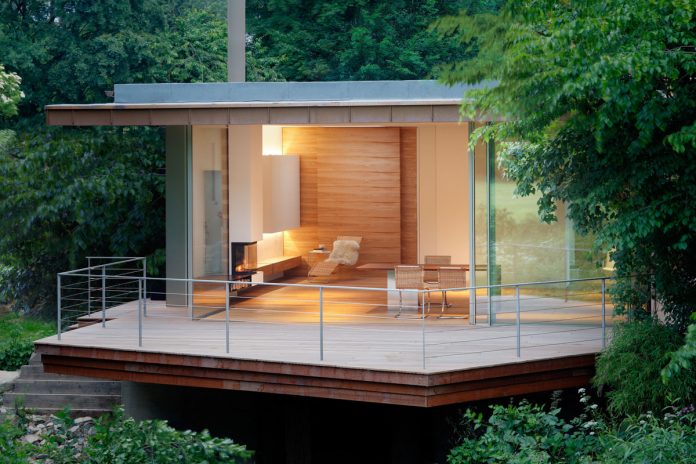 The old house was located directly above the banks of the Nethe river in Rheder country park. For the redesign, the house was completely rebuilt with only the original floor slab and wood terrace over the river remaining. Upon this foundation, the new home rises almost 10-feet with a large open living space creating an element of air. Two of the four walls are devoid of masonry, instead, minimal steel supports were used allowing for floor-to-ceiling glazed facades. Together with skylights in all the rooms, the home is bathed in light.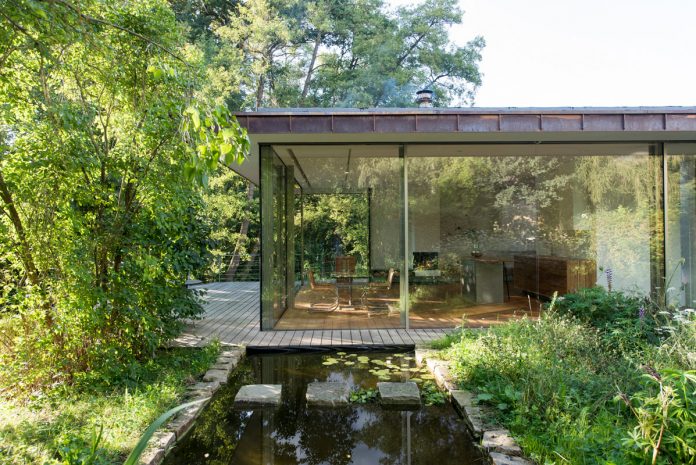 On the river side, the glass doors can be slid to allow two-thirds of the glass wall to be opened to the timber deck over the water creating a seamless transition from the indoors to the surrounding nature. This fusion is further enhanced by a reflecting pool along the entryway which causes reflected light to dance on the ceiling of the inner space while also reflecting the clouds and sky above.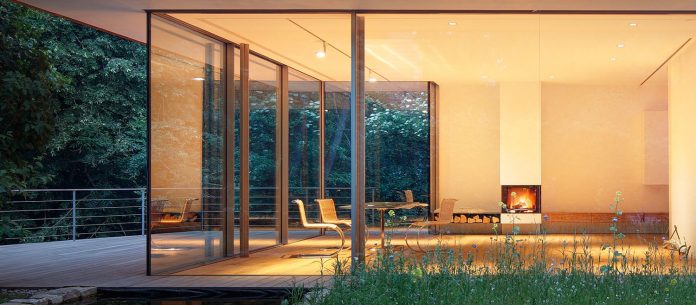 The open living space is the heart of the home with a fireplace opposite the reflecting pool to bring in the element of fire and a small kitchen anchoring the room. The minimal interior furnishing of custom-designed and classic pieces allow for the freedom of the inhabitants to create their own places of retreat in the space. A recliner suspended from the ceiling sways in gentle movement mimicking the water and furthering the feeling of tranquility which is a primary purpose of the home.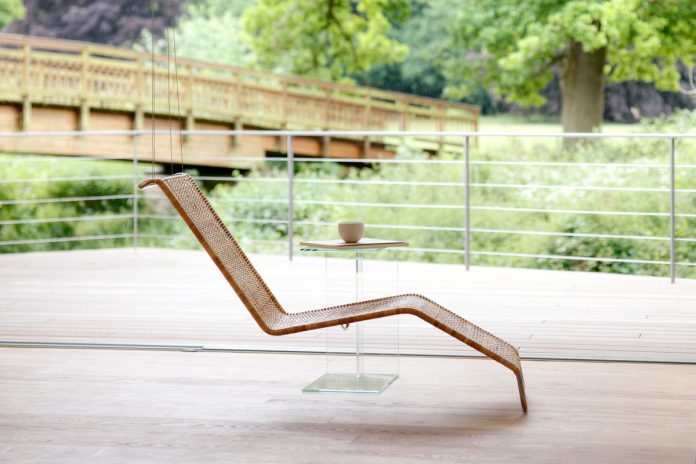 A clever sliding wall/partition divided the space between the semi-private and private areas and hides a small bedroom with a bathroom beyond. The shared bathroom can also be accessed from the second small bedroom. The only other room in the house is a small technical room containing the complete networked technology system. And yes, there's an app for that.
In case you missed it, the underlying theme of the house is to combine the four elements of earth, air, fire, and water to create a place of retreat for leaving the unimportant behind to concentrate on the essentials. Feeling connected with nature is integral to giving us peace from the hustle of our modern lives and keeping us grounded. The architecture of House Rheder embodies a desire for simplicity, clarity, and tranquility.
[photography by Reimund Braun & Thomas Mayer]