Urban Farmer might sound like an oxymoron, but in Oregon, the two go together hand-in-hand.
Urban Farmer is a modern steakhouse located in new luxury hotel Nines at the historic Meier & Frank building in downtown Portland. On the eighth floor, a seven-story atrium carved out of the center of the building affords hotel guests a view of either the city or the sky-lit atrium.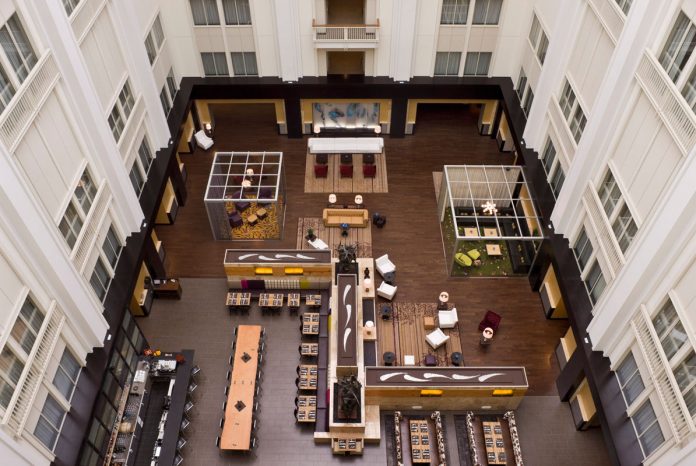 Urban Farmer utilizes the light, open space by offering diverse landscapes within its space; including the Bar, the Pavilion, the main dining room or Deck, and the semi-private dining room or Pantry. The entire space is left open, divided either by low walls or by flooring change in height or materials.
Sustainability is an underlying theme for both Urban Farmer and Nines, as the building is expected to be LEED Silver certified. Designer David Ashen of New York firm D-ASH created a country chic ambiance using an array of organic, reclaimed and modern materials.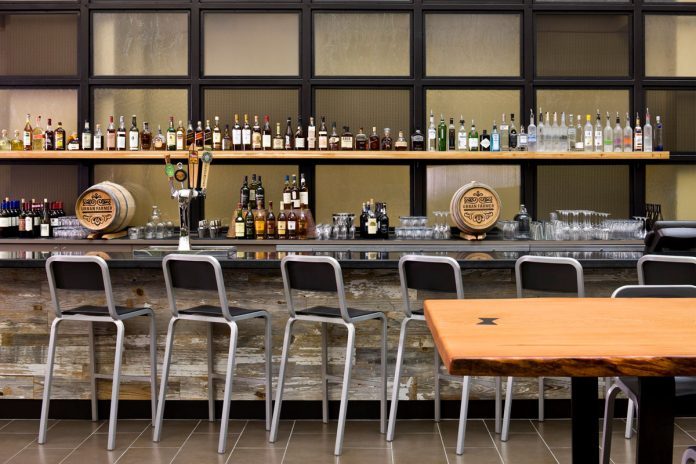 The Bar features a striking twenty-foot communal table made from an old-growth Douglas Fir. The spacious Deck captures the light-hearted feel of outdoor dining and the feel of a garden conservatory is further enhanced by a field of wheat grass in the center of the room. A video installation by Portland's favorite experimental artist, Matt McCormick, rolls stunning images of the city's rural and urban landscapes. The Pantry offers a more intimate setting, with walls made of steel and reclaimed timber decorated by shelves stacked with vibrant pickled fruits and vegetables.
The lounge area doubles as the hotel lobby with plenty of seating for guests to relax and enjoy a cocktail. The lounge also features two glass cube cabanas for private gatherings of small groups.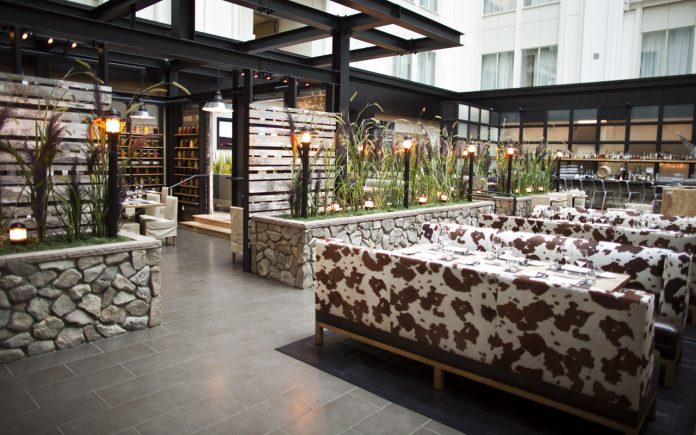 The menu is a locavore delight as Urban Farmer further refines the modern steakhouse; American steakhouse fare with the Northwest's local, organic and sustainable flavors. From grass-fed Oregon beef to imaginative and comforting sides to house-made Moonshine whiskey, the restaurant's menu immerses guests in the region's rich culinary traditions. Urban Farmer's 320-bottle wine list brings into focus the varietals of Oregon, Washington and Northern California. The menu boasts over three-dozen world-class wines from Willamette Valley, Oregon.
"Urban Farmer is a polished, feel-good restaurant that really allows guests to connect with northwest American flavors as they enjoy an intelligent new spin on the modern steakhouse," said Peter Karpinski, restauranteur of the Sage Restaurant Group.