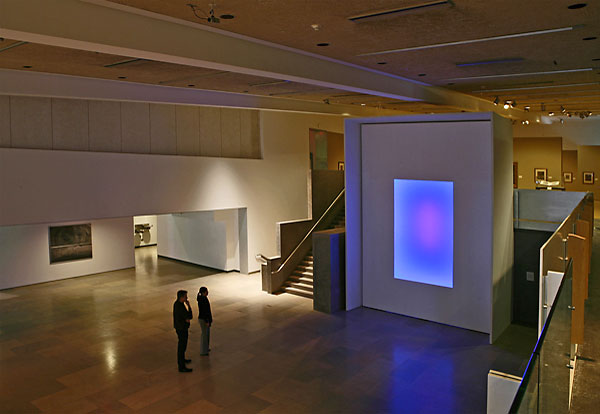 Mohl ip is a transliteration of the Korean term that alludes to the visual purple or pale blue light seen with the eyes closed while in the early stages of meditation.
Mohl ip is the hypnotic new light installation created by world renowned artist James Turrell unveiled at the Phoenix Art Museum.
"More than three years ago Contemporary Forum, a Museum support organization, working with the Museum commissioned this James Turrell installation in celebration of the opening of the Ellen and Howard C. Katz Wing for Modern and Contemporary Art," said James Ballinger, The Sybil Harrington Director, Phoenix Art Museum. "This piece is a major acquisition by a seminal artist working today. Given Turrell's importance both on the international art scene and here in Arizona, we are delighted to have his work continuously on display and in our collection."
Turrell has often been referred to as the sculptor of light. His work explores the interaction of light and space. He describes Mohl ip as "a visual mantra".
The 10'x20′ installation, the largest in the series, consists of a core of neon panels which are individually programmed by Turrell to create a subtle shift of color over time, seen through a diffusing panel of glass.
"There is a magic with neon. It is over 100 years old but with new technology, we are able to lower the neon to previously unusable levels of light," said Turrell. "It is a sort of performance painting. It makes colors spectacular. I want people to treasure light like they treasure gold."
To celebrate the installation and unveiling of Mohl ip, the Museum will have several other Turrell works on view for a limited time including photographs and plans of Roden Crater, limited edition prints wit Segura Publications and the model for a former unrealized project with Phoenix Art Museum.
James Turrell's Tall Glass piece Mohl ip is a Museum purchase with funds provided by the Museum's support organization, Contemporary Forum. Contemporary Forum is dedicated to promoting interest, knowledge and understanding of contemporary art through education programs and acquisition of contemporary art for the Museum's collection.