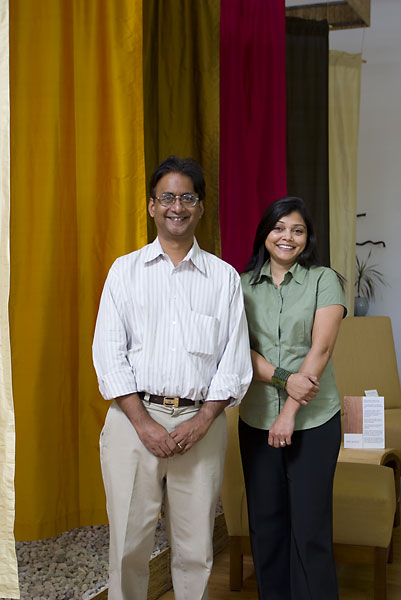 This just in: signs of modern urban living and eco-coexistence in North Scottsdale. Stuck in the middle of the airpark's Eurofab leather couch craze and eccentric lighting boutiques sits Natural Territory, a refreshing and exciting confirmation that our green future does not have to be anti hip. Husband and wife team Santosh and Praneeta Rao have brought together every last aspect of the modern green revolution: combining eco-friendly houseware and building supplies with organic linens and clothing for proof that the entire home can be sustainable and awe inspiring.
Whether it is eco-chic or eco-smart, Natural Territory sets itself apart from other retailers that claim eco-friendliness by actively helping clients green their homes. They have workshops to explain installation intricacies of sustainable products and giving a home a natural makeover. Lectures cover the intricacies of attaining LEED certification, so there is no second guessing or head scratching.
You could build an entire home just from Natural Territory products. Picture furniture made of reclaimed woods from sustainably managed forests, organic pillow-top mattresses made of all-natural latex, velvety soft organic cotton linens and zero-VOC paints to lighten every room. The kitchen could be laid with natural bamboo flooring, while the master bedroom takes a wool or natural fiber carpeting route. Natural Territory also has home accessories covered like pencil holders, clocks, candle votives and trash cans.
When ready to add to the family, Junior can even be dressed in chemical-free bamboo clothing in a variety of colors shapes and sizes; or even give Spot a sturdy hemp collar.