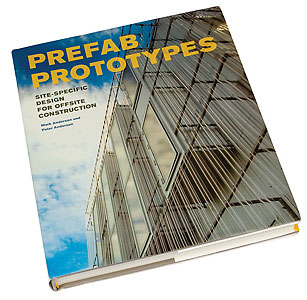 Long thought of as cookie cutter, temporary and undifferentiated building blocks, prefab has shed its stigma. Now known as a way to reconcile high quality architecture with regulatory pressure, economic considerations and environmental consciousness, prefab housing is quickly becoming the choice way to build quickly.  
The authors present case studies based on the driving forces behind prefabrication; simply put, they show how to make quality housing more affordable and faster to build without sacrificing the modern design elements we've all grown to love.
With examples from both the US and Japan, including residential, commercial and public structures, Mark and Peter show that with a little environmental awareness and a dash of ingenuity, prefab units are at home whether built on a cliff, on a remote island, in the middle of an orchard or smack dab in a city's core.
Available from Princeton Architectural Press.