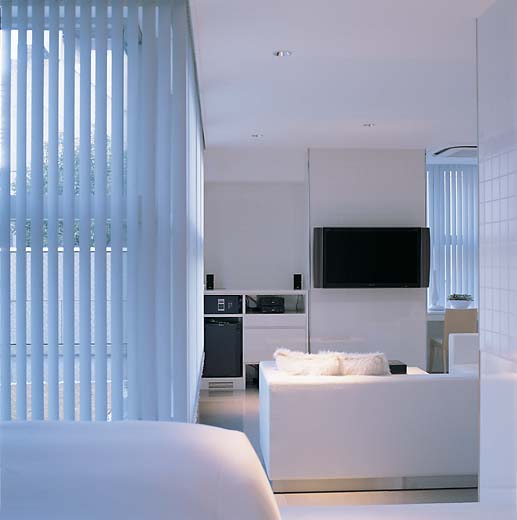 Year after year Kyoto continues to maintain its status as one of Japan's most beautiful cities and a highly sought-after travel spot. The city is rich in cultural history and incredible architecture, as it spent nearly 1100 years as the country's capital until the Meiji Restoration in 1868. Taking a nod from its past as the center of the geisha culture, the city and its highlights excel at providing visitors with world-class hospitality.
The city's newest hospitable establishment opened its doors in December of last year eager to serve clientele with modern sophistication, grace and toxic beauty. Billing itself as Kyoto's first boutique hotel, Hotel Screen Kyoto seeks to honor its mantra that "no two guests will have the same experience on any given night." Each of the 13 guestrooms were created by a different designer ensuring a distinct, individual response from every guest. The hotel's exterior, designed by Seki Architects, is ultramodern despite its proximity to the Imperial Palace and other well-established landmarks. It keeps a low profile, however, clad in an earthy, slate façade.
Screen is nestled in the heart of the city just minutes from the flagstone-paved Shijo-dori—the main artery through the classic geisha district of Gion—where visitors will often see a geisha or maiiko scurrying from a cab into one of the streets' countless teahouses. Other highlights include the Kyoto National Museum, and numerous temples like Kiyomizu-dera, the Temple of the Golden Pavilion and Sanjusangen-do, a must-see known for their collection of 1001 gold-leaf statues of Kannon, the goddess of mercy.
After a long day of sightseeing, Hotel Screen Kyoto pampers even the most weary of travelers at their restaurant Bron Ronnery. The restaurant serves "Kyoto nouvelle cuisine", which the restaurant touts as traditional Kyoto-style dishes infused with aspects of French cuisine. In an effort to remain energy-conscious, Bron Ronnery hosts a weekly "Candle Night" where diners dine exclusively to candle light.
Hotel Screen Kyoto is a member of Design Hotels. Reservations available at designhotels.com