What began as an enormous igloo to house ice sculptures has turned into one of the coolest hotel destinations in the world.
Over 125 miles north of the Arctic Circle the pure waters of the Torne River freeze over and yield the crystal clear ice that are the building blocks of the ICEHOTEL. Built near the small Swedish village of Jukkasjärvi and on the banks of the Torne River, the ICEHOTEL springs up from the river in the winter, then the melting ice returns to the river in summer.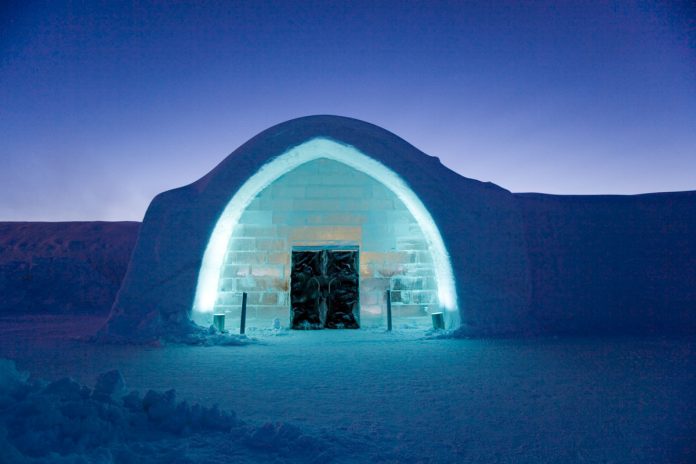 Not forgetting their roots, the village residents treat the ICEHOTEL like a unique work of art. The hotel is completely redesigned each year and artists from around the world are invited to create a one-of-a-kind room, complete with ice sculptures, ice beds and ice furniture.
The 17th ICEHOTEL has 82 rooms of which 22 are suites. Over 50 artists from 10 countries representing different art principals converged on Lapland to create rooms with names like Contact, The Helices, 22:05 and Tsu-Ki-No Ma. There is also a spectacular main hall, the Ice Church and an Absolut Icebar. Art is considered the heart of the ICEHOTEL. From 10am to 6pm the ICEHOTEL becomes an ice museum and daytime visitors are allowed to tour guest rooms.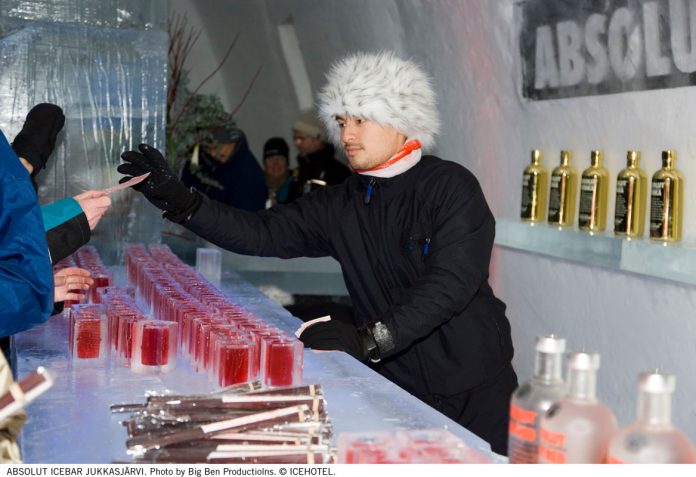 The temperature inside the ICEHOTEL is approximately 23 degrees. Inside guest quarters, the ice beds are covered with thick mattresses and deerskin. Guests sleep in thermal underwear and a hat inside an arctic sleeping bag. Heated washrooms and changing rooms are provided in the heated section that is built into ICEHOTEL Warm accommodations are also provided on hotel grounds and they recommend guests stay only one night in a cold room. The hotel urges guests to spend the rest of their stay in the warm accommodations.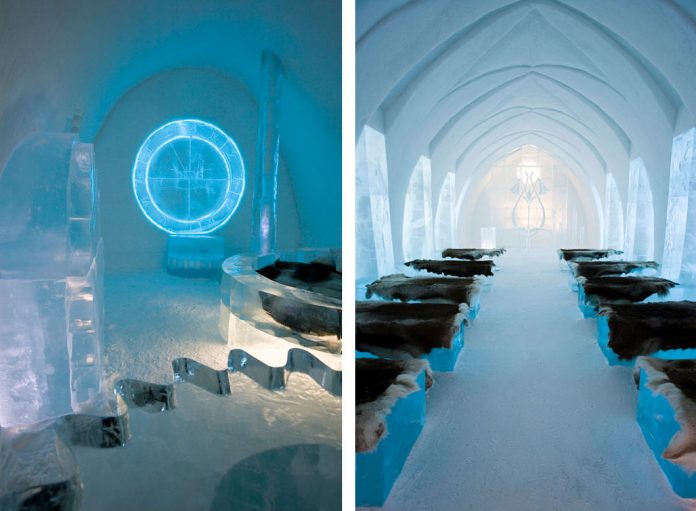 Guests rave about the unique experience of sleeping in an igloo compounded with staying the night in a work of art. Not for everyone, the ICEHOTEL "is a must for the modern adventurer," according to the ICEHOTEL.
The ICEHOTEL offers many activities near the site. Cross-country skiing and snowshoe excursions take guests around the area. No visit would be complete without an ice sculpture session as you create your own work of art under the guidance of professional artists. Additional offsite adventures are offered such as a snowmobile safari, dog-sled and sami culture, moose safari and good, old-fashioned ice fishing.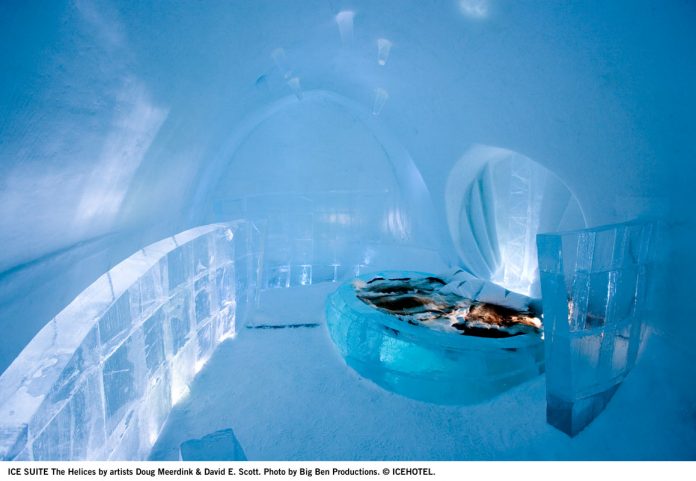 Whether it's the unique accommodations or the artistry of the ice sculpture that attracts you to ICEHOTEL, there's no denying the design aesthetic and craftsmanship is worthy of admiration.