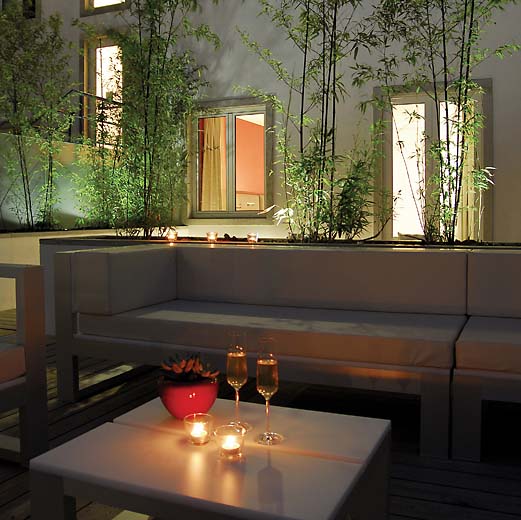 While the Portuguese are generally cosmopolitan world travelers, the capital of Lisbon is not the global city one might expect. Lisbon is still affected by the nearly half decade of military dictatorship, which ended more than 30 years ago, stifling its growth into a modern city. On the surface Lisbon does not appear to be a city full of modern sophistication. It is an insider's city, if you know where to look, you will find a city waking up to a new breed of venues in recent years. It is a scene fused with national and international influences mixing the traditional with the contemporary.
The big names in the hotel industry have largely ignored Lisbon and, initially, it seems there is not much of a selection of places to stay. There are, however, a few diamonds in the rough. Located in the historic district of Belém, Jerónimas 8 successfully blends old and new. Surrounded by monuments, museums and the 16th-centrury Jerónimas Monastery, the hotel is a contemporary oasis. The renovation of the 1940s building seeks to embrace the historic setting rather than reject it. The hotel's wine bar treats guests to a view of the monastery while they sample the rare and sought-after Bussaco wine that has been produced for generations by the Alexandre de Almeida family, which also owns the hotel. As if to reflect the wines, the bar is designed in a rich palette of red, white and brown, with a dark, wood floor and floating lamps.
Despite the proximity to the monastery, the rooms are anything but ascetic. Instead, they afford guests a warm simple luxury. Each of the 65 rooms and suites has a marble bathroom generously bathed in natural light.The abundance of natural lighting blends the interior with the Lisbon sky outside throughout the hotel
Like many buildings in Europe, the hotel features a center courtyard. Guests can relax on the wooden deck furnished with modern outdoor tables and sofas while enjoying food and wine from the hotel wine bar.
Jerónimas 8 is a member of Design Hotels. Reservations available at designhotels.com