Airports around the world are no strangers to unique, innovative architecture.
While the Salzburg airport in Austria is fairly nondescript, it is also the location of Hangar 7, an aircraft hanger built to house a collection of historic aircrafts restored by the Flying Bulls, an aerobatic team owned by Red Bull energy drink. The expansive dome structure, reminiscent of an airplane wing, also plays venue to various art exhibitions, culinary experiences, and local nightlife.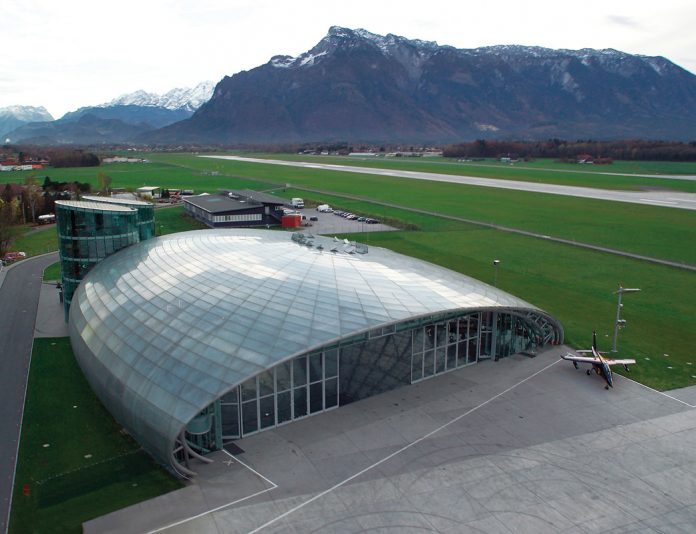 The steel-and-glass shell of the structure, for which planning and construction took nearly four years to complete, encloses an exceptional collection of aircrafts; for several years, the Flying Bulls have purchased historical flying machines and restored them to original condition. The collection includes jets, a seaplane and several Warbirds from the 1940s and 50s. The collection's newly restored centerpiece is a DC-6B which once belonged to Yugoslavian Head of State, Marshal Tito.
The second focal point of Hangar 7 is fine dining and nightlife. Ikarus, the hangar's featured restaurant, has attracted much attention since its opening in late summer 2003. Renowned for their rotating epicurean concept, Ikarus features a different guest chef each month, complete with an entirely new menu. Guest chefs from all over the world are invited to participate and each year culminates with the Ikarus Nights event, which brings all featured chefs together for one night to prepare a culinary trip around the world. Alongside the acclaimed Ikarus restaurant, two elegant bars, Mayday and Threesixty, as well as the Carpe Diem Lounge-Café, turn up the Hangar 7 hype on a nightly basis.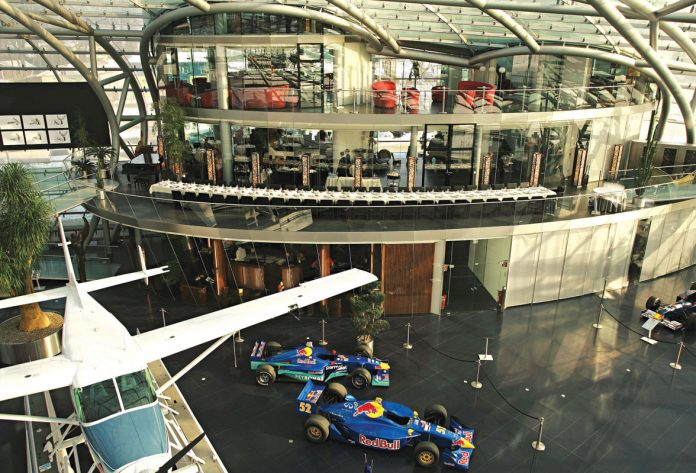 Advanced technological features and cultural elements round out the Hangar 7 experience. Technology installations such as the Doppler Foyer—where visitors get acquainted with the phenomenon known as the Doppler effect, the change in frequency and wavelength of a wave as perceived by an observer moving relative to the source of the waves—is featured on the ground floor of the building. In addition, revolving art exhibitions regularly enhance the patron experience, while the HangART 7 program sponsors new, young artists to makes their work accessible to a wide audience.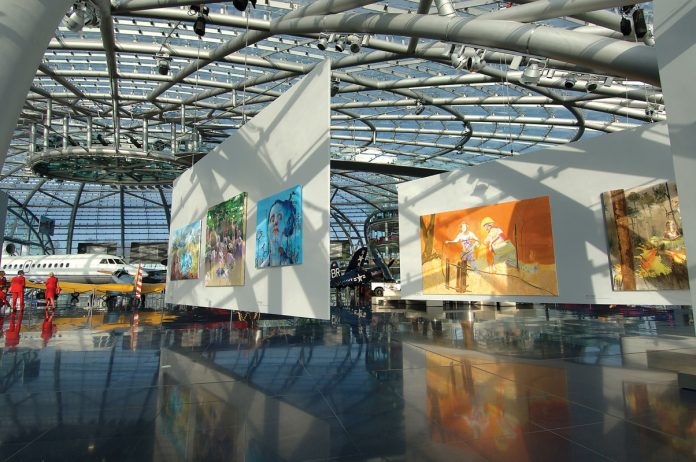 As a result of its interesting architecture, its location and, last but not least, its size, Hangar 7 is also suited for large-scale events of all kinds. Since its grand opening on August 22, 2003, Hangar 7 has been the site of numerous events, ranging from presentations of international brands and companies to meetings of high-ranking politicians and scientists. This can be attributed to the special atmosphere inside the hangar; both technologically and artistically, Hangar 7 is inspired and inspiring.